Eye in the Sky
Your Flying News Notice Board
Send me your news .... and photos.
PS. This page DOES accept contributions from other members!
Put your fingers to your keyboards and get typing! Hang glider pilots too!
September to November 2001
---
Sunday 11th November 2001

Report from Craig Byrne:

Had a pleasant couple of hours soaring At Bell, and was nearly tempted to drift back as the weak thermals came through. The fields are still really wet so I did not fancy a muddy walk out! Then it all overdeveloped and dropped off. There were loads of others flying (to many to list 15 in air at one point ) but good lift most of the time made it not to stressful.
---
Saturday 29th September 2001

Report from Mike Adkins:

I had just noticed that my weathervane was pointing steadily NW when the phone rang with David Daniels on the line to ask if Bell was flyable: perhaps a little optimistically I told him it was "perfect"! (I'll get my onwn back one day! D)
I arrived on the hill about noon to find no-one there, but I was soon joined by Peter R who spent a long time weighing the conditions to see if a decent XC was on the cards. Before long Adrian C had arrived and taken off (just like that!) and appeared to be doing well. Within minutes the hill became a car-park.
I took off followed by Peter and soon there were several wings in the air. Conditions were not "perfect": there was a lot of west in the wind and much walking back up the hill was being done
Inevitably, Peter R picked up a thermal on the eastern end of the slope and I attempted to follow. I found the lift quite violent and soon decided that perhaps an XC for me today was not a good idea.
On landing (yes - with a walk up the hill!) I found the wind was very westerly and loadsa people were just sitting around. By this time, of course, Peter R was a speck in the sky! Dave Moores rolled up with a car-full, and set off for a walk preceded by a short flight. (Well, I ASSUME that's what happened, cos I didn't see him come up again!) (Richie drove off and collected him. D)
At this point, cursing myself for being a wimp and not following Peter R, I decided there were other things I ought to be doing - and left! May I say "Thanks" to Peter Studzinski for completing the day's account for Friday 14th? (Once again, my wimpishness clearly prevented me from crossing the water and flying on for Swanage! Congrats Peter!) Perhaps someone can tell us how Bell shaped up for the rest of the today? (see below. D)

Report from Dave Daniels:

Awaking at the caravan at 8:00am with a southerly wind howling and what sounded like a dozen fire hoses blasting the bedroom window I thought I must have read the wrong forecast the previous day. It was, however, good to know that I was in the warm and dry whilst knowing that Shaun Parsloe was somewhere in Dorset camping in a van.
By 8:30, however, the cloud base had lifted, the wind eased and blue patches were visible toward Portland.
At 10:30 I was at Ringstead, along with Shaun, Nigel S and John P - all looking at the rather westerly wind but with pleasant cumulus clouds forming. Half an hour later Nigel and John were flying the ridge in light/variable lift and although Nigel had height to get to the cliffs several times, he seemed to decline the invitation.


Nigel Smith and John Parsons - Ringstead - 11:40am Saturday 29th September.

Mike Adkins was about to travel the few miles from his home to Bell when I called him so, not anticipating much improvement at Ringstead, Shaun followed me there.
In the rather westerly conditions, Mike A, Adrian C, Peter R, Jim C, Shaun P, Dave M, Richie K, Gary M, and Alan B were the PGs who made an appearance - with only Peter R getting away. Dave's tandem passenger lost his footing on launch and decided the reserve handle was a good thing to grab, and the launch abandoned without incident with a pretty red canopy unfolded on the hill as a result.
The couple of HGs that turned up (Tony M + A.N.Other) left for Ringstead without flying, and the PGs stopped) when the wind was running WSW along the hill - Matt Pearce turning up as the last ones were leaving the gate..

Dave, Jim, Alan, Richie, Matt and I decamped to look at Bulbarrow and, after some deliberation while looking at the blustery conditions, Dave and Jim took the tandem up for about 30 minutes. On spotting the tandem in the air, John A called by on his way to Ringstead having found Bell deserted.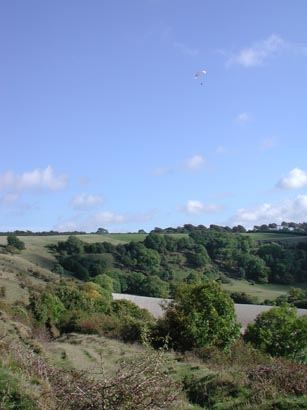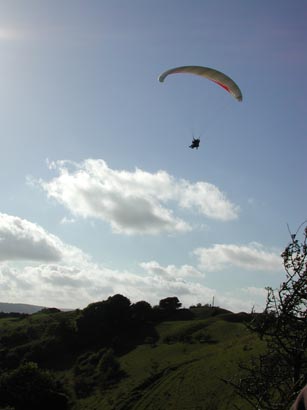 Dave Moores flying Tandem with Jim Coutts - Bulbarrow - 15:50 Saturday 29th September.
After a beverage sat outside a pub watching the clouds scud past at considerable speed, Matt and I made our way to Ringstead (6:30pm) to find that Nigel and a couple of others had flown PGs for some while and made the cliffs on occasions - but "gale hanging" was the word that was used to describe their flights. Indeed, the orographic clouds were scooting by some 100ft above the hill. Several HGs were there, most packing up, including Tony (I lost my blue glove - did anyone find it?) Moore, John A and Richard M.
---
Friday 14th September 2001

Report from Mike Adkins:

Another brilliant Bell Day!
Arrived on the hill midday-ish after a clear sunny morning to find a strongish breeze and Dave Moores already gone - but he was soon back! It was certainly marginal and Martin H, Peter R, and others were debating whether to fly: Peter R remarked "I was quite prepared to fly until I saw Dave Moores take off!" (Think about it!) Anyway, came a lull and around 1315 and three or four of us took off.
Dave M was soon away, but Martin H, Gary M, Mark R and others, including me, soared the slope for about half an hour before a powerful thermal came through which took me right to cloud-base at about 3400ft ato. I was soon on my own and going downwind at a fair rate - and it wasn't warm! There was lift all over the place and John A was of the opinion that wave had been at work. (Wave? What from? There's not a bump in the terrain up-wind for miles! D)
For the second time this week I arrived at a pub - this time the "St Peter's Finger" at Lytchett Minster - and had to lose over a thousand feet to get down before either entering airspace or crossing the Wareham end of Poole Harbour. On return to the hill I found that Dave M had made Brownsea Island (!); Peter R had reached Ballard (but this time he DIDN'T get a helicopter ride back!) and Martin H, Blandford. Others had also gone but I can't remember who they were: John A had been flying his stiffy all this time, and offered it to Phil (ZZ) for a flight at the end of the day.
It does seem that all these dry stubble fields after a morning's sun are really pumping: keep an eye on it!

Report from Peter Studzinski:

I was out on Friday (14th Sept) too.
It was not wave, just a standard post cold frontal day. All I did was fly from cloud to cloud (my base was ~4200ft), made it around airspace (which was easy) and finally got to Swanage with about 2000ft to spare. I've got some fantastic photo's of Brownsea Island and Pool Harbour from 4 grand.
PS - I almost forgot - I'd like to thank Graeme Willgress who drove all the way from Southampton to pick me up and take me back to Bell and the nice man that brought me a coffee as soon as I landed.
---
Tuesday 11th September 2001

Report from Craig B:

D, you did not miss anything - it was to windy for solo wings!
Finally managed to fly Angela Pitkin (wife of our councilor contact at Bournemouth) on her sponsored tandem flight. I arrive at hill with Angela & John Pitkin just as John Welch takes off - it looks windy but he manages to fly forward ok and does not seem to be getting pitched around to much.
Luigi the N01 tandem anchor man (I got demoted? D) helps me get ready and after briefing Angela we are soon in the air, when both are comfy and we have done a few fly pasts to get the photos we set off to explore the rest of the ridge.
John Alder is having a great flight on his HG and we are joined for a time by another PG pilot, buzzards and a kestrel all enjoying the buoyant conditions. After half an hour the wind has increased a bit more so we gently side land and pack up for the day.
Angela raised £315-00 for The Mothers Union overseas funds and seemed to really enjoy the flight.
Paul is now looking forward to trying a flight next time we are at Bournemouth!

Report from Peter S:

On a lighter note Craig was wrong in 'Eye in the Sky', 11th Sept......
After Craig left Bell the wind dropped and it WAS flyably for solo paragliders. Everyone had a flight, including John Alder (who had got board flying his HGer), Luigi, Brian, Martin and a few others who's names I can't remember.
We had a couple of hours very pleasant soaring, only landing in the setting sun just before the CAA ban.

(Do I detect Eye-in-the-Sky Wars? D)
---
Monday 10th September 2001

Report from Craig B:

Hi David, You don't want to read this - but here goes a short EIS write up ( I have a couple of rolls of film with which I hope to write an article for Bob on my flight which was a stonker landing near Bere Regis Forest). (And to think I used to like you! D)
Arrived at Bell early after encountering a Kamikaze sheep on way!
Things were looking good - Dave M was already in air test flying lots of shiny new gliders, and just a gentle N/W breeze blowing up the hill.
Soon in the air with Martin, Richie and Dave - we have a blast in the improving conditions. I ran out of film "DOH" spiralled down to get some from the car and took off very quickly as its looking good.
Lots of other pilots now arriving and leaving the hill XC, it was a brilliant day!
Geoff Metcalfe a new pilot (new-member) racked up his first flights since CP and was a very happy bunny, Paul Knight (new member) was also enjoying the flying.
Peter R even managed the most unique retrieve ever (ask him next time you see him you wont believe me if I told you )
Only left as wind picked up but I had to go to work :-( (Hah! Justice! D)
---
Saturday 8th and Sunday 9th September 2001

Report from David Daniels:

Saturday So, I may not be a HG pilot, but I was sat on Bell for over an hour on Saturday in what seemed perfect HG conditions - in fact almost identical to those the following day that had 7 HG pilots on the hill. So where was everyone? With nothing to do (well, nothing I wanted to do!), I thought I just go and watch the HGs having fun - but none were to be seen.

Sunday Still pretty windy, even thought the forecast said it would be less. I was there early and managed over an hour in dynamic wind that produced far less lift than one would have expected - and landed as the wind was increasing.
Some time later, Jim C and Wayne B arrived - Wayne rigging the HD and getting in a flight of some 45mins. Garry M and ZZ (with only his PG) arrived also, then we four PGs went on our way.
A call from a friend who was in the Bell area and hoping he could join and fly, we had a bite to eat and returned to the hill to see if the forecast that the winds would easy would actually occur.
When we returned to the hill there were 7 HG pilots, Wane B was still there joined by Bob D (getting in his annual flight!), Julian and Grantly (I've not renewed my membership!) Phipps, Clyntyn J, John A, with up to five in the air at the same time.
And, no, the wind didn't ease.

Report from Wayne Bevan:

Saturday Took off again at 1525hrs & had a few interesting moments before eventually coring something large enough to go up with! Managed to thermal up to 3050ft ato but had drifted about 1.5miles downwind in the NNW drift! Lost whatever lift there was & headed off downwind in flat conditions. Didn't get another hint of any lift & landed just SE of Milborne St Andrew for a distance of 12km. time of landing 1710. One phone call home to my parents & a retrieve was organised! Eventually got home at 2315 after a long but enjoyable day. (You mean you didn't walk 12km? Or contact a fellow boy-in-blue from the Dorset Constabulary? OR even hitch? D)
---
Saturday 1st September 2001

Report from David Daniels:

September 1st is when the new car registration numbers kick off - and the first of these that I saw was HF51FNS attached to a gleaming new Alfa Romeo as my birthday present to myself was delivered to my home on Friday evening.
I only mention this as a means of explaining why I didn't bother to re-check the real weather when I woke on Saturday morning, and drove to Bell just assuming that the prior evening's forecast would have been correct.
As I drove along the road from Bulbarrow at 8:15am, I knew it was a wasted journey when a hot air balloon off the the NW was making mighty slow progress even for them. The only thing it confirmed was the wind direction was smack onto the hill. A leisurely drive back to the caravan followed.
Alan B called a little later, I told him of the light-to-nothing on Bell and, sat in the warm sunshine, thought that Ringstead on a sea breeze was perhaps the best bet later. He called back a few minutes later to say that Dave M was on Bell and there were people in the air. I don't need to be told twice!
On the drive back to Bell, James G ( a fellow paraglider I had met in India last Christmas) called to say that he thought it not worth making the journey - despite me telling him I'd been told of people in the air already.
Approaching Bell there were some 8 wings scratching at launch height or lower.
As I drove up the track, several snails overtook me whist I picked my way between cow-pats.
There were already 15-or-so cars on the hill, and one HG was leaving as I arrived since there was insufficient wind for him, leaving just one HG rigged on the hill, many people sat in the sunshine and a few in the air scratching, and 4 or 5 had already vanished off down-wind.
The day turned out to be rather good - there never being a time when nobody was in the air.
Meteoric it wasn't nor, more importantly, was it total pants. With the kind of day we normally have to endure in this country (or in any country when I'm there!), one would be getting greedy to ask for more, and would often sell something dear to one's heart for a day as good.
The day saw two red-ribbons cast off their novice identifiers, one declaring to have fallen in love .... with a hill!
The HG had one rather fruitless flight, returned to the hill top, part re-rigged and was thinking of calling it a day when a twitch in the wind-sock decided him to give it one more crack. Was he pleased he made that decision as he joined several PGs to 3,500ft and a 55min flight spent at or near cloud-base!
People were leaving the hill in a steady trickle all day - several people getting well away twice and a couple three times. The sun shone all day, there were over 20 cars on the hill until well after 6pm.
More like this, please, God!
(PS. I achieved my first UK get-away too. But just the one thermal that plucked me right off launch.)
---
Eye in the Sky - July/Augsust 2001
Eye in the Sky - June 2001
Eye in the Sky - March to May 2001
Eye in the Sky - Feb 2001
Eye in the Sky - September and October 2000
Eye in the Sky - August 2000
Eye in the Sky - July 2000
Eye in the Sky - June 2000
Eye in the Sky - May 2000