Eye in the Sky - April 2004 - Part 2
Your Flying News Notice Board. Send me your news .... and photos.
---
Tues 27 April 04
Report by RW
Peter C rang yesterday & I told him where to go! To fly that is! Derek S. rang to say it was howling at Monks. I decided to sneak a go at a local North facing site & was pleasantly surprised with an hour of feet off the ground fun, half speed bar to cope with the gusts at times. Richard S. joined me later in the day only to be able to manage a top to bottom.
---
Sat 24th April 04
Report by Russell Eddington
Avon v Wessex see how far you can glide comp, 1 pilot from each camp landed on beach, lots more in cliff top fields, sunny and hot great to be out.
---
Fri 23 April 04
Report by David Franklin
All packed and ready for a day by the coast.This seemed the best option as all the forecasts were light sea breeze. But as all the cloud shadows were moving towards the southwest it seemed a good plan to go via Bell.To my amazement the little wind there was,was coming up the hill and rather northerly at that. So that was that half a dozen desperate sweaty pilots hoping and hopping, wondering whether we should be on the coast.I was fortunate that the three o clock thermal took me slowly to cloudbase although there was no cloud at that particular point.I was unable to find any more lift so ended up at Milton Abbey. I can't think of a finer way of cooling off after four hours effort on Bell
Report by RW
Arrived at 1200hrs after a quick sojourn to Ringstead. Unusual conditions, swinging between SW & WSW & 9 -12 mph with very little buoyancy to the air. A number of pilots quickly went down Daniel ? & Paul W. Daniel ? managed to get back up and went towards Kingston but very low. I managed to stay up scratching for about 35mins followed by Joe M.. I headed back to Ringstead for another 30mins of scratching, much respect to Jacko who scratched " like a pig with fleas" whilst others stood on the ground & watched.
---
Thurs 22 April 04
Report by RW
Early start at the Ringstead "Office" with Ron S. Derek S. & Dave M. Light & scratchy. Peter R. arrived only to be called back to work! Martin F. was spotted maintaining at the "Horse" so oft we jolly well went. What a fabulous day with many Pilots gaining over 1200' ATO. Martin F. being the only one to sneak over the back. Niocole B. arrived from work to get to the top of the stack AGAIN! The thermals were nice & gentle with clear blue skies & marvellous views all round. A pleasurable flying day with a return to Ringstead for some late afternoon scratching.
Report by Jon Harvey
A phone call from Stephen Corben that Westbay light and scratchy (for him the light weight, ?? ) Arrived around 2ish and John Pinchin just airborne. Light 9mph max by the bench. failed first time and long walk back from Eype, and also joined by JP. Wind picked up, and useful airtime, hour plus with SC,JP. Struggle to try and reach Thorncombe Beacon. New comers to Westbay Charles Forsey,(Bridport) and Ben Twist (East Chinnock, Somerset). The forecast had "predicted" NW all day, and I was nearly going to Telegraph until Steve's call. Thanks Stephen.
---
Tues 20 April 04
Report by John Blessing
Waited until late morning for the wind to come round to the South, then a quick trip to Barton where I found Robert D had just arrived. Joe M. came a little later. Wind was perfect and we even had some occasional sun. I spent a pleasant couple of hours playing, taunting dogs etc., before cold and the approaching darker clouds suggested we had got the best of the day.
Report by RW
0800hrs a call from Derek S. " I'm ready, where are you going"? I replied " To the Horse of course"!
I arrived at 0915hrs smack on the hill 10-12mph, I called Derek to confirm it was flyable. I wafted about for an hour & Derek duly arrived & took some photos. we flew for another hour + with the wind increasing in strength upto 16mph & gusting occasionally to 18mph. Neil K arrived at 1215hrs for his "Maiden Flight" at the Horse, & flew for a short time only to decide to land at the bottom after gaining a good height & flying out over the valley. Conditions were stable all morning & it appeared Portland seemed to part what cloud there was, with the darker stuff floating to the West & the lighter stuff floating to the East. It did not rain & at times there were some thermals popping through allowing upto 250' ATO. We ended up at The Springhead for a pint. Neil K called to say it had eased back down & was still eminently flyable. Who believes the forecasts?? Another good day at the office.
---
Sat 17 April 04
Report by David Daniels
Light, westerly, backing and strengthening later - a little used coastal site near the caravan was my first port of call.
Soon in the air with another member, Mike C, and after 45mins I landed to make a phone call only to find the wind had already strengthened by the time I went to re-launch - so had another 30mins watching Mike fly in ever increasing conditions. Nicole B, Dave T and Simon H were too late to be able to launch.
We were then duped into driving to Ringstead by messages that claimed it was flyable - even when we were driving across the ranges and stopped to look toward Ringstead unable to see any PGs in the air through the binoculars we were again told it was flyable - so completed the journey only to find all the PGs on the ground. Thanks guys! :)
Opinions were then divided between The Hive and Whitesheet - the latter getting my vote since (at that time) Compton and Westbury Wendys and Yeovilton on the WAP XCWeather site were all giving 9mph from the W. Chances are we should have headed there earlier - Ali F and I launched into some pretty "active" air ("And I thought Knitson was rough!" Ali was heard to say) for about 10 minutes of flying - followed by a long wait in the hopes that a lull would make it flyable for us all (Dave W, Adrian B, Dave T and Michael C were also there). Alas - it never did and we didn't.
All was not a total waste of time, however, since I discovered something most significant. That new Woody Valley harness of mine had me flying in conditions that I would never had enjoyed before. OK - I may not have been "ecstatic" about it - but the landing was because I wanted to land - not because I didn't want to be flying. The seriously punchy thermals I pitched my way into and out of had the wing in positions that nobody relishes - but for the first time ever I wasn't sitting bolt upright with nervous apprehension - just "feeling" through the harness exactly what the wing was doing and getting on with flying it.
This harness has made my favourite pastime as much fun to me as it did when I got my CP almost 5 years ago. What fun! What a great sport!
Report by RW
An early start as the forecast was for the wind to increase. I arrived at Ringstead to find Paul K. preparing for flight. Installed the big windsock & it was "smack on". The wind streaks on the Bay showed a degree of West, the windspeed was 12 -14 mph so I launched to test the conditions. I worked the gorse just to left of T.O. & got 100' & went for the cliffs, no problems as I managed easily to avoid the first house. Out on the cliffs it was the usual elevator to White Nothe and I was joined some time later by Paul K. & Ron S. on his HG. I was cruising at 600' ATO when I was also joined by 2 Peregrine Falcons up close & friendly & simply amazing to watch ( I forgot the camera ). After 2 hrs of flying fun & noticing the white horses starting to increase it was time to head back for lunch.
Two others launched & landed in the bottom field, it was Derek S. & Tony D. both had problems with their speed bar. Jeremy M. was being cautious as the wind had increased to 18mph but I was willing to test the conditions as there is such a lovely huge top landing field. I launched and headed out only to find there was now a greater element of W. and stronger, I did not need speed bar although penetration was almost static. I decided the the time was nigh to land.A brilliant morning with many others arriving too late to fly.
Then for an afternoon delight it was off to the low site in the west overlooking Chesil Beach to watch "The Man with Grand Gonads" Richard M. launch his HG in 30mph 10' off the beach ably assisted by Dave M. Everard C & Gary D. ( watch out for the photos ). An hour later he landed perfectly in front of the admiring crowd, much respect Richard.
---
Fri 16 April 04
Report by Nicole Barnard
Walking up Ballards down on Friday morning at about 11am with a light wind blowing right up the side, I phoned RW who was at White horse and confirmed that it was off to the east. I was at the right place, except the wind was a steady 3 miles an hour when I reached the top – not even enough for the gulls to soar the cliffs!
Soon after, Dave the Ferry joined me on top of Ballards, and I took my wing out for some ground handling practice. I confirmed to Russell and his convoy that the wind was definitely picking up (ever so slightly) and by 12 o'clock I was in the air in the brilliant sunshine, although at that point I was still in two minds as to whether the cliffs would work sufficiently for me to be able to top land again. An afternoon of perfect Ballards Down soaring ensued with all of us managing at least two flights. The wind died down at around 5:30pm and we all landed on the beach. Two red ribbons, Mark P and Dave S also managed to conquer the cliffs, a few top landings and the beach landing without any problems.
Others on the hill were (and I'm sorry if I missed anyone out), Russell W, Dave W, Dave T, Mike D, Ali F, Jacko (I'll-walk-up-this-hill-three-times-a-day-just-to-prove-I-can) and Jeremy M, who arrived just in time for a top to bottom to the beach.
---
15 April 04
Report by Adrian Bishop
On Thursday 15th I had a second attempt on the Jurassic Run. Low tide and a perfect wind caused me to cancel all commitments and lured me out to the take off at West Bay. The only snag was the intermittent orographic cloud just covering the top of Golden Cap and blocking visibility Westwards. After an hour things seemed to be clearing and I launched into a steady climb above the cliffs. It was quite strange flying in the whisps of cloud just above the cliff tops and having to fly low and fast. By the time I passed Charmouth things seemed to be clearing and I managed to get some height above the Spittles to attempt the jump across Lyme Regis. But as forecasted the wind was increasing and as I could only just penetrate forwards on full bar decided that the sensible option was to keep going, and landed on the beach at Lyme. Great fun and a and visually spectacular flight. Thanks to Adrienne for the retrieve!
Report by Alistair Florence
I have found something far more dangerous to do with a Paraglider than fly it – try and ride a push bike with it on your back!! Your centre of gravity changes dramatically and the brakes don't work that well. Trust me its easier to walk. Now being between jobs so as to speak and having to hand back the company van gave me the opportunity to try this transport method. (me thinks this is why not to many fat people ride bikes, similar balance and stopping problems)

Before the van went back this morning I went up to Knitson early. A nice 14-16mph wind was coming in due South. The air was cold and hazy. I had a pleasant hour +, Typical conditions on the site, quite rough and punchy at times. Shortly before I left the sun was beginning to cut the haze with the immediate effect of spicing up thermal activity, it must have been great an hour later. Several of the fields in front are ploughed or covered in cow shi* which is producing some good lift at present. I managed 2.2KM along the ridge toward Corfe before deciding it was not lifty enough to go further (the ridge is little more than 80ft high at this point. The journey back to take off was pretty rough and I was starting to feel sick by the time I reached take off again. This could have had unpleasant consequences as I was wearing my full face helmet.

After I got back from finishing my loose ends at work I walked up to a potentially lovely site.
I cant write anything about it though coz its not a club or recognised site (but as a clue you could XC to my place or Knitson from it if you know your local geography). Its 15 mins walk from home and many KM's of both ridge and cliff to explore. By now the wind had dropped to 8-9mph and all I could manage was some hops in the more buoyant bits, the site has incredible potential as I'm sure anyone who's flown it would tell you. I hope to spend sometime flying it this summer now I've broken the ice there.


---
14 April 04
Report by Mike Adkins
Derek Saddler and I arrived at Kimmeridge middayish to find a solid grey sky but a fresh breeze straight on the hill. After some cautious flashing of anemometers we launched and flew: it was robust flying with the odd deep hole. Soon we were joined by Neil Weymouth on a flying lunch-break and by now it was blue and beautiful. Having to return to work, Neil ferried Derek back to his car and I flew again, hitting the ground just before 1500 when everything went white and wet: boy, did it come in fast! But it left time for paying our money to the charming Mrs Hole, before returning home. Where was everyone?
Report by Steve Auld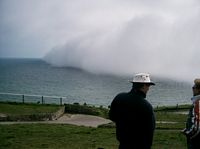 A good hour's flying at B'mth today, Wednesday. Could have taken off a lot earlier than 3.00pm, but had to land when the orographic fog rolled in from the south west around 4.30pm. See the picture... Adrian B and Richard D, having just arrived, had turned up just a tad too late...

Was buzzed twice by a small helicopter (once each way, reasonably high and out to sea about 300metres) and a small single engine light aircraft shortly before landing. The light aircraft was directly overhead, going along the clifftop east to west, and was confirmed by Richard D to be "under 500feet". He phoned ATC and reminded them we were flying at Southbourne. The ATC man said he would talk to the pilots concerned... Moral of the story? Well, still phone them every time you fly, of course, as per our agreement - but don't be lulled into thinking that this gives us any safety as far as close flying aircraft are concerned.
Report by John Blessing
Photo by Luigi Degli-Esposti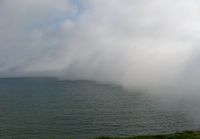 A great day for two Barton virgins (Pete C and myself) to lose their innocence. With a little prompting Martin H was persuaded to change his plans and visit Barton instead so as to give us a proper site briefing. It took a few hours for the sea breeze to strengthen sufficiently, but once it did, the flying was wonderful. Smooth lift, lots to look at, friendly and appreciative natives, good (but pricey) bacon & egg sandwiches at the nearby cafe. Also present were Craig B, Luigi D-E, Dave the Ferry, Brian M. About 1730 the cloud rolled in from the west but everyone had seen it coming and were safely on the ground.
Report by Mike Drew
Finished work at 11.30am today and got a call from Gary Pocock to say that the White Horse was working well. Relayed this info to new member Dave Strong and gave him directions, well tried! He could see the site from everywhere he went but just couldn't get there. Getting frustrated, he dumped his car in Sutton Poyntz and just walked through everything that was in his way until he got there! He did get some good airtime as a reward though.
I spent a fantastic couple of hours in the sunshine watching at least ten wings glide around. Everyone was having a ball and everyone had a smile on their faces when they landed! Most people got at least 1 1/2 hours in the air so a brilliant day. We could all see cloud rolling in from the sea and it soon covered us, dropping the temperature by10 degrees in the process. At this point I left!
There were numerous members on the hill including Stuart M, Nicole B, Gary P, Dave S, Jacko, Russell W, Pete ? from Weymouth and the Flight Culture Team (including TV Celeb John W) with a number of students.
---
13 April 04
I went to Coombe Gibbet on Easter Monday, judging from the forecast that it would be later in the day before it overdeveloped compared with Monks Down. I arrived at 12.20 to see the only gaggle climbing away. After that it steadily overdeveloped.
I should have gone to Monks. From the reports it was the better site. Also from the reports it offered two brand new excuses for Dave Moores' list of reasons not to go XC. "Too much cloudsuck" and "Got too high so couldn't see where to go because of the clouds". What IS this? And this from members of the Mighty Wessex! Shameful! SHAMEFUL!
The next day (13th) looked too good to miss. Russell said they were flying at Bell, and thermals were coming up the hill, but the wind was off to the north. Monks seemed a better bet. I got there about 12.20 (again) to find Craig B, Neil K, Mike A and a couple of others. Richard Mosley was rigging his hang glider. There was no rush to launch amongst the PG's because the plantation was playing its usual trick of amplifying the the wind noise. Although it was gusting up to 18mph at times, mostly it was 12-14.
I waited on take off for 10 minutes until a promising cloud appeared ahead. After launch I flew forward to get some clearance but the wind was no problem. To the W end of the ridge then out towards the cloud, gaining height, till I hit the jackpot, a 6kt (600ft/min) climb straight to base at 4800ASL, 12 minutes after take off. That's the way I like 'em.
Looking down and to the east, I could see that I had left not a moment too soon. The whole sky to the east was overcast and the shadow was rapidly heading west. So, no hanging about. Off, crosswind to keep away from the coast (the GPS showed drift during the climbs was due S), to a developing cloud, and up again at 4-6kts, this time to 5300ASL up the side of the cloud. I could see vehicles at Bell but no gliders. Another good climb then down to 1400ASL approaching Puddletown. By this time I was close to a line of overcast along the coast and all the ground behind me was in shadow. Fortunately I found some broken lift, less than a knot for the first 10 minutes, that eventually gave up at 3400ASL. Then it was a 15 minute glide, above the White Horse hill, to a nil wind landing on the beach at Overcombe Corner, Weymouth. Lovely!
Richard M also climbed away from Monks a little later and lower than me. When I last saw him near Blandford he seemed to be struggling but this was probably an illusion because I believe that he made it as far as Dorchester.
Richard Westgate remarked in his EIS report about the good cloudbase for the time of year. Actually this time last year it was almost 1000' higher, but I'm not complaining.

---
Please note - some of these earlier pages were created using a previous website design, so you will find that they don't have a navigation menu. When you have finished reading a page, just use your browser's Back button to return to this page.