Eye in the Sky - July 2004
Your Flying News Notice Board. Send me your news .... and photos.
---
17-24 July
In July I spent a week with Thermal Monster on their Intro to XC course, our base being their chalet in Les Arc. For a more detailed report check out my write up on John's PG Holiday pages:
One of things not mentioned in that report are that I found this a great opportunity to gain confidence in my wing as all the height and smooth air you have enables you to do a few more radical SIV type things you don't often want to do in the UK due to ground proximity. I did 70% collapses and waited for the wing to turn, which is quite awhile on my trusty Z-One; symmetric front tucks, OK, I admit I didn't try too hard; B-line stalls (glide angle? what glide angle?); huge big-ears; and I even had my first go at spiral-diving. These weren't specifically part of the course but on those smooth morning glides before the thermals set in the opportunity couldn't be wasted. One flight I just spent practicing spotting likely landing fields and power-lines. All this has led to me being much more comfortable when the wing is being unruly, hence enabling me to concentrate more on flying instead of worrying.
Though the weather was variable I don't think this matters too much, so long as it doesn't spoil the holiday. To see calm conditions change and grow rapidly, rain out and then turn into to a nice evening of magic and restitutional lift is an education in mountain conditions. To experience the Foehn wind and see the cloud pouring over the hills was quite remarkable and somewhat salutary, especially as one evening we were briefly caught out by a distant passing storm making the valley winds strong enough to require full bar to maintain position and not get blown back over the town. Suffice to say we all got down OK. Had personal matters not intervened I would have stayed out there longer and fully intend to go back sometime. As it is I have come back a better and more confident flyer and the course lived up to it's name - I actually got my first XC across Lake Annecy and I will now be much more confident about going XC due to increased hazard awareness, thermalling and landing out skills. I'd heartily recommend Thermal Monster to club members, they provide courses and guiding at all levels and are cheap but not cheerful - erm, you know what I mean.
| | | |
| --- | --- | --- |
| Looking down at the Landry landing field, x marks the spot. A huge field with loads of options if, somehow, you don't make it. Plus a little bar selling beer - reet proper. | In the Doussard landing field these two kids were with the tandem pilots and busied themselves with their Dad's wing. Ages we guess at 8 and 10! Their ground-handling would put most of us to shame. I reckon that's the way to grow world champs, but imagine the furore if two kids were seen playing with a wing in the UK unsupervised and - shock horror - without cash helmets. No fuddy-daddys (sic) in France. | Me? Land there? Between the railway and the lampposts? With my reputation? A view of the somewhat interesting Bourg-St.Maurice landing field, very conveniently in the town itself. I decided to concentrate on my aircraft approach pattern and actually landed bang-on half-way down the landing strip, reputation intact. I was then able to take a gentle 100yd stroll to a bar. |
| Looking across Les Arc, on the right, and Bourg-St.Maurice with Mont Blanc in the distance wearing a little cloudy cap. Sadly a long way from any bars at this point. | To make a change from the usual (yet delightful) "look it's a lake" Annecy photos I continue the ever so educational landing field theme with a view over the nature reserve towards the Doussard landing field at the end of the lake, marked with an x and, yes, there's a bar there too. | Anyone for tennis? Looking down on one of the Les Arc resorts after taking off from La Cachette launch at the top of the Pistes. There must be a bar down there somewhere. |
---
Sat 31 July
Report by Mike Melrose
Many and various at White Horse enjoying the sea breeze and light thermals. Seemed to be at its best between about 2pm and 4pm, with thermals big and frequent enough to allow height gains of about 800ft ATO.
After about 4pm, with the breeze veering (or is it backing??) to SW, a few of us moved over to Ringstead to join to persistent ones who'd been there all day.
Although bang on, it was much lighter than at White Horse, so we made do with watching shepherd Stuart M followed closely by a couple of sheep, heading successfully out to the cliffs, only to find no lift when they got there!

Report by David Franklin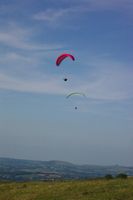 A little post ragworting reward.

---
Friday 30 Jul 2004
Report by RW
Derek S was on the hill (Bell) early & contacted the old insufferables to let them know it was light but on the hill.
Tempted by the report several turned up only to watch Peter ( Bonzo ) R. & Peter S. leave in the sole thermal of the day. Several others found scrappy thermals that they could not manage to take advantage of! After the usual retrieve it was off to the seaside to enjoy Ringstead.
On arrival several wings in the air enjoying smooth conditions on the cliff, see the attached photos.
Alas, some poor sole landed in a tree short of the power lines. Oh Dear!!!

Others:- John W & the Flight Culture posse, Derek S, our illustrious Chairman Stuart M, Graham H, Paul K, Joe & Helen,James T. John H, Paul & Kay etal.
---
Saturday 24 July 2004
Report by Jon Harvey
Original plan was visiting pg friends in Oxford area, but flags in Bridport midmorning blowing from the sea, so to W/Bay. Marginal, hence failed to update flyphone. First flight scratchy, and only to Eype's mouth, but could talk to Phil, who was Easthill area. Lift died away just as Keith and Tony prepared for t/o. breeze picked up, so all three up and away, to Thornecombe, with very good heights, but big sink from here to Seatown. Returned to the Bay after an 1,1/2 hrs and arriving there at around 600ft (lift everywhere) saw Phil, Viv, and Lester, below at t/o. landed packed up, and watched Phil, Viv, and Lester away.
Another totally unexpected wind from the south, not as forecast west to northwest.
Report by Richard Westgate
On 24th July, Richard Westgate was test flying a Gradient Aspen at the XClent tow field near Cheltenham. He landed 5 hours later at Dalham near Newmarket, 171.6km away, for a new UK Winch Distance Record.
'The wind was pretty strong on the hills with reports of 25kph at Frocester so I was surprised that when I got to the winch field at midday it seemed OK. Alan Maguire took the first line up and started climbing out and I was lucky enough to get the second. I was winched into a weak climb and after a couple of 360's was already committed. The sky downwind looked exceedingly average with a high sheet of cirrus cutting off the sun and thermals were weak and wave broken, but I decided to persevere. Even though the sun came out after about half an hour, conditions didn't really improve much. Climbs disintegrated above 3000ft but I was able to drift along at 25kph (I found out later that Sailplanes were climbing to 8000ft in wave in the same area which helps to explain the conditions). I struggled past Banbury at 50km, then almost went down at Salcey Forest just past the M1. A risky glide over the trees rewarded me with a low save. Next goal, the winch record of 113km. My track took me between Northampton and Milton Keynes and just north of Bedford. Finally, after struggling for over three hours, the conditions ahead started looking better, and I found a climb in the bend of the Great Ouse which took me to cloud base for the first time at 5500ft, 100km out. A cloud street stretched to the horizon and with a ground speed of 80km per hour, the coast at 260km looked possible. Unfortunately, the good conditions were short lived. A thick sheet of altocirrus associated with an approaching warm front was rapidly catching me up and I couldn't out run its effects. I pushed north around Little Gransden and Bourn ATZs. The last hour was spent under a miserable sky with no sun on the ground. I don't know how I stayed in the air but managed to find = ups which maintained me north of Cambridge, over Newmarket racecourse for 100 miles, to a landing at the little village of Dalham in Suffolk. A pint in the Afflic Arms and I started the log journey home, eventually getting back to my car at 3.40 am!

What a great day out.
Report by David Daniels
An early start at Kimmeridge had four wings in the air - Sean L, Jason ?, a visiting TV member and myself. It was westerly and rather fresh - but that still provided the best part of an hour's flying until strengthening conditions dictated landing was the best move for the two still in the air.
News that the cliffs at Ringstead were being flown resulted in a convoy (there were others at Kimmeridge not flying) through the Dorset lanes - only to discover an empty sky on arrival. Apparently those had had been flying had landed - and not been blown away.
Conditions were still fresh, and a little westerly on t/o - but the route to the cliffs was so very buoyant it was possible to actually gain height en-route - and I had a pleasant 20mins on the cliffs in brilliant conditions since the wind there had a lot more southerly in it. Returning to t/o necessitated big-ears to loose the 350ft ato!
Soon there were other wings in the air (far too many of whom lingered on the ridge, by the way!) and at times 15 wings over White Nothe as the news spread and others arrived - flying continuing until 6:30pm when the wind died rapidly leaving Neil W with a walk back up from the field below.
Several low air-time members made the cliffs for the first time - some at their first ever attempt (It just may not be so easy another time, guys!) - resulting in lots of happy faces. Most people managed two or more successful flights to the cliffs and back to t/o. A few others, however, managed to end up on the beach, under-cliff, fields or bushes - ooops!!
It was also a "tandem" day with pilots Stuart M, Dave M, John W and - late in the afternoon - Sean L.
Goodness knows how many flying hours were logged - but possibly the highest of any day so far this year.
Others on the hill - Neil H, Nicole B, Paul K, Rob P, Gary P, Gary M, Simon C-W, Ron S, Everard C, Adrian B, Damian S, Craig B, Charles C-S, Daniels C, Derek S, Sean S, Nick and Gill L, Jonathan H, Matt J, Rory L, Jeremy M, Grant O, Nikky R, Russell W, Dave W, Keith W .... and others!
---
Friday 23 July 2004
Report by Colin Davies
This was to be my lucky day at Bell:
* a day off work that coincided with good weather
* a flight to Durlston Head for the first time
* hitching a lift from the first car that drove past that took me all the way back to the hill
* the driver insisting on stopping at a pub on route and buying me a beer.
In the morning the sky looked great in front of the hill but blue behind, so most opted to stay in the thermals around the hill and hope the sky behind improved later. All landed around lunch to wait out the breezy conditions. After a while with no gliders in the air Dave Moores arrived and promptly flew off. This got the rest of us going again. I left the hill with Craig B below me and a grey Ozone nearby. After the first cloud decayed there was no great confidence inspiring lift for quite a way. Craig came with me across various potential thermal sources, but while I manage to maintain height Craig was unfortunately decked. Most of my trip was a long way from cloudbase with the strong drift making getting around the airspace fun. At Wareham I found a lovely big and smooth 800'/min up that had spinning up to 5000' whilst admiring the view, not really having to pay any attention to the flying. When I did switch back on I was near the cloud & well above the hanging sea breeze front that was situated along the main Purbeck ridge & Corfe castle. I was tempted to land on the edge of Brownsea Island just for the adventure, but predictably took the glide across to Durlston. Lovely views, I cannot wait to do it again.
Report by Pete Chalmers
It was forecast NW and looking good so off John B and I went to Bell, on the hill before 1100 to find the early birds already in the air for short soars.
Everyone found the thermals difficult but I eventually got bold and left the hill with John before losing it and landing just behind the top field (in rotor!) . Dave M made Swanage and John P just east of Bere Regis, I followed Craig B and Colin ? off again but always below them and watched them disappear under a decent cloud as I landed just S of Winterbourne Stickland. Others including ZZ and Mark R also left the hill, I know not where.
As I was eyeing up the wires around my chosen landing field I heard on the radio "Russell, Martin is in the tree, at least his wing is! Martin what is it with you and trees?" I had not seen them at Bell but I believe they were flying Telegraph Hill. I think we all know who they are!
Back to the hill for another hour in the air but we had seen the best of it earlier in the day. Marcus W had a rather scary deflation near the hill, very similar to Steve P a couple of weeks ago on the same type of wing (DHV 1). I didn't see it myself but believe it was fairly dramatic!
I eventually persuaded John to land (he did over four hours!) and we set off home having flown five days on the trot, a record for me in UK. Alright Thursday's flight was only a top to bottom at Ballard but they all count.
Report by Jon Harvey
Midday. Decisions, decisions, where to go, As doing odd job near Westbay, and people were definitely flying at Batcombe, decided to check local site first. Lightish, with occasional prolonged bursts of a good strength, but direction was good. First trip was scratchy, but eventually topped Thorncombe Beacon, max height here some 450 ft, asl. Returned to W/B landing sooner rather than later, windspeed on landing down to 5 mph. Just as I was deciding to pack up to visit Batcombe, noticed small white horses approaching and sure enough good 12/15 on t/o tried to go to the Beacon again, but strong headwind, (GPS showed ground speed 5 mph) so stayed around Eype, with the wind going quickly to the west. Ground speed to Eype now down to 2mph, without bar, and wow on the returns. Plenty of height so played around for 30 mins or so till I saw PB arriving at T/O. so decided to land. Very interesting approaching and landing with the wind now straight along the cliffs, just didn't run far down wind, but out over the sea instead to lose all the height. On coming in to land heard others talking on Condors' radio frequency, and called up and it was Rob at Easthill, and I was then down 100 ft. Often spoken to pilots at Beer, but now Easthill.
Tony Brooks left a message on my phone to say that W/B was working mid morning, and he was at T/o
---
Tues 20 July 2004
Photos by Ken Wilkinson of Martin Foley on XC from Mere to Trowbridge
Report by RW
Shock ,horror, Uncle Albert was ready & waiting at 0930hrs, fully booted & spurred. I could not believe it! Now just to let you all in on a little secret :- Uncle Albert is from a long line of Plunderers & Buccaneers hence the red hair & beard ( or excuse for a beard), my own belief is that there is some relationship to the infamous Captain Flint which may go some way to explaining his aggressive streak. Anyway oft we went to parley with & pick up Bonzo who explained the sky was starting to look good for Mere.
On arrival the crowds were gathering as were the cloud streets, Bonzo's eyes started to glaze over the potential for a long XC was there! Uncle Albert was up and away closely followed by myself it was a little rough to begin with but the odd thermal was coming through and Uncle Albert was locked in, I unfortunately came out of it and was struggling to find anything to gain further height. I landed to find Bonzo foaming at the mouth saying "Its ridiculous, Its ridiculous, my lines are tangled and that Pirate has got away, I'll catch him". We then got the line over sorted after Bonzo did much "Dancing with Lines".
I went off to find Uncle Albert who managed 25K and on the way back spotted a Yellow wing over Frome gaining height, Uncle Albert was convinced it was a blue wing ( DENIAL ) & Ken talked us into believing it was a red wing. Anyway, it was Peter so another long journey through the nightmare roads of Wiltshire to retrieve the "Master" who managed 35K. When we traced his location on the GPS we could not find him, a call revealed he had been invited by the local Lord of the Manor in for a cup of "Char".Then it was off to find his lost glove in the landing field. Another adventure with the XC Kings.
---
Mon 19 July 2004
Report by Alistair Florence

Yesterday saw a relatively unsuccessful morning at Ringstead following high wind guru Dr Charles in verging on blown out conditions toward the cliffs ( Charles made it, I turned back due to a combination of weight and lack of penetration).
So it was typical to be back at work in Gosport today with a good looking sky overhead.
Got away from work at a reasonable time and despite a frustrating journey home (as usual) got back at a realistic hour. The weather vane on Corfe church showed South so I made for Knitson. Waste of time though, bit off to the East and light. So the logical thing to do was head for Ballard as there wasn't enough East in it for an alternative site I flew recently.
On t/o it was one of those times when you cant tell if its stay up-able till you try, so I tried and it worked. I enjoyed about 40 mins soaring at varying altitudes with obliging gulls marking the lift. Eventually the sea flattened and the wind died. Never the less a pleasant chill out after a days work ( for the few of us that seem to need to).
Report by Mark Tattersall
On holiday with the family in Swanage, and sensed a day of wind veering SW to SSE, so hatch a cunning plan to fly all the Isle of Purbeck sites in one day. Start with Kimmeridge ridge in SSW in the morning, a feisty mixture of dynamic scratching and lively thermals to 300' ATO for 75mins until wind shifted too far south. Then drove over to park between Knitson and Ballard. Flew Knitson in light SSW-S and smooth(ish) thermals to 250' ATO for 20 mins until top cloud cover and veering (and dropping) brought me down. Waited a bit, then hiked across to Ballard, launched in SSE and flew over to Whitecliff, and played on the cliffs, peeking round Ballard point to Old Harry, and out over the bay for 1/2 hour at 100 - 200' ATO before flying back to land and back to meet the family in time for tea. And apart from a light blue wing flying Whitecliff at 3.30/4.00 while I was walking there (but gone by the time I arrived) and the birds I had all the sky to myself.... All in all a top seaside day out.
Report by Luigi Degli-Esposti
Some of the usual suspects where at barton today, Brian Metcalf, Craig Byrn,Jim Couts,Martin Hayward and myself,obviously. A couple of hours of civilised flying saw us on our way home quite contended,thank you very much.
Report by RW
Mere. Bonzo demanded an early start & Uncle Albert insisted on fixing his wife's ( Kath ) car. Now you know whats coming:- Yes, a late start leading to the famous dynamic duo being hillbound, (see the photos) while a gaggle got away. We heard later someone got further than Bath.It was not entirely wasted, as we did manage to thermal for quite some time & I got to fly a new site.On the way home Peter R was kind enough to make a detour to show us the infamous Corton Denham.
---
Sun 18 July 2004
Report by RW
Cowdown aka Cowdung ( Ask Uncle Albert ) -
On arrival, after a debilitating walk up, smack on the hill, some talk & into the air. Uncle Albert kept shouting its flyable from the sky & I was tempted for about 30mins of ridge soaring & some thermalling although nothing worth talking about. I was more concerned about the approaching sea breeze front. Dave M. & Nix B. arrived demanding monies for the Bash, Dave launched & after 15 mins of wagga said its time to go home. Uncle Albert then realised an early start may have gained a short XC
Report by Jon Harvey
Forecast from coastguard, was Force 3/4 sw with poss 5 in the west later. Arrived W/B around 1030 direction smack on and around 15 on t/o. and very little gusts. Waited for a while to assess conditions, and eventually decided ok. Launched, like a rocket.up and outwards, no need to hug the cliffs. windy above cliff height, but with this windtech as opposed to my APCO, plenty of speed, stayed up around 40 mins, before landing to update flyphone. and others directly. Only JP interested.
Away again and waited for JP to launch, but with approaching strong windline approaching, beach landed. Happy couple of hours..Wind now 20 plus so binned it for the day. Even though a strong wind, it wasn't lumpy, no sign of any collapse.
---
Sat 17 July 2004
Report by Dave Winn
The day was a good turnout for the elusive retro-gay pilots who did lots of ridge soaring before getting out to the cliffs, where I followed only to discover what wind shear is all about and also flying through orographic cloud when there is nowhere else to go.Oh well, you learn something every day.
---
16/17 July 2004
Pictures by Luigi Degli-Esposti
Report by RW
16-7-04 Early visit to Ringstead where it was blown out. So off to work ( Voluntary Unpaid ) for Uncle Albert, splicing lines for his Crab Pots, hurts the fingers for sure. Anyway persuaded him to visit the local Condors low cliff site, where we whiled away the afternoon soaring with the gulls & Steve C. Steve Cu. Andrew P. et al.
17-7-04 Again an early visit to Ringstead; the day started light but hopeful and gradually increased to allow a venture out to the cliffs. Zee Zee & Sean L disappeared into the orographic , I kept to the seaward edge & just managed to keep an eye on them, then the wind picked up so back to landing field. many others were flying the ridge. Sean L. was practising his manoeuvres for his forthcoming ACRO Course, we are impressed Sean HONEST!!
By the way check out the excellent stuff bags from FCUK Ltd and the new LOGO, skull & xbones.
Others:- Z.Z. Ron S. Gaz M. John R. Gill & Nick Le G. Allen W. Allen T. XC King Dave W. Peter R. Dave D Dave T. Allen B.Jeremy M. & others ??
---
Friday 16th July 2004
Report by Alan Webb
Whilst all around was shrouded in cloud, decided to look at Ringstead and was surprised to be able to see Portland. The wind was smack on and about 12MPH, called Mike D. By the time he made it out the wind had strengthened considerably. Decided to wait and was joined by Gary P. After about an hour the wind dropped and Gary tested the air. That was it we were up, and now started the my best days flying so far.

We flew the ridge for the first few flights, Mike testing his low saves capability and Gary playing around the T/O area. I was more then content with getting some ridge soaring airtime, great practice for getting to know the wing better.

By now the wind had stabilised in strength about 14MPH, Gary had ventured to the cliffs, I found myself pushing forward and made the cliffs as well, once there, I recovered the height lose and made my way up to the White Nothe, didn't make it! cloud was very low and at about 250ATO everything started to white out. This was as much excitement for one day as I could take. Heading back, pulled big ears to clear the cloud and headed straight back and landed at T/O.

That has to be the best sense of achievement, a trip to the cliffs, good prolonged flying times, a much better sense of the wing, not to many in the air so plenty of space to experiment. A Great Afternoon flying and given what we had around us, probably the only flyable site of the day.

Big thanks to Gary and Mike for their advice, good company and a fun afternoon of flying.

---
Tues 13 July 2004
Report by Neil Kermode
Kimmeridge 13/7
Arrived at about 12:00 to find the place deserted, but with the wind feeling right. (S at around 9mph, gusting gently to 12-14). This was something of a relief having slogged up the track twice in the last fortnight only to find it blowing a gale, or shrouded in the only cloud in Dorset……
So out came the wing, and up I went for a thorough beat of the ridge back towards the west and the quarry. Lift was a bit patchy, but had the advantage of having loads of space to myself and good space to practice getting low and scratching back up again. (Lots of 'up, up, up' thoughts really worked, and when I thought about landing I lost lift…..)
Got a couple of hundred feet ATO, but the wind was too southerly to progress out to Swire head….. and I was a bit nervous being too far away from T/O on my own.
(This is because I once took the afternoon off work, and went ground handling at Kimmeridge. I left my jacket etc. at the top and scudded about the landing field. Completed the day, slogged back up, collected my jacket and went home. When I got back to work the next day we had had a call from a member of the general public who had found this abandoned jacket. They had very carefully gone though the pockets and found car keys with my works phone number on them. They had taken down the number, and eventually decided not to take the jacket to the Police in Wareham but leave it where it was. This was lucky as that would have been the end of my car keys, my lift home and all the rest. Moral of the story…. Don't leave stuff where hikers can see it!)
Anyway, back to yesterday; after a while a speck appeared in the landing field and after a lot of puffing it resolved itself into Paul Connor. He was staying in the caravan park and slogged it up to the top for some practice after getting rusty…. So there were 2 red ribbons there and no one else……..
The wind strengthened during the afternoon and although I could see gliders above Ringstead it was a bit too strong for my liking on T/O at 18mph gusting to 21. After a while this veered round to Westerly, and the Ringstead contingent faded from view.
Sat about reading until Brian turned up at about 18:30 After we each did a series of tentative wind meter checks we called it a day when it became clear to both of us that the wind was there to stay. Had a luxurious trip down the hill in the Isuzu that certainly beats walking!
Lesson for the day: Metcheck had said SW 6mph rising to 9mph. On the ridge it was double that.

Pictures by Luigi Degli-Esposti
Report by RW
Oh what joy another day out with "Uncle Albert" and his wonderful companion "Lizzy" she is the guardian of all flying kit on the ground! We headed for Bell at his insistence only to recognise " Bonzo" on the way who explained that Bell was "s--t" and he was going back to work to fix Uncle Albert's Vario ( it only needed a new battery). Ooops and the removal of some ingrained cowmuck.
Uncle Albert wanted to go to Bulbarrow but I stood my ground and said Whitehorse. More deep joy we flew & went XC with Dave M & I on my new Gin Oasis ( alright I only made Broadmayne but Dave said it was OK to leave the hill). Got back to the Horse to see many wings in the sky at Ringstead & beyond. So oft we jolly well went! Enjoyment on the cliffs with Dave M showing all sorts of ACRO moves, very spectacular!Uncle Albert almost went swimming & nearly blacked out on a deep spiral dive Whoosh!!!!
All in all a tremendous day with Dave W regaining his crown as the XC KING!! So many on the hill too many to mention.
Report by Dave Winn
Myself & Mark P arrived Bell Hill at 12 only to find the permanent windsock in line with the barbed wire fence, so made the decision to go to White horse. There were lots of wings in the air when we got there with the wind exactly where it should be and thermals shooting up the hill. After a few attempts at 'flying with others' a large gaggle of wings took to the air with Dave M sensibly at the top of the pack watching the mayhem below. A new wing for Russell W certainly improved xc potential and he was to be seen with the best of them, circling around and making ground. Whilst all this was going on I decided to launch and find my own thermal. After a couple of beats it turned up and I climbed out above the horse and headed in the direction of the gaggle. As I moved across country (hoping to make and land at bell, or near enough) wings peeled off the gaggle and I could see them strewn across the land in front of me.
Eventually one was left and the poor guy tried his best but had to give in and land but as I laughed (which served me right) I didn't realise that the same fate awaited me as I crossed the Puddletown bypass. Trying in a last ditch attempt to get some lift off the surrounding slopes proved useless and I landed almost on the same spot as Peter R as he pointed out later when he gave us a lift back to White horse. (much appreciated Peter) All round, a very satisfying day but not as easy to thermal, having to change thermals and having lots of low saves without great heights achieved.
---
Sun 11 July
Report by Ali Florence
Actually Mr Harvey Bell was also flyable on and off for a good part of the day. As myself Dave W, Dr Charles, Russell W, Dereck S, Craig B and some others whom I cant remember (long time ago now) proved. Only managed 1 ½ hours so you win there but twas better than a poke with a sharp stick. From 8.30am it was dodge the showers and squalls followed by a more a consistent bit then a consistant blow out. Mike D and Jacko where unfortunate enough to arrive as the blown out bit started and maybe didnt get to fly.
Report by Jon Harvey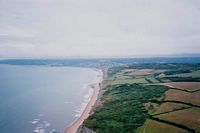 Sorry Alistair, but it was flyable somewhere!
Weather forecast on Sat night were not at all promising, but all weather links Sunday morning indicated that S.coast was poss. Arrived W/B to see dear old Tony Brooks already airborne at 10am. Joined him for around 1/2 hr when he decided to fly across the Bay to eastcliff. Popped to Thornecomb e Beacon then returned to W/B as light drizzle had set in.and decided to land, only to find Keith Boniface launching. Again to Thornecombe, together. Not much lift on top, but at least the drizzle stopped. Keith said he's going to Golden Cap but eventually landed at Seatown running out of lift going up to G.C.
Returned to W/B to do a retrieve and then second flight. Again to Thornecombe, staying for ages and meeting other Condor pilots travelling from Charmouth to W/B. and then to G.C. myself, following the coastal path up to the top. Very little lift on top,only managing around 800 ft asl max. Bimbled around then headed to Charmouth before returning towards W/B.again. Mighty sink towards Seatown, with a slow struggle up to Thornecombe. Wind definately dropping and now flat calm sea, and similar big sink to W/B. clearing Eypesmouth with only around 80 ft. Eventually landed with just about last of the lift, Wind speed on takeoff now around 7 mph.
Reasonable day with around 3hrs,airtime.
---
Sat 10 July 2004
Report by David Daniels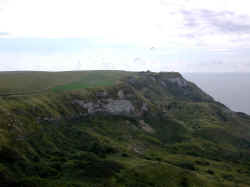 Back to reality - UK flying!
Awoke early to realise that it was SW'ly and probably flyable - despite Wendy @ Portland giving NNW @ 10kts, I decided the soaring seagulls on the south facing cliffs at Durdle Door were a better indicator! I was at Ringstead within minutes - only to discover it was a tad too west and very gusty. I flew the ridge for a few minutes for the sake of it - but with minimal height gain, no chance of getting to the cliffs and even less of returning - retired to the car.
Russell W arrived half an hour later - convinced that it was "smack on" and the cliffs were "doable" .... until he launched only to discover that it may have been "smack on" at ground level - but very W'ly only a few feet up - and not pleasant flying.
RW sent out messages to all and sundry that it was "not worth bothering with Ringstead" - which had the desired effect. Within 10 minutes the wind had a little more south, had eased and had become less gusty. Russell started a new round of messaged retracting the previous message and declaring Ringstead "flyable".
RW and I were soon flying in the smooth air over the cliffs for which Ringstead is so well known.
I had managed to make the transition to the cliffs staying between 25ft and 35fy ato - so that'll be buoyant, then! No great height gain over the cliffs - I managed some 250ft ato - but the air remained very buoyant a long way to the west - flying slowly into wind and reaching the caravan park at about t/o height .... with a very rapid down-wind return to the cliffs for some more fun.
Steve P was flying out to the cliffs just after I had landed, Derek S arrived and readied to fly just as the wind was picking up. Steve F decided that leaving his wing in the bag was the better move. Steve P and Russell returned from the cliffs and whilst they all discussed the idea of going to The Hythe - I returned to my caravan to get some work done.
Incredibly - that was the first time I'd flown the cliffs at Ringstead in over a year - I do love that place!

---
Friday 9th July
Report by Mike Drew
Wandered up to Bell at around 11am expecting it to be blown out. Once up there I noticed Martin H and Russell W both up very high so got ready ASAP. I had a short flight, staying around 400ft ato, but had to land due to the wind picking up. In the meantime Dave W and Mark P had turned up and were both flying. Mark even managed to take off in the middle of an air display! He was flying with a 1950's Jet that was doing barrel rolls, loops and stalls. When that finished a couple of Bi-planes buzzed him....
A bit later I saw Russell and Dave doing quite well so I took off to join them. I was soon in a nice thermal going over the back, although I was quite low. I managed to work my way up to cloud base at 4000ft with Dave, Russell having landed for around 5km. I lost Dave for a while but soon saw him coming back towards me and past me! I had to think who was going upwind, me or him! Turns out he was going upwind for a cloud but landed at 9km. During my flight I encountered a very strong thermal which I felt uncomfortable with as I was being thrown around a bit too much. As I flew out of the thermal my wing just dropped in front of me, followed by me free-falling to catch it up. Can't say I enjoyed that bit! Serves me right for leaving a good thermal. I carried on and made the other side of Winterborne Kingston for 14km. A couple of minutes later a Boeing 747 flew directly overhead and very, very low. I was glad to be on the ground!
---
Mon 5 July 2004
Report by Neil Hutch
| | |
| --- | --- |
| | |
Got off to a late start, didn't manage to take off until gone 3pm, The lift was lumpy on ridge and it took 20 minutes to get into something that felt that it was going. Martin Foley wasn't to be left behind and we dribbled off, shortly followed by the Guest speaker from the club meeting talk, Barry Pederson from Birdmen Paragliding in Cape Town. Climbs were fairly light mostly between 2-4, Having two gliders in quite close proximity worked well as we could use each other as markers for when we started losing the lift we were in. Barry remained in view but half a mile behind until we reached Corfe Castle. It looked like Martin was going to be on the deck just before Corfe but he hung in there until he reached the base of the ridge where he got a good climb. There were curtain clouds above the ridge and I doubted that I could get through to Swanage but the air turned out to be quite smooth zeros until well into the valley beyond. Martin landed a minute after me in the car park at Durlstone Castle having gone a more Westerly route. Barry landed on the outskirts of Swanage and seemed suitably impressed with what the Wessex has to offer. Many thanks to Keith for the retrieve.
Report by Mike Bretherton
Arrived at Bell at around 10:30, the wind was on but was very light and only thermal cycles kept people in the air. On my second launch I climbed up to about 750 ft ATO over the back field and decided to go with it. Everyone else went back to the hill and I thought that it was a mistake, I would be on the ground within a couple of km's. I was gradually losing it and was down to about 500ft when I encountered some very weak lift over a brown field. I managed to bumble along almost a zero for another 5 km very slowly climbing up to about 1000ft. Then above Whatcomb it went ballistic, 4 – 6 m/s right up to base around Winterbourne Whitchurch. Once at base it was easy to stay there but once at East Morden I was pressing my face against the airspace so I turned south. Problem was the was a big blue hole so I turned back into wind towards Bell Hill and speed barred back to the next big cloud floating downwind. I got another climb out of that, then I turned south once again, entered a cloud and headed for Wareham. Climbed once more near Wareham and crossed a large expanse of water at the edge of airspace. Found another climb but the track was along the extreme coastline (no roads) towards Studland and I spied a Pub along the main road towards Corfe Castle. Pub suck kicked in and I decided I beer was better than a few more Km's and a hellish walkout. The seabreeze was pushing SW quite strong as I came down and I lost all my remaining 2000ft into wind heading for the pub. Big sink and headwind meant that I did not quite make the pub but I only had about 1 km walk to it. A big thanks to Adrian Bishop who came and retrieved me.
---
Sun 4 July 2004
Report by Dave Winn
Lots of waiting for the showers to clear but when they did it was a good day for those of us that cant get too much ground handling. Myself, Russel W, Derek seemed to be the only people out flying with the exception of die hard Ali F flying at St Albans head.
As it turned out Derek left and it brightened up and I nearly made it to the cliffs but had to abort 3/4 way across.
Report by Alistair Florence
What a horrible looking morning! woke to rain so I made the wife a mug of tea and went back to bed for a while, as you do.
After a bit things seemed brighter so I headed for a deserted Kimmeridge. The usual motley looking crows were cruising the ridge. It looked flyable so I gave it a go. Had about 20 mins but the flying was uninteresting and uninspiring so did not prolong the flight.
The wind felt more SSW so I went back via Knitson. On the hill nicely. As I flopped the wing out the stuffsack I felt a few rain spots. 5 mins into what was promising to be a good flight the rain spots turned into constant drizzle. Drying the glider in the lounge is frowned upon now so I decided to abort before it got to wet. ( maybe not enough cups of tea in the mornings).

The Helfers children at Knitson had a tandem ride a while back which they really enjoyed. Mrs Helfer says they would love to try again if anyone is up that way with a tandem.
The rain continued till tea time. A brighter sky coaxed me back to Knitson to find gusts ripping up the hill at up to 1mph!! After a while I aborted again but went home via a non club site on the cliffs with a sort of churchy name where I had a peachy hours soaring with nothing but the odd gull for company.

---
26th June / 3rd July

Report by David Daniels
My ability to take paragliding holidays in France that include almost no paragliding due to seriously unfriendly weather conditions is well known - so it was a brave Nicole B and Jeremy M that to agree to join me for a week at Last Resort (www.lastresort.info).
Nicole and I actually arrived in Geneva on Fri 25th to be welcomed by great weather - and the trip to Annecy took only a short time. We could have flown - but decided to make the most of the day to recover from work and re-charge the batteries ready for the coming week.
On the Saturday, having rented a car, we hooked up with June S (another Wessex member that was in the middle of her two weeks at LR) and use her knowledge of the area to go to Grand Bournand and take in a flight - nice to get in some altitude - returning to the chalet where Jeremy had by now arrived.
The week proper started on the Sunday - and we were soon out on the hills guided by Kenton Birch and his very competent right-hand man, Ian. The week provided a mixture of conditions - the Monday providing the best at Lake Annecy - but this didn't prevent us from flying every day - 12 "big altitude" flights in all and - in Kenton's efforts to ensure that we flew somewhere when conditions were not the best - we also managed to fly six different sites during the week.
The one thing that nobody can guarantee anywhere in the world is the weather - but, for everything else needed for a great week of flying - we can thoroughly recommend Last Resort. There may be other places that are cheaper - but what you get here is everything you need for the week without having to lift a finger or (except for a couple of ski-lift tickets and the obligatory "meal out" on "chef's night off") having to put your hand in your pocket. A very comfortable chalet with a proper breakfast and superb food in the evenings, packed lunch, two instructor/guides between 7 clients (what a perfect ratio!) and all your local transport to/from the sites and retrieves! This is a value for money no stress paragliding holiday!
---
If you find that some of the earlier pages don't have a navigation menu, just use your browser's Back button to return to this page once you have finished reading it.