Eye in the Sky - Aug 2004
Your Flying News Notice Board. Send me your news .... and photos.
---
Tues 31 Aug 2004
Report by Roger Edwards
Another early start for me, at Bell about 9:30, not necessary I admit but I was up and about. Very light 5-7mph onto hill and not warmed up yet. Richard ?, a new member was already there. Neil H turned up and gave us some tips for understanding approaching clouds, potentially good times to launch, finding that first thermal and how to get away, making the early arrival worthwhile after all. Thanks Neil. Things started to improve and the hunt for thermals began with some good efforts but little success.
About one o'clock I joined the hunters and headed into the bowl to find all there had decided to head back down the other end where people were wafting upwards gently. I resisted temptation to be a sheep and continued with my plan, finding lift over the magic tree, though I don't think I've ever been that close to it before. The tree and the woods immediately to its right were working and I gained steadily, giving me enough height to head right out over the farm buildings. Bingo! Found a thermal of good strength and started working it until I was turning nice and tight and flat, going up steadily and drifting with it. Not sure if I started something but there now seemed to be people heading over my way. I hung in there, being overtaken by Peter R and Neil H, and arrive at base at about 3800ftASL. Fantastic - my first time touching a cloud and my best height gains ever.
Many got away in this gaggle, those I remember and recognised were Peter R, Neil H, Pete C, David F and Neil F.
Observing where I had ended up and where I was drifting it seemed to be in the direction of Bournemouth airspace, more east than south. Now enter the flaw in my plan - poor preparation. My map was folded for a sw run down to Swanage (dreaming there) and didn't show me enough to the east and being a newbie at this XC game I'm not familiar with the airspace. I could make progress south without going east so decided to play safe, so as I was approaching Blandford decided to keep it on my left and aim for Wareham.
Now for a photo stop. I had managed to remember the camera this time but was once more cursed - the batteries fell out as I took it out of the flight-deck. Fortunately they didn't stray far and with a bit of fiddling I got them back in and got a couple of snaps. I lost the lift and decided to glide to somewhere likely to be a source, or so I thought but sadly ended up coming down somewhere near Charlton Marshall for about 10km.
Well, only my second XC and better than the first so that'll do me. Seems I can get away now, the next bit is flying the sky and recognising what everything on the ground is so I know where I am and where I'm going. For now, just being up there with Dorset all laid out below is enough to make me smile.
And special thanks to a member of the public who stopped to enquire if I'd landed OK and then drove me to Blandford even though he wasn't going that way. He's got a club card so he may read this, so cheers mate. And thanks for the lift from there go to John B who was rewarded by getting away immediately on arriving back at the hill for a short run past Shillingstone.

Report by Mike Bretherton
Weatherjack was giving it a 4, the clouds were looking epic and the birds were thermalling on the way to Bell Hill. I arrived at 11am, the wind was on but very light. A few flew but did not do very well.
Then just after midday, a reasonable thermal cycle came through and most of us had a little fly, it was promising but short lived. Shortly after I took off and climbed a very weak thermal past the bowl area. It was torturous, weak but with almost no wind drift. The 4 of us who got to base had hardly drifted anywhere, and then we all split up. Two guys headed north and I did not see them again, another guy seemed to fly all over the place, first south, then north, then south again gradually loosing height until they landed near Blandford. I decided to stay with the cloud as long as I could and drifted towards Blandford with it. I nearly lost it and had a low save around Charlton Marshall. Another torturous climb out until it went mad with up to 7m/s (that's 14up on an imperial scale!) and very rough, the wing kept diving out of the thermal like in an SIV course and spiraling, it felt like I was falling out of the sky but the vario kept screaming.
Once at base again I had to move north to keep away from the airspace then later went on a glide towards Verwood. Here I almost landed, even getting out of my harness at about 300ft, I did not want a thermal as the forest past Verwood was huge and I did not want a tree landing. But I hit a weak core and I took it, thermalling over the trees but it was not good enough so I flew back to my chosen landing area, and took another thermal, still no good, then finally a third, not strong but consistent and I climbed all the way to base again on this.
Next I flew over the new forest and on to Stoney Cross, a place which I have always wanted to fly to from Bell as its at the corner of Bournemouth and Solent airspace. But I was still at 3000ft, so I headed north again, but it was 4:15pm and I could only eek out a few for Kms against the wall of airspace so I decided to go onto a westerly glide to Paultons Park were I knew there was a pub. I landed here 2 years ago on an Xc from Combe, its in airspace but only above 2,500ft, so my glide below that was OK. I spent almost 4hrs in the air, made a straight distance of 53km and 55km with a turnpoint which is my best UK flight this year.
After I landed I contacted everyone I knew who were on Bell but they were all strewn across Dorset. How the hell am I going to get back I thought. But by an amazing quirk of fete my friend Simon Herbert who could not make the flying today, had finished work early and by some coincidence was in the local area and retrieved me within half an hour. A perfect end to an epic day and I am so glad we bought the hill !
Report by Neil Hutchison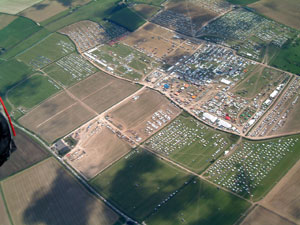 Great Day at Bell, today sounds as if there were a lot of personal bests, well done of course to Pete R. who showed the way with 53Km. I landed in Nomansland-honestly it really does exist! 43.7 And took this photo of the steam fair as I went over.
Report by Peter Chalmers
John B and I arrived at Bell at 1030 to find at least ten wings laid out already and a light WNW wind. We were soon joined by many more (doesn't anyone have a job?) and the waiting began. Weak cycles came through with a flurry of launching and short soars. I chilled out waiting for something stronger, being extremely averse to walk-ups!
At about 1300 I thought it was about time I got airborne so launched on the next cycle and found a thermal. Weak to start with then a little stronger with very little drift. I found myself climbing to base about 4000' amsl behind Peter R and Neil H.With a gentle Westerly at altitude I progressed very slowly to the north of Blandford and the Camp with Neil ahead. I found one thermal over the Great Dorset Steam Fair, a payback maybe for the traffic jam on the A354 I endured on Saturday? Peter R struck off in a more Northerly direction and got drilled. I was sure he was going to land but after what seemed like ages scratching he managed to climb out, it was quite a novelty looking down on him for a while!
Painfully slow progress with lots of circling in weak lift took me over a very posh house with a large lake in the garden and on towards Verwood. Then a very sinky glide and I thought I had had it but found a small but very punchy thermal at 500'agl. I just about held it together and made it back to 3000'+ over Fordingbridge. I finally landing about three miles past next to the B3078 in the Forest, giving a cyclist a bit of a fright in the process.
37.8 kms in 2hrs 15mins, a UK record for me. Neil ended up in Nomansland a little further down the road, Craig B in Wareham, Peter R I know not where!
Neil stopped to offer me a lift on his way back to Bell but I managed to hitch a lift to Totton and John B drove my car home, thanks to you both.
---
Sat 28 Aug 2004
Report by RW
After several differing weather reports & an offer of a trip to the Malverns I stepped outside the front door to feel a light SW breeze & decided it was time to re-visit the site where I was trained by the Flight Culture Posse, Kimmeridge.
On arrival the familiar rutted track greeted me, but this time I had my trusty 4x4 to overcome the ruts. I called several of the old fartonians to say it was on the hill and freshening. After a cup of tea & the usual sniping & backbiting the old faithfuls turned out in force. It became decidely lifty and we sojourned out to the Kingston end & enjoyed several hours of fun flying. Mark P making the best height gains & the Tandem Twins ( Dave D & Sean L ) practising their manouevres.
There were moments when it felt as though it was increasing in strength & the doubt set in, IME TO GO to Ringstead. GaZ M spied a few out on the cliffs with his binoculars so oft we jolly well went to enjoy several more hours of good cliff soaring.Good to see Kiwi Chris back in the air.
Report by Alistair Florence
I arrived at Kimmeridge around lunchtime after calls of encouragement from Dave W & Russ W, Several wings were airborne and I rapidly joined them.
Many new faces on the hill all seeming to cope with the conditions adequately.
After a bit of bimbling around at the Swyre Head end of the ridge I connected with several good areas of lift which got me near to the sea cliffs with good height. I was almost to far out to fly back to the ridge so made a break for the cliffs. Got there no problem. The cliffs were not working that well but I managed to gleen a few hundred feet from the higher bit just East of Swyre head. From here I made a break for Hounstout.
I guessed Hounstout had to be working but was beginning to wonder as I approached still loosing height, Shortly before panic stations the lift cut in and took me smoothly to 800 ft odd over sea level.
I didn't loiter too long, as soon as I had got as much height as I could I ran for St Aldhems and cut straight along the cliff face to the Coastguard look out. I was able to build up my height to 800 ft again and then ran down the coast Eastward. With the westerly element in the wind a venturi effect was created along the cliff toward Winspit. This had me running straight down wind with good ground speed but rapidly loosing height. As I approached Winspit I had little more than 100ft over cliffs left and made the snap decision to land at the foot of East Man ( just east of Winspit).
One bad point there is no Orange phone signal until you have walked up behind Swanworth quarry ( a long up hill trudge that makes Ballard feel like a picnic) as soon as the signal was restored I ordered up my retrieve in the form of Dave 'tandem' Daniels, many thanks Dave.
Please note : with most of the cropped fields along the way harvested I was able to plan landing options as I went before embarking on each section of the flight. Particularly past St Aldhems there are virtually no survivable bottom land options if you undertake anything like this consider that fact first.
---
Sun 22 Aug 04
Report by Phil Dear
Phil ZZ and myself had probably our best flights ever at Ballard today. Incredibly smooth air over cliffs with broken thermals off swanage at the other end of the ridge.
Visibility was fantastic with best height gain of day for me was 700 ATO. Managed to take some great pictures of ZZ doing some impressive tight 360's over the cliffs.
---
Sat 21 Aug 2004
BELL HILL - Please note, vehicles are not allowed to drive into the bottom landing fields. You risk us losing the bottom landing. On Saturday I saw a car drive across the field to pick up one PG bag. If you are too idle to walk that distance you shouldn't be flying.
Picture by Mike Melrose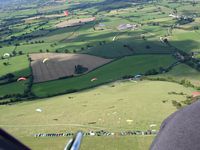 Bell Hill car park.
Report by Mike Bretherton
On arrival at Bell at around 10:30, the wind was on but quite strong. A few people were in the air but it looked like they were mostly gale hanging so I decided to wait it out a little as the wind was forecast to drop off as the day progressed. The wind died down around midday so I decided to launch. First flight was only a few minutes as the wind died off completely for a short time.
I re-launched and was soon up again, the best lift seemed to be in front or to the west of take off. There were no nice thermals to base and the thermals were very broken up. I managed to gain a few hundred feet by 360ing a thermal then gliding out, then 360ing again. I realised a big cloud was forming overhead and it was either go Xc now or wait a long time to get away. The best lift was over the back of the hill and although I kept falling out of it, I remained in enough to very slowly climb up to base around 3700ft ATO over Winterbourne Whitechurch. The better clouds were to the north but my track was very SE so I decided the goal had to be Swanage rather than try to head north around the airspace. I headed south to another cloud but it was decaying and much of the ground beneath me was in shadow. I glided to where the sun was but found only very weak thermals which took me over Wareham Forest.
I took a final glide towards Wareham and fought with some very low punchy thermals but I kept falling out of them and I was now too low to safely play with them. Landed at 22Km very near a parking area where I managed to get a lift to a Pub in Morden before my friend Simon later retrieved me on his way home.

Report by Roger Edwards
I decided on another foolishly early start (was at Ringstead 6:45am on Friday hoping for a window before it got blown out - was already 28mph!) and arrived at Telegraph Hill, aka Batcombe 8:30ish. My reasoning was that there was potential for it to move W and hence off and I might at least get some soaring in before this happened. Wind 7-10mph, very slightly N, possibly a little too light to stay up. Those who have walked up Telegraph know it's not something to be done often so I decided to take a gentle pace to getting ready to let it pick up. And it did - within half an hour it was up to 16-21! After cursing I was philosophical, at least I hadn't got up there and ended up in interesting conditions. A bit of ground play confirmed there was no chance of me going forwards so I settled in to wait it out, in which time Russell W and Dave W arrived.
Peter R and Martin F arrived and wondered why we weren't flying but we protested that things had just started to improve. Still a little gusty for some of us they took to the air and had to work hard to get any worthwhile height gains though they did get away eventually, along with Condor James. Conditions improved with steady thermic cycles going through and people flew with varied results - long time scratching, bottom landing, back in at the top and occasionally making a break for it.
After one false start I had a well timed launch and managed to stay around the top of the stack for quite awhile, working the thermals that were going through and riding out the gusty stuff that reduced those in the air to brief periods of gale hanging. Looking down I saw Russell have a nice 50% RH tuck which he sorted neatly. I started working another nice thermal and found myself getting rapidly blown backwards as things gusted up again, and though I would've liked more height I thought what the hell, going up so let's get going.
I could see Mark P below and to the right of me but going up and drifting with it nicely. I just kept on turning and kept on going up, trying to remember all the stuff I'd heard and read about centring on cores, flying the sky and Jockey's top tip on what to do when your inside arm gets tired. I even had time to enjoy the view and didn't need a compass as vis was so good I could see all the way to Portland one way and Poole Harbour and Swanage the other. Amazing. I lost the thermal at one point and whether I found it again or another I don't know, but I certainly found something as I drifted over the rampant Cern Abbas Giant*. I ended up in an area of full cloud cover, leaving all the ground in shade and was unable to find anything else going up. I ended up landing just short of Piddletrenthide for 6km. Not that far but as it was my first proper XC, done all on my own without some instructor guidance as I had in France, I was chuffed to bits. Mark P also finished his first ever XC in the Piddletrenthide area as well, I believe, and when I caught up with him was wearing the same mad look and fixed grin as me. A later map check showed I had landed in Kiddle's Bottom. Lucky old Kiddle.
My personal top tip for going XC: don't fly with your camera. Has worked both times for me. With luck I will continue to collect data on this phenomenon in the near future.
* Useless Fact: The Cerne Abbas Giant's member is three people long if you lay them out head to toe. I know, I have photographic evidence.

Report by Mike Adkins
I haven't seen so much traffic on Bell for a long time. From the air at around 1100 there were 46 vehicles, and they continued to pour onto the hill all day. This did not pose a problem as most people parked nose-in to the fence and many parked to the east of the top gate. There were about 8 hang-gliders, and heaven knows how many paragliders! It would be fatuous to try to name pilots - probably easier to say who wasn't there! The breeze was fresh (13 - 16mph) and the flying was boisterous and interesting. Despite the mixture of hangies, tandems and solo paragliders (including many red-ribbons), I saw no potential incidents. I don't know how many pilots got away or how far, but there surely must have been some. It was as well that the hill had been flailed since the removal of the gorse bushes made more space for all the activity. Derek Sadler (who is now home and recovering rapidly) was very sorry to have missed such a good day!

Report by Neil Hutch
Arriving at 9:45 there were already two gliders in the air and by 12:00 I counted over 40 cars on the hill so Bell must have been the place to be. This was my first flight on my new Gin Zoom so I wanted to get a bit of airtime in to get the feel of it. After an hour on the ridge in what seemed choppy air I lopped off about 12:00 the first climb taking me to base at 4000amsl, leaving the cloud over Bryanston School and heading for clouds approaching Blandford.
Each transistion I made sure I headed to clouds to the North as airspace was comming up fast. At the 20K mark I had to really start pushing north and speeding up. With each hop being 90deg to the wind and some serious sink between I thought I was on the deck several times. The climb off Fordingbridge hoisted me to base which by now was a very respectable 5100amsl. Here I found myself in strong lift in what fells like a dome with the edge of the cloud lower than me in all directions. As I am not a keen cloud climber I popped the ears in and headed for the edge.
From there I had one more good climb to base over a little village called Redlynch and then started what was in effect a prolonged glide as I chased the edge of the cloud I was under with only a couple of small climbs in a sky turning increasingly blue. Landing just North of Timsbury the distence 57.3Km straight line or 60.4km with a turnpoint at 3pm. The hill was almost deserted by the time I reached it with a couple of hanggies just packing up. All in all a pretty perfect first flight on a new glider

Report by David Winn
I had never been to Batcombe, so when Russel W invited me I took up his offer. We met Roger E standing with his anemometer at t/o. The wind was on the hill but gusting over 20mph so we had some lunch. Peter R & company turned up and Russel decided to launch and we followed. The air was smooth with now a few thermals coming through and after a few beats I took one and disappeared over the back only to come down in the middle of nowhere and Russell picked me up. Peter R had done the same with a couple of others but arrived back at t/o just after me having landed in the piddle valley.
Mark P & Roger E decided to go xc together and that prompted me back in the air. After scratching for a few beats a huge thermal lifted me out from below t/o and I took it after a massive collapse to 3000ft. Recovering my composure the rest of my flight was relatively relaxed until a huge black cloud hoovered me upwards and I started to feel uneasy about what was happening so decided to turn and run away from it. Big ears became necessary just to lose height but I overdid it and had to land at Puddletown for about 16k.

---
Tues 17 Aug 2004
Report by RW
Nevermore will I believe the weather reports Ha Ha!!! Whitehorse was flyable today Dr Charles C. S. was the first one there & in the air. I was flying a low coastal cliff on the edge of Weymouth & spied him out for a jolly. I was there with him for a short while before the drizzle put me off but I had enough height to make it back to the car. Dr C carried on regardless & a late arrival was Adrian B.
---
Sat 14 Aug 2004
Report by Alistair Florence
Off to Kimmeridge, several other wings + flight Culture on site, twas a bit choppy but nicely flyable, suddenly I found myself on my own, was it something I said or do I have BO or something, any way whatever, I had a an exciting hour or so before getting bored and trying Knitson. The wind was of to the West a bit but extremely thermic, after a bit I gained some height and flew out over the farm. A steady pulse of thermals where punching upward and made things quite unpleasant so I baled out and went back to Kimmeridge to finish off the day before returning home to fire up the barbecue.
Report by David Winn
Two sites in one day. After flying the cliffs at Ringstead for a while our attention was drawn to White horse where a red wing was gaining height and themalling away xc. I tried to follow but it just wasn't my day and so resigned myself to playing dodgems on the ridge. It was a good day for red ribbons and they all flew to the rules of the air. All together a great days flying.

Report by Neil Weymouth
Arrived at Ringstead to find everyone dissapearing off to White Horse but decided to have a quick try anyway, after 10mins of bouncing aroung on the ridge was just about to give up when I found an area of constant lift all the way over the farm to join Phil on the cliffs. The run along the main cliff was quite bumpy as the wind was quite sotherly but once round the corner the run to Lulworth and back was excellent, so much so I did it 3 times, just need to pluck up the courage to jump Lulworth next time.
Report by RW
An early call from Dave W to say he was en route to Ringstead & Text from Ali F to say he had flown a westerly site on the coast & was now heading to Kimmeridge.
I arrived at Ringstead where it was " on the hill " & already thermic. Ron S arrived shortly after & he was first in the air. I followed as did Dave W & it was off to the cliffs on my first return there were were so many wings waiting to take off so oft I went again. This time it was smooth flying for nearly an hour & then it became lighter & I felt a loss of height so back to take off to see a red wing over Whitehorse gaining some good height. ( I received a call from Uncle Albert at Bulbarrow to say the same red wing had passed over & landed somewhere in front of Bell, I think there is a new site record for Whitehorse (Editors note: Kai Coleman flew 38.1km from White Horse but unfortunately landed in Compton Abbas ATZ so is not entering it in the league. It also therefore sadly doesn't qualify as a new site record.) ; The rumour is its a Condor Member OOOPS). So there was a mass exodus to the "Horse" ( at one time I counted 20 wings
in the air) it proved thermic but no chance of repeating the performance of the red wing. When I left at 1600hrs there were still pilots arriving & flying. A good day!!!
Others:- Gill & Nick Le Gras, Dave D,Flight Culture Posse, Rod ( Avon), Martin H, Steve P, Dave W, Ron S, Rory, Aidan, Grant O, & so many others!!!
---
Weds 11 Aug 2004
Report by RW
A pleasant morning of ridge soaring near Portesham with Allan C from Bridport & he reminiscing about his Paramotoring ( Uggh!!!) the night before. So many stories of broken props & other ghastly things, I'll stick to paragliding.

---
Tues 10 Aug 2004
Report by RW
Yet another adventure with Uncle Albert aka Martin F & Bonzo aka Peter R.
Uncle Albert was busy attending the new collection of Plymouth Rock Bantams & adjustments had to be made to the shed so they did not cook in the sun. Bonzo was ready & waiting when we saved him from the God of Work.
Off to Mere & the sky looked b----y marvellous, lovely cloud streets & for once the wind was smack on the hill & a reasonable strength.Peter C joined the circle as did Nick ( red ribbon from Thames Valley.
Out in front thermals appeared to be popping off but it was not to be!! The air was uncomfortable and after an hour of trying we gave up in disgust.
Sara ? was regaling us with stories of scraping the tops of trees & rotary landings & we learnt later that day she was helicoptered off with a broken ankle, GET WELL soon Sara.
Steve F arrived too late for any fun at all.
On our return to Weymouth we could see several wings above White Horse, I'm sure someone will put in a report!!!

---
Sat 7 Aug 2004
Report by Dan Capelin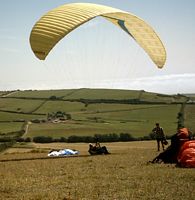 Sean taking a laid back approach to paragliding at white horse today !

---
Fri 6 Aug 2004
Report by RW
Phoned Peter C to advise I was en route for Ringstead, " I'm already here & its flyable" was his reply! I must do a memo to myself to get up earlier in the morning!
Although there was some orographic cloud over the White Nothe it was eminently flyable. After several ventures out & back & a short trip round the Nothe to the first big dipper it was back to T.O. for lunch. Quite a few stayed at T.O. & soared the front ridge & as the day wore on more pilots arrived. The wind became more southerly & several ventured off to White Horse for some late afternoon delight!
On site:- Flight Culture posse, Peter C, Rob P, Steve B, Steve P, John H, Ron S, Rodger E,. Thank you to John W for the retrieve.

---
Thurs 5 Aug 2004
Report by RW
Where shall we go today? That was the query from several members! I was lazy & went to the Ringstead "office". Ron S & Tim K arrived with their Hang gliders, What were they thinking I wonder?
Dr Charles & family arrived for picnic & short flight, our good friend Shippo & entourage brought tea & biscuits & then Steve P & Mike D sauntered along for the hell of it.
After much scratching about on the front ridge with short flights enhanced by local thermals we eventually made some height. At about 1530hrs we made it to the cliffs for 20 -30 mins of smooth flying with height gains of 300'ATO, the revailing wind was quite westerly & "switched off" rather quickly, I was lucky & made it back to T.O. Shippo phoned to say he had landed amongst the nudists & the hangies were fully rigged with nowhere to go. A late visiting low airtime pilot from " Avon" received an informative Site briefing.
Report by Babs R
Tim K & Ron S were thinking of flying later ..........which they did with some friends all managed an easy flight over the cliffs with 800ft above take off played about for 30- 45mins and then all top landed.
---
Sun 1 Aug 2004
Report by RW
Pictures by Mike Melrose

Ballard, Whitecliff.

An early start to beat the heat & the holiday traffic, I found myself on the hill alone & a gentle ESE breeze, just not enough to inspire a launch. The intrepid Ali F. arrived after clearing glasses from around the campfire at the Bash & rescuing Wacko Jacko from being incinerated along with the remainder of the furniture. Ali was impatient to act as "Wind Dummy" & made the all important transition to the beach. Thanks Ali! ( You needed to get home anyway ).
Several phone calls led to some being tempted for the long trudge up to T.O. I was then volunteered as "Wind Dummy" & managed to scratch for 20 mins landing back just short of T.O. Senior flyer "Shippo" ,Grant O, & Brian M. got off to the spur and gained some height but top of the stack was local "Phil The Barman". This led to all & sundry getting out to the cliffs, Mike M & Grant O, venturing round to Old Harry.
I welcomed new CP Paul ( from S.Africa, working in London) & his lady Jo & friend Gavin from Zimbabwe.
Late arrival Peter C managed to soar the lower cliffs with me at the end of the day. Once again the Police helicopter unnerved two pilots out on the spur. Others:- Dr Damian, Rob P, Steve B, & very late arrival ( unknown )
---
If you find that some of the earlier pages don't have a navigation menu, just use your browser's Back button to return to this page once you have finished reading it.