Eye in the Sky - Nov 2004
Your Flying News Notice Board. Send me your news .... and photos.
---
Thurs 25 Nov 2004
Report by Mike Adkin
Tempted out to Kimmeridge by the SW 8mph weather report, I arrived to find it very light and only flew for about 90 seconds! And it didn't get any better. But the point of this report is to tell you that the track is virtually impassable, so unless you have a seriously determined 4x4 or a fully inflatable Citroen, and nerves of steel - don't bother!
---
Fri 19 Nov 2004
Report by Mike Adkins
A good day was had at Bell with a bit of a hole in the middle. I arrived noonish to find two wings very high and many other pilots there. (Russell W, Brian M, Luigi - who went home unwell (hope you're OK, mate) Neil H, Gary M, Sean L, Mark R, Martin H, Martin F, Peter R, Grant O, Steve A, and others whose names I can't recall, sorry!) Of course, as soon as I prepared to launch, the wind freshened, ears appeared, and everyone came down. It was very cold, and while we agreed that had it been summertime and warm we would all have launched anyway, no-one wanted to fly except Martin F who eventually came down because he was lonely! Several pilots packed up and set off home and I was about to do the same when I noticed the wind had dropped a little, so I launched, soon accompanied by others. There was thermic activity, and the flying was good, but it was extremely cold and after a while frozen fingers forced me down. Never mind - we'd blown the cobwebs away!

(I noticed people arriving in unsuitable vehicles, which, while able to get to the top of the track, slithered about on the mud in trying to park. It has been suggested to me that we put scalpings or shale down at the top, but, while the track could usefully be extended a little, ultimately it's a field, not a car-park! So if your vehicle can't handle the mud, please don't bring it up the track. I say this on behalf of the Bell Hill Management Team.)


---
Tues 16 Nov 2004
Report by Alistair Florence
Yesterday the boss asked if I would deliver a contract tender to Didcot today, immediately I tried to think of a flying site on route. Not exactly spoiled for choice, there's only really Combe Gibbet which is Thames Valley members only and closed so not much use to me today then.
I figured that with a slight detour I could take in some sites somewhere. Wales was perhaps kicking the pants out of it so settled for Swindon area Thames Valley sites as the target.
Tender delivered I headed for Swindon and straight to Liddington Castle just off the M4. it didn't look that spectacular and the wind was off so following a call to TV sites officer headed for Milk Hill. Up the toll road after paying me toll ( you put your £1.50 in an envelope and write your car reg date and time on the envelope then post it in a relatively pikey proof box, good idea really).
The wind was on the hill at 10-14mph, just one problem TV have a strict rule about no flying without an accompanying person, not necessarily a pilot. No one else around and I guessed I couldn't claim a crow as an accomplice. I nearly gave up ( I think TV members might have things called proper jobs ) when I spotted a van approaching. The driver turned out to be a Pilot (Ian) who was also glad to see me. We were both soon flying. Milk is an interesting but not stunning site, a reasonable sized half bowl facing West with a ridge facing sort of South. With a WSW on it it seemed to work well. We had great fun bobbing around on the spurs that run into the bowl and on occasions the wind picked up spitting you up out the bowl and onto the ridge.
I wouldn't make a special journey there but its well worth a fly if your in the area (takes South to west, Rybury is ½ mile away and takes SW-NW and Tan is between them taking SE I think.
---
Sunday 14 Nov
Report by Roger Edwards
The Bell Hill crew weren't the only ones to have fun today. Those of us who chose Telegraph Hill (Batcombe) experienced similar conditions - slow start, becoming on and off then staying good to the end of the day. The occasional switching off caused a few of us to curse after we ended up down the bottom after bouts of desprate scratching and were faced with the heinously steep 300ft walk up. The reward for patience and persistence was an hour or so for most. Mainly Condors and Flying Frenzy on the hill, a handful of Wessex, a couple of Avon guys who fancied somewhere different and Kai Coleman also gracing us with his presence. A busy day for Telegraph.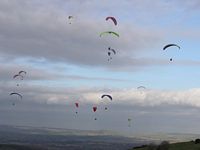 Report by Steve Bamlett.

Arrived early hoping for the morning flight but nothing on offer!. Shortly followed by Dave W who had the same idea. Wind was of to the north and at first looked as if it was not going to be a good day. Considered moving but stuck it out only to find that the wind had drop but at least it was begining to come onto the hill. Others started to arrive and fun was had watching many trying to make the hill in there verious driving styles!! ( I think Collin McCray is safe !!) As we all practiced the art of Parawaiting the wind slowly picked up enough to be able to ground handle so got more practice, even managed some forward launches which I would suggest to all if the wind is light as you can never get enough practice at this.

Thing started to look better after lunch so got in and gave it a go. Managed to get a bit of lift over the bowl followed by others but not for long.
As thing improved many were having a great time and at one point the whole ridge and bowl was useable which was lucky as there were alot of wing in the air, at one point I counted 20!!! There was some thermals to be had but they were hard work but good practice never the less.
Hopefully Lanny, and the moble kettle/stove will be on the road soon so that Russell can have his cup of Tea!!!!!
Report by Nicole Barnard
I was still not convinced that there would be any flying as I left home on Sunday morning, with light wind and high pressure forecast for the day. The drive to Bell also didn't appease my pessimism as there was not a breath of air to be seen anywhere. Drove (ahem), slid up the muddy track to find Bell Hill car park sufficiently brimming with cars, and one wing just about not managing to reverse launch. Hardly a breath. But. A HUGE fluffy was building right out in front of the hill and I was not going to let it pass me by whilst my kit was in the car. So out it came and I just about managed to clip in when the wind started coming through. It wasn't much and a couple of us managed to scratch around for about ten minutes all the while watching birds happily thermalling on the sunny side of the cloud. It was, however, the start to a fantastic flying day. No sooner had the cloud passed, than the hill kicked off in 'summery' fashion with lazy thermals and tons of gliders dotting the bowl and ridge. The wind was never more than about 10 miles an hour but the light thermals helped to keep everyone in the air for most of the afternoon. It was hard work keeping an eye on the patchwork of gliders colouring the sky, but the flying was superb and all had a grand time without incident (I hope). When I left Bell for the comforting warmth of the pub, there was still a glider scratching around in what was left of the wind and the day. Life is good.
---
Saturday 13th Nov
Report by Mike Melrose
Arrived at Monk's at about 11am to find Colin Davies in his car, in two minds whether to fly or not.
After assessing the conditions, and never getting a reading of over 16mph on my wind speed meter (despite the combination of the feel of the cold air and the wind noise in the trees behind take off giving the impression that it was stronger), I decided it was looking good.

I ended up having a very pleasant (but slightly chilly) hour long flight, with very smooth and constant lift available. Various others, including a number of hangies, turned up while I was in the air, but only one other (Richard, I think??) decided to launch. As the conditions were on the fresh side of average I didn't fancy top landing anywhere near the fence, road and trees and a side landing was near impossible with the lift so constant, so I decided to finish with a bottom landing (the walk back up the hill would warm me up, anyway!)

After a bite to eat, I considered whether to launch again as conditions were pretty similar to earlier, but the lure of a warm living room watching the rugby with a pint of beer proved too great, so I left Mike B to have the site all to himself.
Report by Mike Bretherton
I had a nice half an hour at Monks today in the winter sunshine with the whole site to myself. Hardly anyone turned up today despite the promising weather forecast and several hanglider pilots even went home without rigging complaining that it was too cold. Two paragliders flew just after midday but landed at the bottom when it became a bit lumpy and they were cold. I waited a little while for smoother conditions and took off in an empty site. It was pretty smooth and my charcoal handwarmers kept me toasty, but the wind kept going off to the west a bit and gusting up so after about half an hour I decided to land at the bottom, my third consecutive time on visiting this site. When I returned to the top, another guy who lives local took off and he was still flying when I left about an hour later.
---
Sunday 7 November 2004
Report by Roger Edwards
Today could have manifested as another day to remind us what a god-foresaken, flying-desert of a country we live in. Low wind, low cloudbase, rain likely, bugger all on telly so might as well get some fresh air anyway. Bell offered the best odds of feet-off-ground activity so off the optimistic/desperate/kicked-out/escaped few went, armed with a misplaced sense of purpose and a super-size portion of hope. Lovely views from the viewpoint, if you like mist filled valleys. Triffic. Hang on. What's this? It's lifting? Onwards ever upwards Caruthers.
Yehaa - no cloud on the summit of Bell - all we need to do is get up there. Lovely, stony ruts lead to a developing quag and what threatens to become a 4x4 graveyard - as much entertainment was provided by slip-sliding away on the wet grass of the new day [spot the slightly paraphrased lyric] as was provided by flying. The 4x4s were put to shame on two counts - firstly by Steve B's 206 that made it all the way up to park all innocently by the windsock, apparently having done this in reverse as though it was the most natural thing in the world, and Peter S's 2CV that seemed to just bounce and float over the most teflonic of surfaces.
Weak conditions came on and off to give most of us 30 minutes to an hour of gentle floating with most of us making it to base at the heady altitude of 100ft ATO.
The day ended in a classic British clag into which the keen, or maybe that should be desperate, launched to fade to ghostly nothings only to reappear as apparitions looking to find rest upon the earth. One was heard to mutter, "I was doing alright until you lot stopped talking, then I couldn't find my way back." Fortunately none ended up with their 'eads tucked underneath their arms. Gorillas in the Mist? More like Pillocks in the Mist - in what other country would you find a bunch of flyers out in such patently ridiculous conditions, grateful for the merest crumbs dropped from Braun's* plate?
Today could have manifested as another day to remind us what a god-foresaken, flying-desert of a country we live in. And let's face it, if we're honest, it did.
Present: Russell W, Steve B, Neil H, Peter S, Peter R, Mike D, Dave W, Gaz M, Keith, Martin H, A.N. Other, Anne Otherone, Misty Moist. Today's musical accompaniment courtesy of Bon Jovi.
* Braun is the goddess of moving air-masses. Her anthem is "Blow hot, blow cold, sweet hairdryers of thermals." Yes, I know it's bad but winter and work are already taking their toll on my sanity.

---
Friday 5 November 2004
Report by David Thomas
Receiving the message 'Flyable at Bell now but cold' Friday lunchtime (thanks MartinB) was perfect. Bang on 1pm I was out the door and heading to Bell. After walking up the track which was the right decision, unpacked the glider and took off into fairly smooth ridge lift. Being my first flight for about 3 weeks took a few minutes to get fully relaxed by which time the wind switched off and had to land. Is that all!! Seriously going to have to consider giving up work. Decided to wait around, which paid off. The wind picked up and everyone was back in the air for more enjoyable ridge soaring, until sunset at least.
Report by Craig Byrne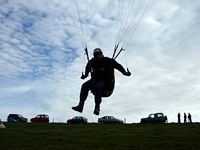 Everyone had a brilliant day at Bell today with pilots flying from 11:00 till sunset, not massive height gains but an abundance of easy lift all over the place. The flying was excellent fun and you could point and go nearly anywhere you fancied :o)
Some nice little thermals also made the flying fun at times all though you could only manage 3 or 4 turns before they broke up.
A couple of red ribbon pilots (sorry I forgot your names) had some good flights of at least an hour or so. Many of the usual suspects in attendance: Ali F, Robert D, Mike A, Brian M, Martin H, Gary M, Marcus W, Kaye E, Paul E, Martin B, Russell W....
The photo is of Craig Byrne having a float about for the camera, taken by Marcus Webster.
---
If you find that some of the earlier pages don't have a navigation menu, just use your browser's Back button to return to this page once you have finished reading it.