Eye in the Sky - Dec 2004
Your Flying News Notice Board. Send me your news .... and photos.
---
Thurs 30 Dec
Report by Richard Mosley
Pictures by Robin Simmons (a passing walker) - thanks Robin!
Glad to hear steve Bamlett survived his frightening experience. Flew Rngstead on Thursday the day after, arrived to find Phill Smith in his van. The wind measured 12 mph well off to the west; we rigged the hangliders and flew over to the cliffs to find the wind very strong and hard work to penetrate forward. On take off I thought the wind nowhere near as stong as we later found, on arriving at the Nothe, this has caught many people out in the past; whilst this is not too much of a problem on modern hanggliders, what is the best course of action on a Paraglider? Maybe it would be better to run west along the cliffs and find a lower point with less rotor, but just a longer walk.
Flew my Paraglider later in the day on the takeoff ridge; several flights/ landings; with the wind well off to the west the best lift was over the gorse; which when the lift suddenly disapeared ; I found myself sinking into; the stuff was only 8 Ft deep! the only way I could get out was to unclip the harness and crawl out through the stems. It took about an hour to get the thing out. I hate Gorse!
---
Wed 29 Dec
EMERGENCY RESERVE DEPLOYMENT AT RINGSTEAD
Arrived at ringstead to find the wind was too light to fly so Russell W, Adrian, and others chatted for while and decided to stay as the forecast was due to pick up.
All seemed well and indeed the wind came on the hill and soon there were three wings happily soaring the ridge.
Looking at the sea there were no white horses and soon enough height was made to attempt the cliffs.
Russell was first to go and as he rounded the house I had just set off from the ridge.
Flying to the house was smooth and lift was good. Picked up the usual lift at the second house then made for the cliffs where I could see Russell had made good height and had started to push forward of the cliffs.
As I arrived at the top of the escalator as we all know it and within a matter of minutes, the wind picked up severely and oddly no white horses were on the water?
It was at this point things started to get serious. I am not sure how long it took for the wind to get to strong but it was very rapid indeed.
I was going up fast but also going back over the cliff this was not good I need to push forward then lose height. Quarter speed was applied but still I was being blown back, half and then three quarter speed bar and still no headway it was at this point I knew that I was in trouble.
At full speed bar and with about 300 feet I could not make headway and as I looked down I could see that I was approaching a point of no return. Big ears were tried earlier but to no avail.
I needed to make a decision and fast. Altitude was not great but enough. What to do?
Now I know that there will be several opinions on this but all I can say is what I did.
Knowing that I could not push forward and was unable to gain any more height I decided to make a run as fast as I could downwind. It was at this point and at this point alone I also decided that I might have to use my reserve if the rotor, which I was sure to encounter, was bad. On reflection making that decision at that moment probably saved my life.
So I turned and headed downwind. Now I was always told to keep brake on whilst downwind and this indeed helped I started to prepare myself mentally for the rotor and did encounter some I tried to stay calm and keep pressure in the wing not forgetting that at all times I was losing altitude.
The first thing I noticed was the loss of wind noise on my face followed by a sudden drop then the major rotor hit me. My wing became a pile of washing above me. I tried to re-pressurise it and this seemed to work for about 1 second, then it went into what can only be described as, well as if someone with big hands had reached out and crushed my wing up like a piece of paper. I felt a sudden lurch to the left then deployed my reserve. I grabbed the handle and threw it as hard as I could I remembered to look and JOY it opened.
Once again I was always prepared to do this as I had made that decision at the cliffs it saved my life.
I am not sure at what height I deployed but it was below 200 feet that I am sure however it was not over yet.
My wing was a mess and I was oscillating and pitching under my reserve. I was also approaching the ground fast. I adopted the PLF and tried to stay calm. As I landed with knees bent etc I rolled and all was OK.
Then the free ride across the field started toward the fence. I have read that more people are injured after landing than the actual event itself I can see why. I knew I had to get out of my harness fast. Managed to undo chest and one leg strap then bang I was pinned against the fence. Now the reserve was still trying to pull me though this and the pressure exerted was enormous. My last leg strap was so tight I could not undo it. I stood up and allowed myself to be pulled over well more of a flip but this took the pressure of and then I could undo the leg strap. I slid out of my harness got up and ran around to kill the reserve. SAFE>
I took a pause of two marching paces and then said thank you and kissed my reserve. (You may laugh but I bet you would do the same). A phone call to Russell to let him know I was safe and then I remembered to phone the coastguard to let them know not to send out anyone just in case a member of the public had phoned them. (Make sure you have the number of the coastguard in you phone)
I must say a VERY big THANKS to Adrian and the hang glider pilot who came to see if I was all right Thank you.
Note: It longer to write this report than it took for all this to happen from start to finish..
LESSONS LEARNT>
1. I have notice that a lot of us do not fly with a hook knife BUY ONE NOW! If I had one I would not have been dragged so far.
2. Mother Nature can and will let you know that we are not birds and the speed of change in condition was scary.
3. If you are in trouble get prepared to throw your reserve it saved my life do not delay.
4. The wearing of Boots, Gloves, and Flying suit all helped protect me whilst being dragged I would not leave the ground without them even in summer!!
Now I am aware that there will be those out there who will have an opinion on this event but I thought I should tell this story as it is, if it helps just one person then that's enough for me. I hope no one has to experience this as it was not good but if you are a low air time pilot as I am with only 72 hours logged then I hope this may at least help someone but sincerely wish that it is not repeated to anyone.
The deployment of my reserve SAVED MY LIFE
Do you know how to throw YOURS ????
See you all soon on the hill

Report by Alastair Florence
Two unidentified wings were wrapping up as we arrived at Kimmeridge and one nice new looking one tried a launch whilst we were flying but then thought better of it after a drag or two.
We had about half an hour which was ok but not over exciting, after which the wind picked up somewhat and the final insult was a rain shower which sent us both scurrying over the back to top land. It was getting murky so we canned it.
Seemed to be a lot of Coastguard activity in the area with both police and coastguard choppers about plus several coastguard vehicles in different locations.
We drove up from the Kingston side and on the way up were accosted by Mr V.Angry in a land rover, don't know who he was (maybe a gamekeeper, he wasn't very polite so didn't like to ask his name) He was upset by green laners who are making a right mess of the track (3 went through as we were there and I sympathise with the farmers on this) his gripe was that we were not entirely within the ruts which form the green lane. Perfectly fair comment and we apologized (plus I mentioned this to Mrs Hole when we paid who was fine and couldn't think who he was either). It didn't matter that we weren't green laners we were all as bad as each other. His attention was then diverted to the Coastguard chopper on the cliff, to quote 'now some ##ckin idiot has fallen off the cliff' he was taking no prisoners.
The point of this is if we use the Kingston access (its probably only regularly me that does) ensure you drive within the ruts not on the field edge (not possible in a car due to ground clearance) or park in the walkers car park for Swyre Head ½ mile East and walk, its about the same distance as from the quarry but flat.
Report by RW
Portland West
Peter Robinson our erstwhile "Elder" was spied floating along the cliffs at Portland West with a new flyer on a Sky Fides ( yellow & black ).
Ringstead
Harry Dike was scratching on arrival with Adrian B & friend observing. Steve B & myself decided the wind was beginning to get better so we wafted about above the ridge for 15mins. There were no whitehorses on the seaboard so I decided to head for the cliffs, plenty of lift and no difficulty in making the first house. The wind had a good degree of west and was increasing steadily so it was a slow ride back to the top landing field. Steve B had followed & headed for the escalator. After landing I had a phone call from Steve to say he had, had some excitement. I think he will give his account shortly. I also had calls to say that Kimmeridge and a nice westerly site further along the coast had been flown this afternoon.
Report by David Winn
The weather report was spot on today and after confirming with Ali F the wind was roughly in the right direction I headed off to meet him at a coasterly site where we enjoyed a good hours flying with Pete C until the site became a bit crowded. So we moved on to Kimmeridge where after launching 250ft above t/o was achieved. After a few passes along the ridge the wind became stronger and we both hung on until it started to rain so landed.

Might be the last flight this year but I'll be keeping my fingers crossed.
---
Mon 27 Dec 2004
Report by Pete Chalmers
Got the word about midday that Portland W looked flyable and was there 30 minutes later to see Nichole B, Peter R and our esteemed chairman just launching. I brief from Dave M and I followed with Raol B also in the air. A bit off to the south but great soaring with thermals up to 400' ato.
Mike ? and a mystery pilot on a new yellow Sky joined in the fun but as expected the wind continued backing and increasing so down to land by the pub at the bottom. Another new site for me, thanks Dave.
Raol gave us a lift to retrieve our cars then keen as ever we disappeared Westward for a short soar on a low cliff site in the Condors patch.
I think the wind will be more suitable for sailing tomorrow!

Report by Craig Byrne
The Barton Scratcher's (John Readings, Brian M & Craig B) had a nice late afternoon fly. The lift was quite good and you could push well forward then work back up from almost beach hut height, which is always excellent fun.
P.S. sorry for not calling / texting anyone as it came up so quickly and late in the day I did not think anyone else could have made it that in time for a fly.

---
Sun 26 Dec 2004
Report by Mike Adkins

Decided middayish the wind was too northerly for Bell and so arrived at Monksdown about 1300. Good call! Colin Davies was in the air. He announced that, apart from the cold, it was working well. I launched at 1336 and the two of us had the slope to ourselves until late afternoon. We got height gains of well over 200ft but we had to keep landing to warm our fingers. Strangely enough, although the temperature on the ground was barely 2 C, at over 130ft it was 7 C, which I could only attribute to the fact that at that height we were flying in air warmed by the sun, whereas below tree-level and on the slope all was in shadow. Around 1500 Craig Byrne arrived, but I am afraid he had missed the best of it - the breeze fell light. (I have used full names since there were only three of us to share this Boxing Day bonus!)
Report by Steve Bamlett.


The drive down to bell this morning was lovely, blue skies sunshine could not wait to get to the hill. arrived at about 10:30 and the wind was slightly North of NW but never the less it was on the hill and perfect. I was shortly followed by Adam W and we soon wasted no time in getting in the air.

Well there must be something in the air because we were joined by the usual crowed Russell W, Nicole B, Luigi D, John, Pete, Ian, some I have forgot sorry.
So there we all were playing around the bowl and the wind started to pick up but much. Then enter Russell and the wind got stronger and stronger. Luigi was convinced that is was all russells fault and told him so.

Oh no its not said Russell OH yes it is said Luigi and so on. ( well it is Panto season) any way russell was taking note as I am sure the will be a reciprication next year.

Anyway there we all were on the ground whilst the wind went more to the north. A couple of wing stayed out and made to Oakford were it was working but for the rest of us no such luck.
After a while people packed up and went home. However I stayed with a thought of going to Oakford but the wind died a little and it was flyable in the bowl so my self and one other had about another hour and called it a day.

All in all it was a good day and it was good to see everyone over the festive period.

Then horror of all horror went to start the trusy Lanny and nothing, not a drop of power in the batt, oh **** now what.
So I had to go cap in hand to the Dave the Farmer. Luckly he was happy to help and his Daughter and her boyfriend jumped into her dads car so I could get a jump start. To try and keep this short they got as far as the first rise and the got stuck whilst trying to help me. It was back to the farm to get the tractor. A quick jump start for me and I was away, then it was all hands in to rescue the BMW 4x4 auto that had slid of the track whilst coming to rescue me. strange but true. I thought I would offer something so a tenner for some Xmas drinks and hopefully to keep on the good side of the farmer as you never know when someone else might need there help.

What a day. Got there, flew ,got stuck, got help, got stuck, got more help, got home.
Who said life was boring.


---
Sat 25 Dec 2004
Report by Steve Bamlett
Well I must have been a good boy this year. Santa not only gave me a NW on the hill and clear skies taboot.
But as a real gift after lunch it snowed and boy what a snow storm. My first white Christmas for at least 20 years. So there we were sat in the trusty lanny waiting for the snow to stop and the sky to clear but it seemed that after the great start it was going to be bad vis at bell. However it was very picture post card and on Christmas as well.

Before the snow the condition were perfect. Blue sky, fluffy clouds a perfect day. Sadly though the flying time could only be measured in minutes. But is was worth it just to say that I had a white Christmas.

I hope all of you had a great Christmas day and I wish you all the best for the new year.


---
Tues 22 Dec 2004

Report by Alistair Florence

With the weather not looking good toward Christmas today looked like the last chance of a fly for a few days.

I am working 10 mins from Westbury White Horse so it was logical to head there with the wind in the North.

My site seemed to running ok so I left them to it and went up the horse at about 10 ish, wind was good but the top 50ft were enveloped in cloud. I had a chat with a local pilot (Conway) and decided to come back later.

6m3 of concrete had just arrived on site so there was enough going on to keep everyone busy so I went back up to parawait. By now the cloud had gone but at the expense of the wind also.

More pilots had now arrived and we had a typical parawait session. Signor Raul Blanco reported flying in Wessex region so we hung on. By late afternoon one or two intrepids were scratching a couple of beats at a time. I gave up and went back to the car at which point a breeze developed enough to get one wing at least 30 ft ato. Back to launch then, typical, wind dies off. Just about to wrap up again when a gentle breeze developed (now about sunset) About half a dozen of us enjoyed a good 10-15mins before the next lull and darkness.

Was it worth the wait ?, probably not, would I do it again tomorrow ? Yes I suppose.

If anyone is near Westbury, the Horse is well worth a visit. Takes WNW-NNE best in NNW. It must be a cracking site on a thermic day, easy launch and loads of top land although side land and bottom are limited.


Editor's note: Westbury White Horse site Reciprocal agreement with Avon

Pictures by RW
---
Mon 14 Dec
Report by RW
After a much appreciated meterology inout session from Peter C, it was off to Ringstead to check if the wind strength had lessened? It had down to 20mph but not to worry, there were 4 stiffies in the air. Nice to see & knowing what a secret society they are I thought it best to let the members know that someone is flying somewhere.
The intrepid floppies then went off to a low cliff site & enjoyed over an hour of much needed & deserved flight. Alas I had to go & collect the shopping so no flying for me! Boo Hoo!!!
Another point, if Ali Fs' proposed Yuletide excursion comes off the Popemobile will take 5 Pilots + Wings. Contact me or Ali.
---
Sat 11 Dec
Report by Pete Chalmers
Fortunately Adrian, it wasn't as bad as it looked, Portland East seemed more or less intact when I arrived. Sun starting to break through and ENE/8-10, looked perfect.
Indeed it was, got a little stronger as the day progressed and sea thermals appeared later wafting me up to 450' ato.
Martin H, Gaz M, Peter R, Raul B plus others in attendance. Very sociable too with walkers to talk to and a beer on the way home as the sun went down.
PLEASE someone else write a report, I may get a reputation
---
Wed 8 Dec 2004
Report by Adrian Bull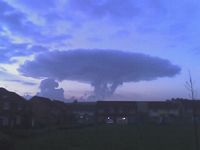 Got up and decided to try Portland as I only live a few miles fronm the site. Took a look towards it as I left the house to check the weather. Can't be much of it left after that. Went to work instead!

Mon 6 Dec 2004
Report by Pete Chalmers, pictures by John Blessing
With light SW forecast John B and I thought we would give Kimmeridge a try. As usual looked most unpromising en-route, overcast and very light winds. Arrived at the top in Johns "Super Suzuki" to find Marcus W watching a windsock showing well off to the W and too light.
Joined by Brian M, Martin H and Sean L it eventually picked up enough to soar up to 100' ato despite the direction, surprising. A black cloud out to sea and increasing winds saw us landing for lunch to wait for the sunshine we could see behind it.
Sun eventually arrived so we gave it another go in still strong WSW. Great fun in a large lift band up to 260'ato, top landing as the sun went down. As Martin said "it doesn't get better than that".
Apologies to the workers!
---
Thurs 2 Dec 2004
Report by Pete Chalmers
As everyone including Russell W has given up writing to EITS I thought I better send one in!
Set off to Monks, more in hope than expectation, on the basis of a light Northerly forecast and Wendy at Compton Abbas reporting NNE/2-7kts at 0845. John B not convinced enough to join me so felt a bit lonely at 1015, freezing cold, wind NW/5mph. Spread the word and went to Compton Abbas for a coffee and warm.
Wind there NNE/12kts so didn't linger too long over coffee. Back on the hill it was N/10-15 so got my kit out and set forth. It was lifty and rough as the proverbial, increasing in strength shortly after. Big Ears and well forward to avoid the trees. Ron S arrived and watched for a bit, not impressed by the conditions. Landed for a chat with Ron and it eased a tad so we had another go, still rough but better. Martin H arrived from Bell (reporting off to the N at 5mph), also Brian M. Became quite pleasant for a while when the sun came out, smoother with small thermals. We reckon we had been on the edge of the inversion earlier.
True to form Peter S arrived just as it was getting really weak but he did manage a short scratch on the demo Vulcan before getting his model glider out.
All in all a pleasant bonus day, off to the meeting now.

---
If you find that some of the earlier pages don't have a navigation menu, just use your browser's Back button to return to this page once you have finished reading it.