Eye in the Sky - Feb 2005
Your Flying News Notice Board. Send me your news .... and photos.
---
Mon 28 Feb 2005
Report by John Blessing. Pictures by Roger Edwards
Out with Peter C, first to Bell where the wind was v. light and westerly. Mark Russell turned up shortly afterwards by which time Pete and I had decided to head to Kimmeridge. On arrival it was light but on the hill and my first flight was just a short trip to the wall and back. Pete took off and was soon a 100 ft or so above the hill which encouraged me to try again. Mike Drew arrived on foot with Roger E's favourite demo wing. Wind was now stronger, a little to the west, but most of the ridge was working nicely with the occasional thermal. Roger E. arrived soon to show off his scars and make the tea. Jacko turrned up not long after. It was bitterly cold but we all (except Roger!) managed to get an hour or more of very welcome airtime.

Report by Alastair Florence
I went to Westbury White Horse for lunch today and found Ron S loitering with intent to aviate. He already had briefly but the wind had gone a bit West. It seemed a bit more on the hill again so I gave it a go. Definately alot of West in it but never the less flyable, had a couple of climbs to around 300 ft as well as some smaller ups and downs. Ron and a couple of local suspects soon joined in and I left them to it after a while.

---
Sat 26 Feb 2005
Report by Roy Menage
Arrived at Eggardon at around 10:45 to find a cold grey morning but with enough breeze to stay up. Was joined by Andrew P who was trying out a brand new Mustang. Managed about 15 mins in a very rough gusty air before being beaten down into the bottom-landing field despite the breeze still blowing. It was suggested that that may have been rotor coming out of phase from the facing hill (those who have flown there will know what I mean). Two Steves from Condors arrived and decided not to fly but move on elsewhere.

A challenging flight but all good experience.
---
Thurs 24 April 2005
Report by Roger Edwards
You don't wanna do it like that ...




A couple of unpleasant reminders of what can happen if you get it wrong. Yes, that's a wire out of the top of my wrist. A full write up of my accident will be in the next Airmail. Healing is well under way now and I hope to be back in the air in May. Meanwhile, please take heed, fly carefully and don't join the broken wrist club - so far I've found five of us in the club!

---
Friday 18th February 2005
Report by Pete Chalmers
To my surprise the sky was clear with a lightish W wind when I surfaced. John B and I headed for Bell with a generally NW forecast but showing quite W on XC weather. Crossing the forest in became quite overcast with very light winds.
We arrived at 1045, behind John W, to find a 10 mph WNW and sky brighter out in front. Keith W was about to launch wondering where everyone else was. Surprisingly Keith struggled to stay up in the increasing wind but we were not put off and launched in turn. I practiced my backwards take off which almost came off! We all scratched for a short while in quite a strong wind but large W component which made it quite exciting. I landed to draw breath only to watch John catch one and push out in front with no sink.
That was enough encouragement so off again and scratched for a while before catching a boomer which took me to 200' in short order. By now it was top end so only managed a couple of 360's and stayed out in front. The others had landed and after a short while I followed, deciding to opt for the back field. Be careful not to tread on your lines back there as it is now in crop and full of exposed sharp flints!
Martin H and Mike A had arrived too late. We left Martin there on his own at 1245 having decided that was it for the day. Ever the optimist!

---
Wed 16th Feb 2005
Report by Pete Chalmers
John B and I were the first at Monks Down to find a very light NNW on the hill but the smoke in front very West, strange with NE forecast. We adjourned to Compton Abbas airfield with Brian M who had just arrived to have a coffee in the warm and watch the aeroplanes while keeping an eye on the wind (they have a readout on the monitor which is the same as Wendy). Marcus W joined us and after a while it appeared to be increasing (NNE 8kts) so we headed back to the hill to find it on and flyable strength.
John was first off and headed skywards in some nice thermals. We were soon all in the air enjoying good lift, the only limiting factor was the usual Monk's arctic conditions which penetrated my skiing gloves very quickly. It was actually quite difficult to get down so most of us opted for the spur on the Eastern end. Brian managed to land below the stile of course but I reckon that is something to do with his porous wing! Martin H, Mark R and Carl? joined in in the afternoon. John and I went home happy after nearly two hours in the air with wings still in the air. I gather Ali F pitched up after we had left, oh the joy of lighter evenings! Roll on spring.

---
Tues 8 Feb 2005
Report by Dave Winn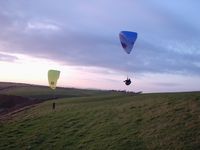 Received a call from Russell W to say conditions were nearly perfect for my 50% collapse which is the last of my tasks to be finished. Arrived to find Russell W, Sean L, Martin H, Alan Webb Steve P, Gary M, Mark R and was joined shortly by Mark P, John W and Vikki P.
Light conditions made the cliffs a little too far so we all stayed on a fairly crowded ridge and I didn't get to do my deflation.(so much for skiving off work).
At one point there was a swapping of wings and I think everyone got to fly something they hadn't flown before. Nice wing Sean.

At the last, there was myself and Vikki trying to stay up and having to watch Sean not try too hard; good time to leave I thought, took a picture and waved goodbye.

Report by Alastair Florence
I managed to get away from work in time to come home via Mere Rifle Range. The wind had a fair degree of west in it and in hindsite Cowards Bowl may have been a better bet. Non the less at the latter part of the day you dont get time to be picky. Ron S was packing away his Hanglider having had a decent afternoons flying.
I walked to T/O and found it still a bit top end. I had not flown here before so was keen to give it a try, after assessing the situation I decided a launch from a few metres down the hill might be prudent. This worked fine and I had the best part of 30 mins flying landing at 1720hrs still with reasonable light.
The air had little lift considering its strength, some unusual rotors where coming down the North side of the bowl giving an effect like bumping shoulders with someone in a crowd, this made the canopy bounce sideways quite noticeably at times but did not seem to threaten a collapse. Another site I hope to re-visit on a more pleasant day.
---
Sun 6 Feb 2005
Report by Dave Winn
Patience is a virtue and waiting for the wind to stop blowing over the back of Ballard down and start blowing up the cliff face seemed like an age. All the reports pointed to SE but not at what time this would happen. Happen it did, just as Russell W arrived the air started to turn and within 1/2 hr a smooth breeze started to blow from the ESE. We both launched and managed to stay in the lift all the way around to 'Old Harry Rocks'. Dr Charles joined us followed by Ali F then Neil H and lastly Roy M.
Russell excellently showed the way down to soar the hotels and scratched his way back up to t/o. This looked like fun so I followed suit and landed back at t/o. Ali F thought it only right to do the same and there started an afternoon of soaring the cliffs, soaring the lower cliff and finishing off on the seafront maintaining height above the cliffs until sunset.

The best days flying so far this year. Let's hope this is how the rest of the year turns out.

---
Wed 02 Feb 05
Report by RW
Early morning calls in abundance to check forecast & who was out and about. I decided to believe Martin H that it was flyable at Bell. On arrival it was light although I was assured it was flyable for all of 5 minutes. After half an hour of "chin wag" & tea & biscuits it duly came on! So it was feet off the ground and surprisingly buoyant if at times a little "rock'n'roll", a break in the clouds allowed some sunshine through to give smooth edged thermals and several pilots enjoyed 500' A.T.O.
After about an hour it became stronger with no real indicators as to why other than the forecast had said due to increase later. The sane & sensible landed for lunch. One red ribbon turned a tad late in the top field but managed a remarkable recovery hoping no-one had seen his little tumble. The same red ribbon gave a demonstration of strong wind launch after lunch while the rest of us decided to wait a little longer, all respect to him as he eventually got airborne even though his brakes were almost touching his rear end. One of the senior pilots did enter conversation with him and there were smiles all round. Peter R ventured round from Bell to Okeford, with a large helicopter flying below him at about 100' AGL,we believe he landed safely although not gaining his usual XC distance ( Nice try Peter).
It was cold and a few jaunted off to the pub while the rest of us cruised the sky for another joyride.
The usual suspects :- Peter R,Martin H, Brian M, Steve B, Steve P, Gill Le G, Marcus W, Gary ? Phil ? Steve C & John H.
Report by Steve Bamlett
Forecast was good so got an early start and headed for Bell. Arrived to find the wind was a little bit light but on the hill. Followed closely by Martin then a slow filter of the usual crowd Russel W, Jill, Brian, Steve,another Steve, and a couple others. The wind wind soon picked up into something that would make the bowl work and soon there were wings in the air.
At one point the sky parted and allowed the sun to show its face. There wer some thermals to be had and good height was being gained by all those there. The sun did not last and it was back to overcast sky and the wind picked up as well. Never the less a good day was had by all and everyone went home happy.

---
If you find that some of the earlier pages don't have a navigation menu, just use your browser's Back button to return to this page once you have finished reading it.