Eye in the Sky - Mar 2005
Your Flying News Notice Board. Send me your news .... and photos.
---
Mon 29 Mar 2005
Report by Mike Drew, Pictures by Roger Edwards
Arrived at the Folly at around 11am to find it very light and very misty so it didn't look particularly promising. Every so often the sun was breaking through, allowing thermals to come up the slope, so short hops were possible. At this stage, 50ft ATO was looking good! By 1am the sun was staying out and suddenly the breeze picked right up. I optimistically ran for my wing and launched and found it was now nicely flyable. A Condors member joined me in the air, along with various students, with Gary P and Roy M joining the fun later. Roger E also turned up and appeared to be on camera duty! Well over an hour of lively flying followed and I managed 400ft ATO in the small thermals. The only reason we stopped flying is that Andrew P left the hill and the landowner requires him to be present if people are flying. Quite a shame as I'm sure it would have been flyable until the evening. Still, a great day.
Report by Nicole Barnard
Arrived at Bournemouth with just wisps of a southerly tempting the birds into the air, but not enough even for them to soar. Went home and unpacked the van, cleaned the house and went back two hours later. Birds were soaring, but still felt light so Dave M had a go and pronounced it flyable. Had an ice cream, pushed Adrian Bishop off and took off myself. We tested the bushes at the Boscombe pier gap, but we weren't high enough to cross. It was absolutely freezing so I decided to turn back and leisurely make my way back to t/o when t/o just about disappeared in mist. I could just about see Adrian behind me and the roof of the cafe, so decided to keep going - always keeping an eye on the beach, which at this stage was still in sight. Made it back safe and sound, just as the beach and the cafe became engulfed in mist. Adrian landed just after me. Dave M wasn't so lucky and landed elsewhere. Phoned B'mouth ATC to let them know we were down safe and sound.

---
Thursday 24th March
Kaye and I went to the small cliffs at Meon Shore. Winds were a bit light so the kit came out for groundhandling practice. For the next twenty minutes or so we kited out in front of the cliff, trying to collapse each others wing by cutting in front of each other or barging ear to ear. Not really believing it would work in such light winds we both tried walking backwards up the cliff and crow hopping into the lift band (Meon Shore is only 15' high in places) when a little gust gave just enough extra to get up. Hurrah... 20 minutes ridge soaring taken in a very narrow lift band before I took a drop enough to ground me. Kaye landed five minutes later. Typically, my drop was at the wrong end of the cliff and I had to trudge back.

Friday 25th March
Attended the Accuracy training meet at Green Dragons. Many top to bottoms trying to get closer to that target at the end of the field. When you see the regular accuracy participants hitting the spot within 5cm each and every time makes you realise just how sloppy you are. Hard work carrying up too, I had to quit early claiming pain from my recent injury as an excuse.

Saturday 26th March
Still at Green Dragons but the wind was in a direction where they had no slope. So Andy Shaw put the GD's winch field at our disposal. You could almost feel the unspoken relief that today would not involve more carry ups! Downside to towing is that it takes longer to organise so we only got four flights each. Upside is that each tow was to 800' or so and there was some occasionally rough thermal activity. One flight seemed to take ages, if only I'd taken a vario. Remember the point of this was to improve our accuracy.... closest I ever got was about a foot and a half. Regular team members were still measuring in millimeters. One guy hit the spot after recovering a full stall only a hundred foot or so of the deck. Don't think I would of remained that focused!

Sunday 27th March
Back home and the forecast was for light SE but it felt more like a noreasterly. Quick check with Wendy Windblows and we were off to Mercury. Got half an hours good flying in before the wind did indeed drop and swing to the south. Several hangies were there and a couple flew before conditions deteriorated, two other PG's flew but more arrived as the wind left.

Four consecutive days flown this early in the year. Bodes well for the season, fingers crossed ;-)

Paul Escott

---
Sun 27th March
Report by Nicole Barnard
Sunday morning. Blowing a hoolie when surfacing on the sloping green of Beer Head. Decided to take a leisurely drive back, confirming with Russell W that it was blown out at Monks. Drove past MC on the way, one pg in the air, low down. Odd, so we decided to head for Bulbarrow Hill just in case and decide our fate from there.
There was hardly a breath of air at Bulbarrow, so we thought we'd drive to Compton Abbas - hey even if it was blown out, it would just about be time for a beer, so we could stop at the caf at the very least.
Eventually drove up to Monks. Not a good sign - seeing a deserted site on a bank holiday w/end, got out of the car and was surprised to find the wind smack on the hill, if a little bit off to the east and blowing about 8-10 mph. Fantastic! Monks to ourselves on a bank holiday weekend. Result!
As we unpacked, however the wind just about left us completely, but we thought we'd wait it out and practice our rusty groundhandling skills in the wafts.
Managed to take off and thermal out above the hill for a bit, thought that was about as good as it was going to get, had another few goes like that when Richard Mosley turned up. I decided to pack away, and just as the wing was perfectly safe in the stuff sack the wind came back on the hill and perfectly flyable. Needless to say, the wing came out again, the sun came out, and a lovely afternoon ensued with bubbly spring thermals being enjoyed by all - the birds especially. Dr Charles and I even managed to fly out half way to the farm in a thermal that just had no end. Great fun!
---
Sat 26th March
Report by Mike Bretherton
It was apparently good earlier in the morning before I arrived but it was mostly parawaiting at Mercury this afternoon although we all managed a few short hops during afternoon. Several Wessex members there, Simon Herbert, Peter Studzinski, Neil Hutchison and Craig Byrne. The aeromodelers were having a better time but one of there aircraft lost control and dived into the hillside breaking a wing. Later we even had a visit from a microlight who top landed.
Regards
Mike Bretherton

---
Sun 20 Mar 2005
Report by Mike Bretherton
Forecast was for it to be blown out, but on Sunday morning, there looked like there might be an early window for paragliders at Mercury. Arrived with Simon Herbert at 10:30 and it was very misty with a single hanglider flying. The wind was perfect, averaging 12mph smack on East. Launched and had over an hour of lovely smooth flying up to 400 ft ATO. Others took to the air but the wind was gradually picking as I expected. All the paragliders had interesting top landings with big ears, sometimes drifting backwards. After landing we went for a pub lunch and returned later to see if the wind had dropped. It had for a short while and there were 3 paragliders in the air, but they were all gale hanging. Eventually we decided to leave the site to the hangies.

---
Sat 19 Mar 2005
Report by Richard Westgate
First day of the year at XClent tow field, light northerly, beautiful warm spring day, mist in valleys but clear on top of the Cotswolds. Weak thermals to 1000ft allowing extended flights, marked by circling buzzards. Spring is definitely on its way.

---
Mon 14 Mar 2005
Report by Rod Smith
Ringstead: wind 14 mph + SW then SSW great day had two trips to the cliffs with lift everywhere. Max height 550 ato on the PG. Jeff Rogers who came with me had a nice flight to Lulworth and back a nice day in the sun, didnt fly the hangie thought I would slum it for the day.
Report by John Blessing, pictures by Craig Byrne
Barring the cold, an absolutely perfect Barton day - blue skies, wind bang on the cliffs, a steady 12-14 mph. It was flyable all day. Robert D, Craig B, Brian M. and myself flew as much as we were able. A great way to chill out (literally).
---
Sun 13 Mar 2005
Report by Roger Edwards
After Ali and Mike D left for some coastal soaring conditions improved, giving some people the best part of another hour in the air and quite a few of the late arrivals their best flights of the day.
Report by Colin Davies
Myself and three low airtime pilots had a fun day at Winklebury. On arrival there was a fairly strong breeze with gusts, but once in the air it felt fine. In the morning it was quite cold and half an hour was enough to make the fingers numb. Later the wind and thermals gradually dropped and it was noticeably warmer, but it still lifty with over 500' ATO at times. By mid-afternoon it the fun was over. A pleasant stress free day of flying, just what the doctor ordered.
Report by Alastair Florence
What an excellent day, I arrived at Bell early to find Lawrence T had beaten me. Not really enough wind and a bit westerly. After a while it improved and short scratches soon turned into consistent flying with quite punchy thermals. By now the hill was rapidly filling with prospective flyers. Most of the thermals were breaking up at around 500 – 600ft and although some were trying to get away it was not really happening. However many were getting excellent lift out in front of the hill.
Much respect to Dereck Sadler making I believe his maiden flight after his accident, he managed some good height putting many younger ones amongst us to shame.
After an hour or so I was ready for a coffee and attempted to top land on t/o, couldnt get down so went back to the bowl to build enough height for the top field. At that moment a big dark cloud was passing and I flew into lift registering 8 up on the vario, several others also got hoovered, at 1700ft I decided to bail out as most others were doing except Neil H who was heading cloudward. It was obvious I wouldn't push back up to Bell so decided to go with it. By now I had lost the best lift and shortly resigned to a glide to Winterborne stickland, on the way I kept finding scrappy bits of lift which I managed to work a bit and maintained 500 – 800 ft ato, by now Blandford was in my sights and I was lucky enough to find some more organised lift back to 1500ft. I was now on the Southern tip of Blandford and figured if I went downwind I would soon meet airspace so took a gamble on using my height to go North, thinking being if found more lift I was increasing my KM potential. None was forthcoming and I elected to glide down wind and land in a turnip field being eaten by cows + big brown bull just West of the golf course. The bull seemed more interested in turnips luckily than me but I still got over the electric fence before wrapping up.
Roger E very kindly attended to retrieve duties (many thanks) and we then carried on to near Verwood to retrieve Neil. The excitement was not over as Roger road raged a pick up truck manned by 4 burly pikey's with 2 more car loads of them behind, fortuneately the pikey's seemed to be on a mission and did not give pursuit as I felt with Rog only having one usable fist our odds were not good.
The party seemed to be over on Bell when we returned and I and others eventually drifted away ( unless any one else found different).
---
Sat 12 Mar 2005
Report by Matthew Charlesworth
John Alder, myself and Richard Mosesley flew at Bell on Saturday. I got there at mid-day to find John rigging and nobody else on the hill. It was sunny and blowing 14 to 20mph. Where was everybody? I rigged quickly and got into the air just after John. We had 40 mins or so in lifty and fairly smooth conditions but there were a few rain shower clouds up wind that we kept our eyes on. Richard turned up after a few minutes but I saw a really nasty cloud upwind so burned off all the 1,600ft ATO that I had just gained in the best climb of the day. The rain never really came though, other than a few drops, as it was mostly dropping as virga so looked worse than it really was. Nice start to the season though so here's hoping that it stays like this for a while now.
---
Thur 10 Mar 2005
Bell Hill, Light winds with some weak thermals. I believe it had been better in the morning. Marcus W managed 600' ATO but most of us were scratching much lower. Mark Pryce did his bit for red-nose day so if you pledged any money, please contact him.
---
Wed 9 Mar 2005
Report by John Blessing, picture by Adrian Bishop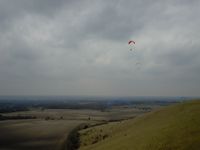 Very overcast day at Coombe Gibbet (TVHGC site) but thermals were to be found, big and quite smooth, though not giving any great height gains. The wind was generally light so it was a matter of taking off at the right time in the cycle and getting lots of practice at slope/top landings. The hill was quite crowded with about 25 wings including the school, the scratchy conditions meant one had to "keep your eyes peeled". Nevertheless, Craig B, Brian M, Pete C, Adrian B and Alan ? all had a good time.
---
Mon 7 Mar 2005
Report by Alastair Florence
I am currently working on an exposed bit of Salisbury Plain, during the day the wind felt reasonably calm and NNW so gave the Rawles at Marleycombe a call for clearance to fly there.
After work I headed straight to Marleycombe, very cold air but good strength and direction. It's the first time I've flown it so it was a bit of an exploratory mission. Had a pleasant ½ hour before dusk set in and my toes got cold. I always find a site like this a bit more interesting to fly than a straight ridge as the air is doing different things at different points. I maintained 70-150ft comfortably enough and apart from a few snatchy bits it was nice.
I'd recommend the site to anyone who hasn't flown it, the launch is fine and top land quite reasonable, a bit hard to spot the ground level variations on a dusk landing though.

---
Sun 6 March 2005
Report by Martin Beetham

Two Saturdays in a row have been blown out and wet or snowy in Derbyshire. Two Sundays in a row have provided some very enjoyable flying, in a mix of spring thermals and winter wave, with views over a very snowy looking landscape.
Last Sunday was very good (except for the 6m/s core I found then promptly popped out of, with predictable results - fortunately the Mac Intox I fly seems to recover well from major collapses). This Sunday was even better.
The morning provided the better flying, with a nice wide lift band allowing us to search for better lift without worrying about going down (on Lords Seat where we were, the top to bottom is 550ft) and then some well behaved but weak thermals, which required plenty of concentration if we were to eventually get close to base at about 3,800ft amsl (that's 2 grand above take off). At base I planned to stay with the cloud I was under for as long as possible, but it turned out to be part of a wave system, that wasn't going anywhere. There were a couple of clouds to the south which might give me something, and I having climbed that high, I didn't want to stay where I was, so I headed off south, downwind.
I hoped for something under the clouds but at the same time realised that if it was wavy then I would probably be in the down cycle of the wave so might as well get as far as I could on that glide, and appreciate the view as I went. Lots and lots of snowy fields, as far as the eye could see, which was a long way in the clear air. Most had a green strip in the middle but were very white around the edges where the snow had piled up on either side of walls.
The clouds in front gave a bit of lift, but the average effect of 3 or 4 gentle, searching 360s was to leave me 40ft lower, and the clouds appeared to be dissipating as well so I flew on, eventually landing in quite strong sink. I picked the field because it was empty but realised my mistake as soon as I landed. It had been fairly freshly manured. Fortunately the manure was frozen hard but with the sun full on it, I didn't hang about packing the glider. Pat Dower flew over at about 500ft 5mins after I landed, eventually to make 16km. Another friend had landed 2 fields further on so I had someone to chat to on the walk and eventually a hitch back
I flew again in the afternoon and decided not to go with the best thermal as it was taking me back over a spine lower than I felt comfortable. Instead I flew around for a couple of hours in a mix of broken thermals, right horrible stuff and at times some fantastic wave, boating around way out over the valley in front of take off at up to 2 grand above. The hills to the north were absolutely plastered in snow, looking fantastic in the sunshine as it was now blue, but horribly murky haze over the cities to east and west (ok, Sheffield and Manchester) The boating about was very pleasant - at other times active flying was paramount, but all good practice.
I now live in Bradford, so have a choice of heading down to Derbyshire, across to the Pennines, up to the Dales or even the Lakes. Some proper, big hills to fly. I recommend the Derbyshire sites if you're ever looking for somewhere to fly up this way - details of our 10 day guest membership scheme should be in the next Skywings (2 weekends for the price of one!) Do make sure you get fully briefed before flying - some visiting pilots were very fortunate today when they flew into rotor behind a spine back ridge. Never a top plan.

---
If you find that some of the earlier pages don't have a navigation menu, just use your browser's Back button to return to this page once you have finished reading it.