Eye in the Sky June 2005
Your Flying News Notice Board. Send me your news and photos. Submission guidelines

---
Wed 29 June 2005
Report by Alastair Florence
The evening looked like it should be flyable somewhere so took a detour via Barton this tme. Brian M was the only scratcher present and already airborne. i joined him as soon as I could (I'm begining to learn the Barton wind dance) We both had a thoroughly enjoyable evening, first a trip West to the caravan site and back then down to the beach huts just before Milford Haven and back. Followed by lots of bouncing around the cliffs near T/O. It was one of those evenings with plenty of lift along the cliff, like bouncing up off a big rubber buffer. After the tandems have finished with the White Horse gypsies there is a nice young lady called Gale whom I met who would fancy a tandem and looked like she could do with cheering up (also has some gliding experience), take your pick Gypsies or a Gale.
Report by RW
Arrived at the bowl which was in orographic at about 1045hrs with Derek S and talked to the recently arrived gypsies. The gypsies are parking on the other side of the track, not a lot I can do about it as thats where they set up camp for the last 50 years but they have parked well away from the track.
Derek S got impatient and went off to Mere? Hope you flew Derek? I believe he made the sacrifice to enable me to fly again, testing the new GIN ZULU, with the gypsies intrigued and asking if we could arrange a tandem, any takers? I wafted about for 20mins in what was a SE practising those all important top landings.
I then had a call from Neil H to say the new Woody Valley Peak ( Lightweight ) Harness had arrived & off I trotted to Poole to collect and watch Neil change the reserve over & help me adjust for my comfort ( service with a smile). What a difference to the weight it made, yes I went back to the "Horse" having learnt that others had been flying this afternoon, John W & Steve P. Again the gypsises turned out in force for another fly past. I have to say they were very conversational & friendly and they expressed concern about the "travellers" that have been burning caravans & other rubbish.
Anyway the point is that I have engaged them in conversation for our benefit & they have a good local knowledge especially history wise so for those of you interested in learning a little more about real travelling folk have a word.
Oh! by the way the harness is superb, if you don't believe me ask Peter R & they are selling like hot cakes so place your order now! Check out the new Charly "No Limits" Helmet.
---
Mon 27 June 2005
Report by Alastair Florence
From my current work site at Portsdown during the day I could see the occasional PG pop up from Mercury with the aid of binoculars. It did not look to special but as the workforce woosed out early today I thought it was worth a detour on the way home. Arrived to find 5 sunstruck looking pilots spread out on the grass and not much promise of any action so canned it.
On the way home the wind looked stronger than last night and a bit more Northerly so I thought it only fair to give Okeford another chance. Yesterday I launched off the West spur but today tried off the slope in front of the beacon.
There was very little breeze on the slope but the trees in front where thrashing a bit so I guessed there was probably more wind out in front. The launch here is a bit worrying as its looks like your going to go straight into the trees until the glider suddenly bites the lift band. After a few minutes of tree dodging I sussed out the lift and worked it up above 100ft ato, from this height there was much more consistent lift and although the flyable area was limited it was easy to stay at a couple of hundred foot ato (much more comforting over those trees).
The East corner was working best with almost constant lift jamming up out of the corner. I even managed to land back beside the beacon. I was more impressed with the site tonight but with the amount of trees its not one for the faint hearted. Well someones got to keep flying the flag on the more obscure sites!!
---
Sun 26 June 2005
Report by Craig Byrne
We had a good weekend at the SE Wales BPC finally getting a task in on Sunday, from The Blorenge with goal at Aberdare but I landed with Nicole B and quite a few others at Blaenavon we did not get in the air till 3-45 so it was not that good topping out 1500 ato. But nice flying anyway. Pete Studzinski was at Pandy also managing some flying late afternoon. Full results on http://www.bpcup.co.uk/results.php

Report by Dave Winn
A 6.30am start from Verwood took myself, Jim C, John B and Jeremy M all the way to the Malvern, where after climbing up found the wind on the hill, but just a little on the strong side. Sean S eventually showed us the way, followed by Nick LG. Off went Sean xc and we all followed.
What a great site, I soon had 3600 ft and decided to go over the back where I found the thermals a bit bumpy. Hitting cloudbase I went straight up through the cloud that I was under and looking back down found it had disappeared from underneath me. That's when the sink started and 9km out I battled with some small thermals, finally being forced to land. It looked like a Wessex site at one point with Rich W, Neil H, Pete R and Martin F all turning up in the good conditions. Another new site to add to my list. Shame about the distance but I will get on the league sometime this year ( hopefully)
Report by Alastair Florence
A question has been on my mind for sometime. Why, when Okeford is more suited to a NE wind than Monks do most of us seem to go to Monks which is more suited to a Northerly ?
As the wind this evening was holding steady at NE and had dropped somewhat it seemed the ideal opportunity to answer my own question. I arrived at about 1900hrs and not unexpectedly found no one else there. Conditions where ok so I had a fly for a bit, plenty of weaving round trees and praying for no sink as I over flew them, could have done with a bit more wind strength and maybe a bit more North in it. Never the less it was flyable enough to answer my question!!
P.S HOT XC TIP ::- Next Saturday wll almost certainly be the best XC day of the year so far.
Nothing to do with synoptic charts or anything. Purely 'sods law' as I have been earmarked for a family day out to celebrate the mother in laws 70th birthday, yipee!!

---
Wed 22 JUn 2005
Report by RW
Whitehorse
A balmy high pressure day with a light southerly breeze. The Horse was too light on arrival but after lunch it started to work. We were all put in our places by visiting Pilot from Gloucester (Frank ?) who managed to out-thermal all on the hill.
The anticipated XC to the back of beyond did not happen but nonetheless it was an interesting afternoon. Dave W had a "massive" front tuck just to the right of T.O. & about 40' above the fence but he seemed to make a "Dynamic Decision" that saved a fall from grace.
Mike D lost his brand new GPS but a search party came up with the goods. Gill Le G organised a picnic & Gordon C entertained with some good ground handling. Steve P showed off his rippling leg muscles & Marcus would not fly the Atis. Mark P gave a fashion parade in his culolttes which made him look like one of the seven dwarfs & Tim H returned from absences abroad.
---
Tues 21 Jun 2005
Report by Roger Edwards
1715hrs, a text from Mike D arrives: "I hate going XC! Now I have to try and get back. Never going over the back again!" Yeah, right. Like I'm going to have any sympathy as I'm still stuck in a windowless office where I can't even see the sky, let alone fly through it. A peek out of the door showed it looking good, even this late in the day; a call to Mike suggested it was pretty bouyant. Apparantly he was 'forced' to go XC because he couldn't get down to land back at Bell, ending up at Winterbourne Kingston. And he was complaining? There's no pleasing some folk.
I cancelled a 6pm appointment and rushed up to Bell, scooping up the unappreciative (of the XC) Mike on the way. Nothing exciting to report about a pleasantly bouyant half hour brought to an end by a badly aching wrist and a prudent bottom landing. Cheers to Phil V for taking myself and Nobbie (red ribbon - new member I presume) back up to the top. Peter S, Neil F, Dave T, Simon H and some others also present.
Report by Matthew Whicher
Arriving at Bell about 4pm I was surprised to see only 1 PG aloft. But, no, the wind had only just picked up, Julian Phipps told me as I parked. He had not even started rigging his Atos because it had been too light.
By the time we were both rigged it was well soarable, as demonstrated by the 8-10 PGs. I spent 1/2 hour sharing the first 200' with the PGs until I realised you had to really core the lift tightly to make the most of it and I started to get comfortably high. The sea-breeze was close by (was this what caused conditions to improve?) but it never reached Bell. A huge, dark cloud built up to the SW that must have stretched all the way to the coast. The sky behind the hill was pretty much blue, but there were plenty of reasonable clouds forming in front of, and on the ridge. A couple of times I got to cloudbase and was able to cloud-hop upwind for 2-3 miles. This was excellent fun; just like going XC but with the option of going back to the hill too. Julian was going much further out, making full use of his glider's performance.
After a couple of hours the thermals began to fade but it remained flyable until gone 8 o'clock. A proper way to celebrate the Solstice.
---
Mon 20 Jun 2005
Report by Roger Edwards
I guessed the day was going well when I got a text from a non-flying friend saying they'd just seen someone land out near the A31. Turned out to be Gill LG, though I gather a couple of others left Bell with her. As they day went on XC Weather showed the wind staying on so I kept my fingers crossed for it still to be working when I finally escaped work at 6pm.
A dash up to Bell paid off and I had half an hour of bouyant but occasionally still feisty evening soaring before it started to pick up, making myself and Dave T take the prudent option of landing in the back field. Neil H, Simon H and a couple of others were also about, it being good to see Phil V enjoying himself on his first PG outing since his swimming lesson.
ZZ's van was on the hill with no sign of the man or his HG. As we packed up the mystery was solved when he pop-popped up the hill on his moped after a 12mile XC. TMopeds seem to be all the rage these days among HG pilots. What I want to know is: where do they stow them? What with Richard M's XC a couple of weeks ago could we be seeing a revival the Wessex HG League? It's good to see.

Report by Mike Adkins
Derek Sadler phoned me from the hill at 0830 to say he had just lost his model aeroplane in the mist at about 50ft! So I waited a while and eventually arrived at 1130.
Conditions were reasonable although there were gusts with thermals. Launched at noon - others were in the air by now - and after half an hour's up-and-downing I caught a thermal to 1760ft ato and got carried away in company with Gary M and Gill LG. We got top-ups on the way but were eventually downed all together in the same half square km near Red Post just to the west of Bere Regis - 14.5 km. (Well, at least it means I've opened my account for this year!) By the time we got back to the hill (John B collected Gary & Gill, and my favourite retrieve-driver collected me - thanks) everybody was there and others had got away too. A good day!

Report by RW
First thoughts were to go to Bell, Uncle Albert suggested Telegraph as it was closer. Steve P & Paul ? & Gary ? were in the air on arrival, no great height but it appeared thermic with a low cloud base. There were no defined cumulous but lots of wispy cirrus and any clouds forming were very raggedy. I launched after Martin F and got 500' ATO. I had to land after about 30mins for the necessary & lunch.
Took off again & was just gaining a little height quite close to the tree line when I suffered a collapse on the right followed by a collapse on the left & I was looking down at the trees. THANKFULLY the Gin Zulu dealt with all of this and I somehow remained calm. Neil H explained in the conditions prevailing it was normal for such collapses. Steve P giggled and said he thought I was going to be "creamed". I just thanked my guardian angel. Must go on the Safety Course with Neil & Sean.
---
12th - 18th June
Report by Mike Bretherton
Adrian Leppard and myself entered the Ozone Chabre Open Competition in Laragne (Southern French Alps) last week. Great flying, we only had one non flying day when it rained heavily. All days were very soarable with cloudbase at 8000ft but we had some quite difficult tasks due to some "into wind" legs or flying from "difficult to get away from" mountains due to safety reasons. On one of the tasks I pushed it too hard trying to get into goal and managed to put my wing in a tree, but I escaped unhurt and my wing only suffered minor damage.
Adrian and myself battled it out each day with both of us overtaking each other on points several times during the week. On the last day Adrian was 200 points in front but then he bombed in a sink cycle from launching and I managed to complete enough of the final task to regain my lead. Out of 80 pilots I reached 20th place and Adrian 26th. But to my surprise I actually won 3rd place in the DHV 1/2 class.
---
Sun 19 Jun 2005
Report by RW. Pictures by Mark Fisher
WHITEHORSE
The usual suspects looking for flying potential congegrated at the "HORSE" for Sunday worship in the sun, no Presbyterians in sight and salty seadogs were otherwise engaged.
Many tried and many failed to scratch but the man of the moment was Sean S our Senior Coach who like the proverbial pig with fleas kept us entertained even after being dragged through the gorse and having to pick splinters out of his nether regions.Gill Le G was top of the stack in her new Gradient Golden, closely follwed by Ali F trialling the new Ozone Rush. It was hot and sticky and then Sean L arrived with "Tales of Macedonia" and showed off his ground handling skills putting us all to shame.
Others:- Alan W, Mark & John from Suffolk, Gaz M, Gary the Butcher,Mike M,
Nick Le G and a host of American Ramblers.
---
Sat 18 June 2005
Report by Roy Menage. Pictures by Mark Fisher
After checking out Ballards and finding it completely flat (as proved by Phil who took off and was on the beach 2 minutes later), I decided to check out Mere Rifle Range. It's a bit of a trek but as I came over the hill on the A303 approaching Mere, I saw wings in the air. Result. So I was in the air myself soon after, straight into some rough and punchy thermals and a lot of other pilots all wanting the same bit of the air (among others, Paul and Kaye, followed later by Mark and then the contingent from Abergaveny whose tasks were cancelled).
Unfortunately, everybody seemed to be dropping out of the lift at around 400ft. As the afternoon progressed, a few people went on short XCs and the lift smoothed off a little. People were still getting good height when I left just before 5pm. So, all-in-all, a worthwhile trip.

Report by John Blessing
Persuaded by Keith Wright to represent Wessex in the BCC, myself, Jim Coutts, Jeremy Mortimer, David Winn and Mark Pryce were up early for the drive to Abergavenny. Jim kindly offered to be our driver for the day so we all piled into his Disco. After an uneventful drive (apart from the repeated "Are we there yet?" - grow up Mark!) and a very reasonable English (?) breakfast in Abergavenny we were off to the competition briefing. Thankfully, they had decided against Talybont (Jeremy had been threatening us with tales of the walk up) and instead we were going to the Blorenge. Guess what? Blowing a hooley with low cloud, it didn't take long for the decision to cancel.
Back in the Disco, we decided to go home via Mere. We were all glad to be back in England where the sun was now shining in a clear blue sky, though the wind was a little strong by the time we got to the site. Bumped into Derek Sadler who claimed to have had a good morning.
Jim launched first, clawed his way past the gaggle, and went XC, later landing just before Bristol airspace for approx 35km. The rest of us spent the afternoon contending with sometimes scarily crowded sky, with occasionally strong but broken thermals, rarely finding the space to 360 when we thought we had found a good one. We even had a brave (or foolhardy) hang-glider weaving his way in and out of the PG crowds.
By about 5pm the wind was a little stronger and we had all had about enough. Mark P was soon back with Jim and we rounded the day off with a rather pleasant meal in Mere.
Despite the initial disappointment I think everyone had a great day. Again, our thanks to Jim for driving.
---
Mon 13 June 2005
Report by Roy Menage
I arrived at Kimmeridge just before 8pm to find the wind at a reasonable strength (12-15mph) but a bit off to the west. Launched carefully into some strong lift that was working a long way out from the face of the hill. The wind seemed much stronger in the air than on the ground with poor penetration, needing judicious use of speedbar at times. I decided to bottom land since I know that Kimmeridge can have strong rotor in the top landing and I have not top landed there before. Once down, I tried to ground handle back up the top, but the wind seemed to have dropped off substantially making that task nearly impossible. A couple of RC glider pilots arrived and enjoyed the remnants of the lift but by the time I made it back to the top, the it had died completely. The RC guys very kindly took my kit to the bottom of the hill in the back of the car while I took "Shanks' Pony" back to the car. Arrived home just after 10. It's a good job we don't have a dog otherw ise dinner would have been in it!
Report by Alastair Florence
After looking out of our Ringwood training room window all day at a beatiful XC sky albiet moving maybe a little fast I finally finished day 3 of an incredibly uninteresting saftey course and headed off toward Bell.
Arriving at about 1700hrs I was suprised to find the place deserted. I put the windsock back up as it was on the ground and checked the wind speed, 11 - 19mph, not too bad then. As I prepared to launch visiting pilot Rich the Marine strode up the hill from the chalk pit. I gave him a site brief and pointed him toward the gate then launched myself. Rich was soon on the
hill and kitting up. The sky was now much more blue than cloud.
I had hoped for the chance of an XC but the thermals were not really working much over 750ft and with the stronger wind you had to commit to no return at about this height. Instead we plumped for nearly 2 hours of playing the thermals. Very clear sky with visibility to the horizon in all directions. All in all a pleasant evening if a little lively.
On the drive home the weather vane in Corfe seemed to be shouting 'go to St Aldhelms' so i did. Arriving at about 2050hrs and launching soon after. The wind was a bit top end but I've flown it in worse so i'm told. After launching I pushed out over Chapmans Pool into a steady 3 up to around 400ft ATO. With the wind strengh it was a case of fly out over the shoreline, hands off brakes and just cruise back and forth chilling out watching the most beautiful orange sunset over the back of White Nothe.
At this point I decided to fly over to Houns Tout as I have done a couple of times before. The wind was more Westerly and stronger than on my previous successfull missions. Also I set off at a more acute angle than nomal. with full speed bar I was penetrating well and had 400ft ATO as I reached the far side of Chapmans Pool. I was much closer to the Tout than normal due to my acute approach angle.
The lift band on Houns Tout is only about 100m wide but is incredible, bit like flying up a chimney. As I drew nearer I began to experience rotor and sink, not to much to worry about, then the sink increased to 6 down and the rotor became more severe. It was obvious I needed to bail out.
In front of me was probably more rotor and a scrub bush landing, so I decided to turn tail and run for Chapmans Pool and hoped to get enough lift to get back onto the main cliff. As I turned an almighty blast of rotor hit me from behind. I looked up to see the canopy tips had blown forward to form a perfect horsehoe shape over my head. The canopy did not stall due to the force of the wind behind it. That made me feel a little uncomfortable. This happened less severely a couple of more times and there was a lot of rustling and pitching and partial collapses going on above my head. By this time I was low over the Pool and concentrated
on getting back over the beach before I lost all altitude and crashed into the sea. I put down quite uneventfully on the beach to be greeted by a cheering fisherman who had been expecting to have to carry a broken pilot up the hill.
The walk back up is a bugger but at least I was able to walk still. It was quite interesting to have to recover the canopy from several unusual shapes but maybe best done on an SIV course rather than for unexpectedly.

Moral of the story probably is:- by all means try flying to Houns Tout, I've done it and its great and i'll do it again. But don't let yourself get anywhere near the back of Houns Tout. Probably the most adrenalin to course my veins for some little while.
---
Sun 12 Jun 2005
Report by Matthew Whicher
Bell Hill. I arrived at Bell via Winklebury where it had been smack on, but I was the only person there. Does nobody fly it anymore? Bell was WNW with a good sky but too windy to PG. A small contingent of D&S Condors joined the Wessex HGs and we spent the day enjoying the thermic air. It was best around lunchtime when people were getting 2500' and Richard M. got lost and ended up landing at Holt Heath. We'll have to have words with him about that - it could ruin the 'Pipe and Slippers' image if HGs start doing XCs! However, he demonstrated exceptional planning when he arrived back on the hill a couple of hours later on his new Retrieve Moped!!
Despite the cumulus spreading out to block the good lift of earlier, the day remained flyable until late. Most of us had had enough when the wind started picking up. Special mention to Tony B. who had a couple of excellent flights on his Elan. Talking to him later, it turned out he hasn't even got a vario! The man's a natural...
Also seen on the hill and in the air: ZZ, Everard, Matthew C. and 3 Condors.
Report by Roger Edwards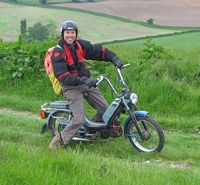 A windy Bell Hill provided plenty of paranapping opportunity for the PGs and good entertainment for the hangies, with Richard M going XC and demonstrating the latest in designer pilot gear - the patent pending PRV (Pilot Retrieval Vehicle). At only 20 quid each we could have one in every field in Dorset. Hmm, perhaps a little more work on the brakes is needed.
An HG XC? Shall we give him the trophy now? Consider the gauntlet thrown gentlemen ;)
---
Sat 11 Jun 2005
Report by Grant Oseland
Fantastic day at Ballards only Allan Webb and me had the whole ridge to ourselves, the rest being at Whitehorse I presume?
(PS we were also treated to a couple doing naughty things to each other on the beach below!!!)
Report by Alan Webb

Having made some calls I plumped for the Ballards hoping for someone to turn up and give a site assessment. Surprisingly, no-one was there on arrival, so waited on the green by the path for someone to turn up. Grant turned up with the same hope as me that it would be on. Climbed the hill and found the wind South about 10MPH. Great, my first chance to fly this site. It worked well, very smooth conditions and the whole of the ridge and cliffs gave lift all along. We couldn't believe that we had the whole of the Ballards to ourselves, it was clear that most had gone to the White Horse. The wind did increase to about 14MPH but this made the flying smoother and great fun. Many thanks to Grant for his company and site assessment. The only drama of the day was trying to stop the cows eating the wings!!

Report by Dave Winn
The Airways competition looked cancelled so made my way with Ali F to East Portland where the wind was East at 12mph. Nice smooth conditions but after scratching to the North end and back decided to stick to the cliff in front of t/o. Had an hour or so and then the sea breeze kicked in and we lost height so decided to go to White horse.

There the sea breeze really came on and it became thermic giving everyone there a few hours of nice flying even though we had many varying descriptions of the condititions which included:- 'spiky', 'bumpy', 'rough' and scary.

Flyers there included;- Mark P, Ali F, Russell W, Steve P, Martin F, Roger E, Marcus W, Gill & Nick, Sean S, Roy M and latecomer Peter R.
Report by Jon Harvey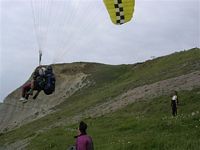 Received a rather early phone call, from TB to say that Westbay was working (seabreeze at 11am?) Arrived and sure enough TB was flying though breeze seemed to be dropping.
Eventually managed to get airborne, with several others, and even later with an extremely rare event for W/B, a tandem. Breeze lasted until 4ish.

TB, JH, SC, DT, KB, JP, and one other.

Also a good publicity day, with plenty of the public coming to talk about the sport, and how/where etc to commence. I'd be obliged if both AP of FF, and JW of FC, would send me more of their business cards as I'm out of both school cards. One of the benefits of flying this site.
---
Fri 10 June 2005
Report by Matthew Whicher
Monks Down. Bunking off work at lunchtime, I was unsure if I'd find any companions on the hill. But, this being the Wessex, I needn't have worried! There was even the reassuring site of a HG being rigged as I drove up. It was Richard M. and we optimistically discussed XC options as we rigged. It became too strong to PG so Richard and I had the place to ourselves for an hour and a half. Highlights included being 'buzzed' (I think the correct term in 'stooped upon') by the buzzards over the spur / bowl to the west and the view from 1000' in the one good spell of lift. Of course, fitting the map case and planning a route put paid to going XC, but a pleasent afternoon nevertheless. Thanks to the PG pilot who brought my tie-down along to the landing field.
---
Thurs 9 June 2005
Report by John Blessing
A beautiful blue sky afternoon at Bournemouth. Present were Brian M, Martin H (pictured) and Owen.
Barton - Report by Dave Winn
Arrived at 2.40 with the wind smack on at 12mph. After trying to inflate in the wrong place for a few minutes I managed to find a spot that worked and enjoyed several flights and landings for the next couple of hours. The sea breeze kept going, even when the clouds shut off the sun, but unfortunately the wind went off to the SW in the end and there ended the day. Craig B turned up to test his Gradient Aspen followed later by Brian M who scratched around in the ever increasing SW direction of wind.

---
Tues 7 June 2005
Report by Craig Byrne
Had a nice evening flight at Barton with John B, John R and guest scratcher Ali F. The others had been up since late afternoon, but it did not seem that windy at home till later (I should have checked the computer not my favourite tree) :-)

The photos are of John R
---
Previous reports
If you find that some of the earlier pages don't have a navigation menu, just use your browser's Back button to return to this page once you have finished reading it.