Eye in the Sky Aug 2005 Part 1
Your Flying News Notice Board. Send me your news and photos. Submission guidelines

Sat 13 Aug 2005
Pictures by Mark Fisher
---
Fri 12 Aug 2005
Report by Mark Fisher
Bell Hill: Quite strong and lifty conditions all afternoon and into the evening many flying for hours at a time, not easy to come down and lots of big ears.Made the most of it as the weekend forecast was not looking good.
---
Thurs 11 Aug 2005
Report by Roy Menage
Arrived at about 2:30 at Ringstead to see a single wing - Russell W - in the air, but returning to land. Not a good sign, I thought, but he assured me that all was well. So I proceeded to fly the ridge. Conditions were a bit rough and the wind off a little to the west. After much perseverance, I managed to get enough height to head for the cliffs. I arrived at the bowl with plenty of height but just could not get enough lift to make it to the main cliffs. Gradually, inexorably, my height disappeared (perhaps it was the orographic that was trying to form that killed it) until I was forced to land on the beach. I thought the walk back would be easier than Ballards but was completely wrong. Totally knackered on my return, I got permission to stay out late and tried again, after a drink and a rest.
This time, I made it to the cliffs and up to the end and back a few times. Russell had been practicing his spiral dives so I decided to give it a go (not having done it before - only briefings). I pushed out from the cliffs to give plenty of room for error, waited for the hangie to get clear, and started a steep turn. Within about a single turn, the wing suddenly locked into a spiral and the height disappeared at an alarming rate. I think I only stayed in for a single 360 but that was enough. The g-force in the seat was quite surprising. So I decided to get out quick. Probably a bit too quick as the vario went balistic on the exit with the surge. Still, all turned out fine in the end. Once the heart rate was back down, I made my way back to the ridge. Unfortunately, the wind direction was a bit too west so I ended up landing in the bottom field. Ho-hum! My wife remarked that I am getting so much flying in this holiday that I won't need a proper flying holiday. That's what she thinks!

Several other fliers had turned up during the afternoon, including John W, Vikki P and (I think) some students. Not sure how many were flying in total but there were at least 6 wings on the cliffs at one time and the ridge felt a bit crouded (but then any more than 4 at a time there is a crowd!).

Note from John Welch:
Just to avoid any confusion, Vikki Palmer and I turned up with her sister (Cleone Palmer) who had just been signed off. We don't fly (except on tandem) any students at Ringstead. As it turned out, Cleone had several short flights in the bowl, met lots of new people and had a terrific time!
---
Wed 10 Aug 05
Report by Alastair Florence
Remember those times you've been sat on the hill waiting for a breeze an those pesky sailplanes have been scudding from cloud to cloud out in front taunting us??? We got our own back on one today at Bell (although it meant an end to flying for a while) the unfortunate pilot had got low and scratched Bell for about half an hour before admitting defeat and bottom landing.
---
Tues 9 Aug 2005
Report by David Franklin
I arrived at Bell Hill at lunch time today to find it deserted.There was virtually no wind but light cycles were coming through so I kitted up ready for some hill walking.My first launch into a bird filled thermal took me slowly up and back.I eventually climbed right up through the inversion which was quite bumpy at 3,000ft.From there on it was a case of searching around a very blue sky for something to stay up in.I managed to stay above the inversion till I reach my one and only cloud at Wareham this took me back to 4,850ft.From there on I was flying into a strongish sea breeze and was unable to get on the Corfe ridge so landed this side of it.This evening back at Bell Adrian Bull and I flew till 7.30 in lovely buoyant conditions.
Report by Roy Menage
Decided to abandon the painting and decorating (well, the tin said do not apply in direct sunlight!) and head out for an afternoon flying. A quick call to Russell found that while Ringstead looked promising, Kimmeridge would probably be a better bet. Arrived about 2:30 to see a single wing in the air, followed closely by 2 more. Anxious not to miss the chance, I threw myself into the air, straight into a powerful thermal... that worked for a whole 100ft! The same story all afternoon. Small punchy thermals but not much height. Made it to Swyre Head several times but on the last occasion, the lift had faded enough that I could not make it back to the main part of the hill and ended up landing just behind the stone wall. Doh! I climbed part way up the hill and managed to fly past the wall but never got enough height to get back to the top. I hate walking back up Kimmeridge!
---
BPC Comp
Report by Craig Byrne
We had a great weekend at The Mid Wales BPC based near Long Mynd, finally the weather was epic and so were the tasks!

Saturday a elapsed time 44km race to goal was set from The Mynd and it was very overcast and hard to get away at first, it finally blued up a bit and many got away, we all ended up working the lift along Wetlock Edge towards goal. I missed a turnpoint (did not stay in long enough) 'DOH' and would have scored well but rather than nearly 40k was penalised with 9k score.

Sunday was a 59km race to a virtual goal above Worcester then on to a declared 110k goal at Cirencester. I made Worcester then on a further 10k following the M5 then a long hitch and retrieve from Nicole to get back late to the base. There was some fantastic cloud streets working and fast flying on the bar at times making 12k along them before going on a glide.

Monday was brilliant! The same 59km goal task but harder to fly with less clouds more blue holes and some strong climbs off the fields and quarries below. Lots of low saves and the biggest thermal of the day came when I did not need it racing in to goal!
---
Mon 8 Aug 2005
Report by Mike Bretherton
Weatherjack were not kidding when he gave today a 5 rating. I went to Combe again with Dom Schettini and Pete Studinski and we were itching to get to the south coast.
I had never quite made it but I got my personal best 2 years ago with 78Km to Chichester. As we arrived a gaggle was already getting away, I believe Pete Chalmers got away in this. I took off around 1:15 and quickly gained some height and hit a boomer, 4 of us climbed out and had much better climbs than yesterday. We quickly got to base at over 5000ft again, glided to Hasbourne topped up, then onto Whitchurch. There were casualties on the way with bad decisions putting people prematurely on the ground.
After Whitchurch I made a mistake and went east following a sailplane circling but the lift was gone when I arrived and I was left in a sinky blue hole. I nearly bombed by the time I hit the M3 near Popham and had to fight in an extra weak thermal to regain base. Slowly, slowly but eventually screamed up back to base and then I took a very buoyant glide with speedbar NE to avoid the airspace corner. By this time I was on my own but I was now clear of airspace so I could burn off some km's downwind. I headed towards Butser Hill, a most terrible hill to fly from and I was laughing when I could see some Sky Surfing brave soul attempting to launch from the north face.
Another climb back to base and onto the South Downs, I was now off the airmap but knew that I had to be careful not to invade the Goodwood ATZ. A massive climb made it academic as I was now way over the top of it, but at base the climb went even more ballistic, off the clock at over 8 m/s, the thin clouds were even descending below me at an incredible rate. This was possibly the scariest bit of lift I have ever been in, although it was quite smooth.
Several more climbs later I was nearing the coast and in front of me was a large built up area. I was quite tired, in need of the loo and the thermals were weakening. I decided that flying over the upcoming built up area was not advisable so I flew downwind towards the coast in order to land on the beach. I got drilled by the sea breeze and was decked very quickly but I still managed to land very close to Climping Beach at 89Km, a new personal best for me. After landing I found that Pete Stud had landed near Petersfield and my other friend Dom Schettini who was still at Combe very kindly drove my car to retrieve me, and I subsequently picked Pete up on the way back.
Report by Pete Chalmers
After yesterday I was determined to make the most of weatherjack's 5 so after much deliberation John B and I headed for Combe (stronger wind and bigger potential).
We were met by other Wessex members Gill LG, Rob P, Steve (Woody) N, Pete S and Paul H. Wings had good height at 1130 with good cycles. I was in no great hurry as I had no wish to repeat the hill climbing I did yesterday. John led the way followed by Gill But didn't manage to climb out.
I decided to take off at 1230 and immediately found lift (luck) enough to get me down to the trees at the W end which normally work well. I was rewarded with a solid climb with Gill to about 4500'asl. Gill was ahead and sinking on the glide downwind so I stuck with weak lift then started tracking E on the glides to avoid Southampton airspace. It worked like a dream, crossing the blue holes to be rewarded with climbs under the next cloud. Andover, Whitchurch, Popham, Four Marks all came and went with a wonderful view of the S coast and climbs up to 5400'.The Kms ticked away to my UK PB of 50km. A couple of low saves over cornfields, Petersfield with Butser to the S then Chichester in the distance. I was tracking directly to Goodwood ATZ so had to make a decision on N or S. Fearing sea breeze if I got any nearer the coast I went N into quite a headwind and got decked near Goodwood Racecourse for 72.9Km with a dogleg. UNBELIEVABLE. Even the retrieve was a dream. 5 min wait for a bus to Chichester station, 6mins for a train to Southampton and 10mins for bus to Hythe.I am still on cloud 9 writing this at 2300!
John made 31Km, Gill 16km then 50+km, Rob about 30? Not sure of the others. Thanks John for retrieving my car.

Report by Alastair Florence
After a another disapointing start to Weather jacks 5 ( I think a winch or tow tug and 20=-1 glide probably helps) on Bell me, Dave W, Stuart M, Grant O, Steve B and one other who's name escapes me canned the XC heads and joined the other 3/4 of the club already at Ringstead. It was the first time i'v flown it properly this year and was sorely tempted to try and run to Lulworth but with the degree of West it would have been a one way ticket so settled for a couple of hours on the cliffs. Still, nice enough.
As the wind eased most pilots headed in and left. I drove home over the ranges and spied 2 wings having a decent fly at Kimmeridge so decided to pay St Aldhelms a visit. Peachy evening chill out conditions, comfy cruising at 250-320ft ATO but not enough for Houns Tout. Loads of Mackerel shoals making the water boil down below, if your into mackerel feathering thats the place to go. (saw a seal there a few weeks ago)
Report by Roy Menage
After a call to both John W (who was on White Horse) and Russell W (who was heading to Ringstead), I plumped for Ringstead - easier to drive up to takeoff. Right decision. Wind was averaging 13mph but gusting 17 at times. I waited for another wind-dummy to leave (thanks, Russell), and then, this being my first attempt at the cliffs, waited to follow them. I left a bit low on my first visit but just managed to make the bowl where I scratched around for a while before following Russell up to the main cliffs. Made about 360ft above TO and was very careful not to go around the Nothe. I spent about 10 minutes enjoying the scenery before starting my voyage of discovery to find the way back. Arrive back with plenty of height and landed in the top field. I subsequently had 2 more visits to the cliffs. The first I managed to get 150ft before departure and felt much better arriving at the bowl with height to spare. The third flight I found it difficult to get enough height but scraped along behing Dave W to have another pleasant flight in the silky-smooth conditions.

Various others turned up through the afternoon, including Neil H, John W and Stuart M taking tandem rides (nice to see Anna back in the air, riding with Stuart, after her mishap in France - now go on and get qualified!). In all there were at least 14 wings in the air at times and it was getting crouded on the cliffs. Still, I think everybody had a good time (except, perhaps Stuart, who discovered an 18" tear in the seam of his Gradient Golden! Bad luck mate)
---
BCC Final 6/7th Aug Mid Wales
Report by Pete Chalmers
The team comprising Sean Staines, Andrea Staines (retrieve), Gill LeGras, Nick LeGras, Jim Coutts and Pete Chalmers gathered at the Lion Hotel, Llandinan, Mid Wales for the brief on Saturday morning.
Off to Cemmaes to find a strong W wind blowing. An open distance task was set and the hangies immediately took to the air. It was overcast and climbs were hard earned. some left the hill for short distances. Gradually the braver paragliders took off also,SS & NLG for us. Once in the air it was reported fine but it was howling on take off. A couple got away for just under 5km then Nick who landed at 5.3km next to a hanglider he had seen in a tree. On close inspection it was found to be a barn roof!! Not enough to validate the task so "nil points" for all.
Sunday morning dawned cold and clear, a much more promising day. A race to gaol was set from Hundred House to Abergavenny, about 43km. Off to the hill to be met by our sixth member, Peter Robinson. Much to our relief a tractor had been arranged to carry the gliders up the hill but Sean was so keen he carried his own!
The wind was light NW-N with thermal cycles when the window opened at 1300. SS was immediately in the air and one of the first to get away for about 35km, just short of gaol. JC next for about 25km, just short of the mountains that would have given another climb. PR got away just before flying ceased for a while an air ambulance evacuated an injured free flyer who had spun into the hill and sustained back and pelvis injuries, good luck to him. Pete overflew gaol and made 63km just short of Newport. The rest of us scratched around looking for the elusive thermals but ended up side landing/climbing up and eventually down to the cars.
Presentation was held at The Bridge Inn Abergavenny. Seven made gaol and Thames Valley won. Wessex was 4th (out of the six finalists).
A good weekend even if the weather wasn't perfect. This is a fun comp aimed at relatively low x/c airtimers so don't be afraid to give it a go next year, we can always enter two teams!
---
Sun 7 Aug 2005
Report by RW
A report from Simon C missed the main events of the day, several Pilots went XC ( not me, I got knocked out of the thermal ). One, a friend of Martin F, I believe his name is Roger F got to Swanage Beach, John P, Adrian C & Andy B got away for some distance. A bit of a dog fight in the air for space with Richard M showing how to do it on his new Gin Zoom!
Pictures: M Fisher
Report by Simon Cory-Wright
After para-grumbling on Bell with the other assembled masses I eventually joined the mass-exodus to Monks. Arrived to find about 6 wings in the air at various altitudes with a similar number on the ground scratching their chins. Wind was light and thermic, so you had to pick your moment to take off but from about 2pm till I left at 6pm there was at least one wing in the air pretty much continuously. My first couple of flights were short and scratchy with the lift patchy and difficult to stay in … for me anyway! Everyone managed to get decent flights in though and there ended up being two main thermal cycles that enabled climbs big enough to consider XCs. I missed the first one but caught the second one nicely to 360m ATO (1200ft). There was very little downwind drift so after spying on Madonna's place for a couple of minutes to see if I could make her out sunbathing beside the pool (no such luck) I chickened out going XC, basically just because no one else had - what a sheep! The thermal was still big and smooth as I left it to head back out front, where I found predictable 4-down sink and an eventual landing.
The conditions weakened and smoothed out leaving us low-airtimers earthbound and envious while Ron Smith showed great flying sense and skill to boat about effortlessly in the buoyant evening lift as we packed up and went home. Another hour and half in the log-book, a great day's flying!
One observation: Monk's Down is a small ridge and quickly gets crowded. There was a real lack of courtesy at times and some blatant disregard for simple airlaw yesterday. I made a couple of mistakes myself and had to apologise to a pilot I cut in front of at one point. The two most common offences seem to be ignoring the 'pass on the right' law when approaching another glider head on (this was happening continuously) and not looking before turning. Lets be careful out there!

Report by Neville Almond
As an associate member, and temporary visitor to bell hill yesterday (!), I thought I'd add my flight report. A bit unusual, as I passed by having taken off from Westbury, passd Bell, then continued to between half way between Bell & Dorchester. The clouds looked sporadic further south, and Iwas keen not to land in a sea breeze, so I turned around, and then returned again past Bell (it wasn't an intentional tease, sorry!). Generally the air was okay, but actually wasn't quite as good as it looked.............you did need a class 5 (Atos) to get between the lifting areas. If its any consellation many people struggled at Westbury (even though mopre into wind). By 3:30 the air improved, base went to 6k, and the last 12 miles (from Mere) back to Westbury I did in almost a straight line.
Report by Mike Bretherton
Weatherjack was giving it a 4 so Pete Stud and me went to Combe. The sky looked epic and conditions looked good all day but it was very frustrating for Xc flights. It occasionally got very windy and the thermals would not rise above 500ft ATO most of the time. I first got to 900ft and went over the back but landed a very short distance over the back, many other people tried to go Xc but very few succeeded. Eventually after 4pm, I went over the back again, but nearly bombed again. I flew back to the hill and found some very scrappy thermals and had a very slow climb, in lift, out of lift. After 2000ft the climb got much better and I climbed to base over 5000ft. I glided to Whitchurch where I got another climb quite low and had another very slow climb back to base but the wind drift was quite fast. Over the M3 I had quite a shock, I had not been paying attention to my surroundings as I thought I was alone when a sailplane thremalled past me extremely close and very fast. It showed me the next climb back to base and I headed crosswind around the airspace towards Lasham. I started to get low and there did not seem to be much lift left as it was getting late so as I was under 2000ft I headed downwind to max my distance and landed just short of New Arlesford. I walked to the Globe pub were I saw other feathered flyers on the lake and after a well earned beer, Pete Stud was kind enough to retrieve me. And tomorrow Weatherjack is giving it a 5 !
PS – My friend Simon Herbert had his ankle pinned back together again yesterday and the operation went well, he should be home early in the week.
Report by Alastair Florence
Wind at home was blowing a hooly from the North in the morning but a few calls that Bell was flyable had me abandoning the bathroom tiling and heading out.
Arrived at Bell to find several pilots Grant O, John B, Keith W, FCUK, Stuart M, Russell W, Adrian B, and several others not really doing much. I persuaded Mike A that Okeford might be better, so we both headed over. I launched into a cycle and got about 10 mins landing behind Mike who was still looking for me out in front. Mike launched and shortly ended up with a hard walk up from the bottom. I took one more cycle but nearly blew it with a low save from 70ft below take off and just scratched back to the top.
Nev from Avon must have been the hangy who passed over Okeford and Bell ( check out his report on Avon site ) he flew from Westbury to Dorchester and back to Westbury ( they should ban those things ) ( only kidding ) Back to bell then. Still pants got about 10 mins in a cycle then headed home.
I was suprised to find a reasonable Sea breeze as I passed through Corfe, a bit strong at Kimmeridge, too South at St.A's so tried Knitson. A bit off to the West and pants air so landed at the bottom. The only lift I found was about 300m in front of the hill whilst trying to land.
Report by Jon Harvey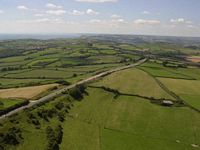 A very pleasant afternoon at Chilcombe.

I could hear a couple of people on Condors frequency lunch time-ish one saying in the cloud and one just underneath.

Good height here 600/700 ft, but unfortunately predicted sea breeze failed to kick in. Some good strong thermals at times, and then there were good views along the coast behind.
---
Sat 6 Aug 05
Report by RW

Bell Hill:
A call from Derek S to confirm bell was flyable had several of us en route, wings espied from a distance under leaden skies. It was lifty and surprisingly buoyant with good height gains at times. Several new Pilots on the hill, one of whom was flying without a speedbar in gusty & gutsy conditions ( must have thought he was invincible )! Hope he seeks advice on his next outing. Many happy Pilots to get some airtime. I have to admit the sky did not look at all inviting but persistence paid off even if it was busy in the bowl. Too many Pilots to mention but the usual suspects & the Flight Culture posse.
Pictures: M Fisher
---
Thurs 4 Aug 2005
Report by Mike Bretherton
The night before looking at the forecasts and deciding Thurs would be too west and blown out for Bell, Simon Herbert phoned me to ask if I was flying on Thursday. As he was driving, and I could not face another day at work this week I decided to agree and thought we probably would not fly but what the hell, beats working.
We arrived to find several wings in the air, conditions very nice, but thickening high cloud was looking to kill off any thoughts of going Xc. Just before launching I saw a huge gaggle of birds out the front screaming up. Yahoo, I launched, but the moment I did all the birds just flew off. Very strange I thought ?, it looked like they were going to base. Anyway I quickly thermalled up to around 600 – 700ft ATO but could go not further, and so the others were similar heights too. Then my friend Simon got a boomer over the back field from low down. I now reckoned there was an inversion around 600ft and I watched him as he went storming up to 600ft, then nothing. So that's why those birds left the thermal ! I now knew it was pointless leaving the hill below this inversion so I thought we would have to wait for the thermals to get stronger or persevere through the inversion.
The sky was rapidly becoming overcast with alto stratus so it was a race against time to get away before the thermals were killed off or the wind went SW. After several attempts in medium strength thermals I slowly climbed in an extremely weak one, about one quarter m/s. It was rubbish but it was consistent so I took it anyway and went over the back thinking I was only going to make a couple of km's. I very very slowly climbed to about 1200ft ATO towards Blanford, then lost loads heading north to avoid airspace. I then got a reasonable climb over Blanford up to about 2200ft ATO, then slowly lost it in reduced sink, circling all the way over Blanford camp and I came down near a place called Tarrant Monkton (14.5 km) where I found a very nice pub. Simon retrieved me shortly as the wind had left the hill not long after I had got away.
Afterwards we went onto Ringstead arriving at about 6pm where the wind was smack on take off if a little strong, but nothing more than we had flown in before there. We got set up and waited for some time till the wind declined to give a more comfortable take off. Simon launched first but unfortunately he had a knot in one of his lines causing him to turn to the left. He was unable to correct the turn and the wing turned cross wind and he was dumped onto the hillside. It did not seem that bad a dumping, but because of the deeply rutted hillside, he had landed badly on his left foot causing him to break his ankle. Later an ambulance arrived and took him off to Dorchester A&E were the Xray showed a complete "unstable" break to his ankle and slight dislocation. He is in overnight and probably going to have it pinned together tomorrow. He remained in good spirits throughout with very little pain apart from when he moved it !
A rather unfortunate end to an otherwise excellent day.
Report by RW
Derek S & Mike A ( real name Dave) thought they would have the hill to themselves, sneaky bastages. A little detective work following incompetent weather reports, had me heading to Bell courtesy of a text from Jim C.

On arrival several wings in the air with the infamous ( non XC ) Ron S at the top of the stack. New arrivals to the Club, Russell H R & Keith ? ( Welcome to the Wessex ) had their inaugral flights and said they enjoyed it immensely. I watched Jim C & Mike B leave the hill for what appeared to be the only XCs of the day. Harry D had a long walk up from the bowl said he needed the exercise. It was very lifty until about 1400hrs allowing thermic flights & ridge soaring.
Others, Peter C, Sean L, Simon H & Simon H,( not twins ) Jacko!, Karl?, Martin H ( after a long absence ). Who said it would'nt be flyable?
---
Wed 3 Aug 2005
Report by Mark Phillips
Came from Condor land to Bell hill for the 3rd time on Wednesday with the intention of trying to beat my pathetic 3.8 mile XC attempt of last time. Had a cracking 2 1/2 hours flight leaving the hill after probably an hour & three quarters and reaching 4255ft ASL and almost making Swanage for just over 20 miles. Got low trying to cross wind it around the airspace and decked it somewhere between the corner of the water & swanage. Geoff Brooks who came with me landed at Corfe castle, both of us achieving personal bests and gaining valuable XC experience which we have trouble doing on our limited hang glideable XC sites in Devon. Many thanks to the Wessex for letting us use this cracking site and to all who have been so welcoming & helpful, especially to Derek Sadler who retrieved us from Poole bus station.
---
Monday 1 Aug 2005
Report by RW
Another great day at the "Office". Initially the wind was S & led a few of us to the Horse, mistake! Spotted Nigel S on the cliffs & it was a quick dash back. Several journeys out to the cliffs to join the young Peregrines and wafting about in smooth conditions. Nigel S always at the top of the stack, pilot skill I think.

I counted 12 wings in the air, has no-one got a job? Many pilots on their new wings including ( after a long absence ) Shippo. Derek S broke the "spell" and showed us all how to scratch back up on the cliffs.

Others, John W & his posse, Marcus W, Steve P, Shippo, Jacko & his Mate on the new Zulu, Lyn from Wales, James T, Dr Charles, Jim C & others? Today was a good day, my daughters' 18th & my 500th hour airtime, Oh & the sun was shining.

---
Previous reports
If you find that some of the earlier pages don't have a navigation menu, just use your browser's Back button to return to this page once you have finished reading it.