Eye in the Sky Sept 2005
Your Flying News Notice Board. Send me your news and photos. Submission guidelines

---
Sat 24 Sept 2005
Report by Alastair Florence
The 5 in a row for Friday didn't come off although I did try, St. Aldhelms was on for direction but at 28 mph wasn't going to be that safe. This morning's weather pattern was following the forecasts nicely which meant that by 1300 hrs it should be South east. I was therefore suprised to arrive at Ballard estate soon after 1100 and find no one else about. Never mind I walked up anyway and as expected the last of the ENE wind was blowing up the back. No problem, after about 30 mins it was on its way round SE.
Soon after 12 I tried the first flight and found it still very East but just about flyable. Richard M was on his way up by now, and I was loosing height, a little sea thermal saved me and i landed for a chat. We had another go and it was better until it seemed to shut off again. Martin H puffed his way up and i tried again this time with clouds forming out in front I managed to work up to a couple of hundred feet odd.
From then on apart from the shut down we had probably the best day this year so far on this site. The sea thermals were running along the ridge allowing flights toward the obelisk and back. Later the lower cliffs worked well and to a degree the cliff toward Old Harry although this remained a bit touch and go till later on. Best height I acheived was over 400ft and I'm sure most others managed similar.
Others arriving during the day : Jacko, John (blue airwave), Neil W, Phil from the East Bar (ex peveril), Alan W, Roy M hope I havent forgotten any one. The wind continued to swing more SE and increased slightly making a beach land hard work. 2 of my Nephew's were barbecuing on the beach so I got a burger on the way up. A good way to spend your birthday.
---
Thurs 22 Sept 2005
Report by Dave Winn
Thought I would have a look at Southbourne and getting there found it a bit on the light side. Steve A turned up and being underweight on my glider, gave it a go. It worked, but only just and we had to wait for Lawrence to turn up before it got better. We convinced Lawrence the wind had just picked up and watched as he launched and scratched for the first beat, only to start gaining height on his way back. That was good enough for me so I launched and found the wind off to the sse which later on went more easterly wrapping up the day.
Crossing the gap at Boscombe would have been easy with the wind behind me but I didn't fancy the walk back (again).

Report by Alastair Florence
The evening looked reasonable so 4 out of 4 just had to be done. Corfe church weather vane showed due South so aimed for Knitson. Wind was even lighter than last night and a strange lite mist up to about 800ft over sea level topped with sort of orographicy clouds with clear blue sky above with a smattering of high cloud already tinged orange with the begginings of sunset. Having walked up I managed to launch without the dreaded mad cows sussing my prescence. The lift was strange as well, it was easy to stay above minus 40ft but impossible to get above take off, I figured if I could only get some lift above the mist it may make for some beatiful views, but to no avail. After 20 mins I felt I was not really achieving anything and remembered I had promised to set out some levels on some decking a mate is building so canned it with a bottom land.
I suppose 5 in a row is out of the question.
---
Wed 21 Sept 2005
Report by Dave Winn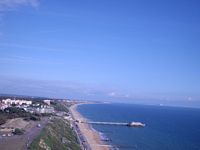 Arrived at Southbourne to find 10mph smack on hill. Phoned the necessary and launched into good lift. Made my way to Boscombe pier gaining height all the way along and made the decision to jump the gap with about 150ft amsl. It's a big gap to jump and losing height as you venture across the gap is a bit worrying. There are spots where there is a bit of lift or the flats on the way over provide some help. Anyway I got across with no problems and headed off towards Bournemouth pier. As I approached the gap became larger and larger and the end of the Imax was as far as I was prepared to go. Trying to gain enough height to cross this gap didn't happen and it felt like the wind speed had decreased. I then made my way back towards Boscombe pier and noticed Lawrence T tryng to get across, but turning back.This confirmed the drop in windspeed and I tried to gain as much height as possible before attempting to re-cross the gap.
After crossing with ease and flying back to take off for a wee I realised the wind had gone off to the Sw slightly and that was why coming back towards Southbourne was easier. We were joined by Jim C and Stuart M and later on Nicole M.
Crossing the gap is ok with the right conditons but it is prudent to have a get out clause handy when you need it. We all had to land on the beach later when the wind switched off rather rapidly!

Report by Alastair Florence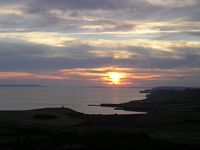 Not quite Brazil but some of us have to make the best of the old UK. The weather vanes on Corfe and Kingston churches were about 10 degrees further South than the last two nights with a light breeze so I decided a change was better than a rest and stopped off at Kimmeridge. Gentle 10-11mph SW breeze. A bit scratchy at first but on Swyre Head plenty of lovely soft smooth lift to well over 200ft ato, peachy. Only managed about 40 mins tonight (still mustn't grumble) before the breeze started to drop and I opted for a last chance top land by the car. 3 out of 3 so far this week cant be bad for late September.
No other PG's in the air this way tonight to photograph so took one of the sunset instead.
---
Report by Mike Bretherton
I've just come back from seeing my girlfriend in Brazil. Its not the best time of year to visit Governador Valadares for flying, but I took my wing anyway. I only bothered going flying one day but it turned out to be a good decision. It was midweek and looked pretty overcast so the local pilots were not flying, in fact I was the only person on take off. I arrived at midday to a very overdeveloped sky, in fact there was no sun at all but the conditions looked OK for a quick top to bottom. A few Arubu (local vultures) were soaring around the mountain but even they were not climbing out. I took off and after losing some height I managed to find a zero and maintain my position. Very slowly at first, I managed to climb out until I hit a 5 m/s boomer and once I was at base at around 5000ft it was very easy to stay up. Having written off the idea of an Xc I decided to have a tour around the mountain and flew around by myself for an hour.
I was about to give it up and land but I noticed some sun had come out and the sky was looking much better. I made it back to base and decided to go for it. Over the back and on to the Quarry, I got a climb there as normal and then off to Apacarta, another climb, then the first Petrol Station (another climb), this was going like clockwork with good cloud streets. At the second Petrol station (around 30km) I had a low save when a flock of Arubu were suddenly all around me and a huge thermal went off. Near base it went ballistic, completely off the end of the vario and I was going up so quick my leading edge, trailing edge and tips were curling downwards with the centre of the wing being pushed up at the centre. I bottled out of taking it being close to base and rode it straight out into major sink locking my hands into the stall position as the wing dived out of it. I flew another 15km and decided to land at another petrol station just past Enginhero Caldas (45 Km) as I thought the sky was about to shut off and it does so here very dramatically late afternoon. I did not want a difficult retrieve in the dark.
Unfortunately I had misread the time and it was an hour earlier than I thought, doh !, I might have gone onto about 70Km. I load of kids came out of nowhere to help me pack my canopy and a motorist stopped and offered me a lift back to the city. I negotiated a fare of £3.50 and he took me right back to my girlfriends house. Excellent day !
---
Tues 20 Sept 2005
Report by RW
I looked out of my window & what did I see, Nigel S in the air at Ringstead 1130hrs between some grey & showery clouds. I packed my lunch & went to join him, the misty rain cleared after incantations to the Gods & clearing up the mess some litter lout left on the hill.
Marcus W phoned to ask the usual question? We launched & did not have to work hard to get to the cliffs & enjoyed 600'ATO with the occasional Thermal on the cliffs. Nigel was off to the beach "almost" showing us how to explore the limits & I followed to find it surprisingly lifty down below.
Marcus eventually arrived followed by Derek S & Harry D, & a little later Richard S managed his maiden flight to the White Nothe after thousands of hours flying for the Fleet Air Arm. James T arrived after work to try his luck.
I did not expect to fly today so it was all the more enjoyable to spend several hours testing the lift and exploring the lower cliffs. I was joined at one stage by the young peregrine who looked at me with the usual disdain. Happy times. See you when I get back with the posse from Macedonia.
Report by Alastair Florence
Us St. A's boys are getting nearly as predictable as the Ringstead posse. Stopped off at the local again tonight for a quick one on the way home from work. Conditions very similar to last night but with low cloud building up. Very low cloud, Cloudbase about 400ft ATO, see photo taken from about 380ft with Mike D about to disapear into cloud at 390ft. Mike and Neil W again present. Very lifty under the cloud, another hour logged, smooth and pleasant enough, but one eye always on the cloud situation.
---
Mon 19 Sept 2005
Report by Marcus Webster
A grey drizzly morning in Wimborne did not bode well for flying but a phone call to Steve P and Russell W convinced me that the drive to Ringstead might be worth the effort. Arrived in glorious sunshine to see Russell and Nigel S making their way easily out to the cliffs, so unpacked and got ready to go in blustery conditions WSW 17mph. Steve P arrived just in time to help untangle my lines and then followed two 45 min flights out on the cliffs, Nigel entertained us with his spirals almost down to the water and even landing on one of the lower sloped before taking off and rejoining us.also there Derek S and Paul ?.

Report by Alastair Florence
Spurred on by a text from Mike D telling me of his exploits I left work early enough to have a fly at St. A's myself. Still a bit SW and strongish but nice and lifty. Perfect conditions for a hop to Houns Tout which I did twice. I was joined by Neil W whom I left making the most of the 30 mins after sunset. Loads of lift West of Houns Tout as Neil proved but I felt it was a bit late in the day to try and get onto the Kimmeridge ridge.
NOTE: On my first hop onto the Tout today I only just conected with some lift by the skin of my teeth. I had landing options weighed up and felt safe - (ish) . I left St. A's cliff with 423ft ATO and had minus 300ft (T/O is about 400ft AMSL) when I finally started going up again. On the second trip I left with 500ft odd and still had no more than minus 230ft left before connecting with lift again. I expect to loose at least 500ft even on a good day during the crossing so advise anyone attempting this to have at least 500ft + ATO before even thinking about it for the first time. A SW wind is also a big help as penetration is improved over a true Westerly and lift will be better on the Tout. Best option is fly out of Kimmeridge down wind first to figure out what lifts and what dont !!

Report by Steve Phillips
Oh God I can't go flying again I've so much to do to the house. I was sat at Cafe Oasis drinking coffee looking at the white cliffs (just in case someone was out there) and i received a call from Marcus. I told him it was still westerly at the moment. Half hour later Russell calls to say its on at Ringstead. I sat there reading the poem in this month's Sky Wings. Oh go on then, its winter soon!
Arrived to see Marcus, Nigel, Russel and Derek S. The cliffs were magic today, sea thermals gave good height 200m asl. Wind was topping 16 mph enough to fly the lower cliffs and to practise my spiral dives over the nudists. Nigel flew the lower cliffs, landed and then took off again. Russell wore his buoyancy aid as we were on a coastal site. Derek was top of the stack and Marcus produced Russell and myself encapsulated copies of get me back to the hill signs...good lad! (no, I don't know what that last bit means either. JB)
Report by Mike Drew
Went to St Aldhems early afternoon to find no one there. Not surprised as it was off to the south and there are far more sensible places to be flying in that wind direction. Decided to give it a go but found it difficult until I got around the corner on to the SW cliffs. This was fine for a while but decided to land to change to a better site. I was just about to turn and run for the car park when I got in to a nice piece of lift. I stayed with this to make sure I had plenty of height for the car park but by the time I was at the car park I was over 800ft. Ok, so I will land by the pub then. By the pub I was over 1200ft so just kept going! Found loads of lift over the other side of langton and stayed for a while as I work there and it was great to see it from the air. Realising I had no water or money I tried to get back as close to take off as I could but only made it as far as Acton, so still had a bit of a sweaty hike. Probably one of the most bizarre flights I have ever had and I was still laughing when I got to the car! Great fun...
---
Sun 18 Sept 2005
Report by RW
Derek S called to say nought was occurring at Bell (1145hrs). So trotted off to the "Office".
Eminently flyable & oft to the cliffs, where was everyone? I got lonely so called Nigel S & Steve P who eventually turned up! Mark S & Paul K turned up very late in the day & Paul enjoyed his maiden flight to the cliffs, Mark bombed out & did'nt quite make it back to the ridge. A good day of cliff soaring.
---
Sat 17 Sep 05
Report by Craig Byrne
The day started well at Monks with loads getting some good flights and rocked about by the punchy thermals. The wind went more NW so we headed to Bell. This was a good choice!

Eventually the day came good and I climbed out with the others and worked it right into the whispies at 4900ft There was no need to hurry and I stayed with any lift, and flew the clouds having a very pleasant flight to Acton 35.7k

Even the hitch back was a dream getting me back in 2 lifts and a taxi from Blandford...

Report by Alastair Florence
Arrived at Monks to find several others already there. It seemed flyable so I got flying asap. ZZ & Andy D had just set off over the back at low level. The air was generally OK but the thermals had a definate spring type punch about them. After a few decent climbs and returns and a land or two I took a relatively weak climb out back. At about 1700ft ato the thermal seemed to break up a bit and I was left with sort of blobs of lift here and there that you could not really core but kept you up all the same. Best height was about 3100ft amsl. Aproaching Blandford Camp I just couldnt connect with more lift and bombed out near Pimperne. After a bit of hitching and a bit of walking I met Richard M heading off toward Bell, he kindly turned round and dropped me back at Monks (thanks again) I then headed for Bell and arrived to see Stuart M, Dave F, Craig B and Adrian C winding out toward the coast. After about 20 mins flying the wind switched off, Richard M arrived and everyone else left. We could see clouds of gliders high over Telegraph which was frustrating as Bell was dead. Patience was rewarded and as Harry D arrived the lift switched to Bell and we had about an hour or so of that lovely smooth evening lift you sometimes get at Bell. Reasonable height and boating around all over the place. A balloon landed HEAVILY just behind us, with several others out in front. Generally a Peachy day.
Report by RW
Monksdown:
I looked out the window it did not look flyable but a call from Derek S en-route to Monks had me making a flask ( cold weather ) & some sandwiches. A secret squirrel informed me that Uncle Albert & Bonzo had sloped off at an ungodly hour to Leckhampton ( hope they did well ) so it was Monks or no-where! After the long haul everyone was on the ground but I was told that a couple had gone over the back Gary P & Zee Zee. It was upness & downess until Steve B rang & said Bell was flyable, just as I packed up Ali F sneaked over the back to Pimperne ( 11.6K). Others Martin H, Stuart M, Mike M, John S, Mark E (new member), Dave the funnelman,Andy B,Graig B, 17 cars?
Bell:
It looked good from the road with wings floating about but it was cold. Several flights & then under an uncomfortable cloud so Martin H & I landed. As I poured the tea Craig B, Adrian C, David & Neil F & Stuart M launched into a good thermal & were away gaining height, from where we stood it looked as though the coast was a possibility? I am sure the reports will be sent in to EITS. People were still arriving as I left. Boo Hoo! Others Rob P, Steve B, James T, Derek S et al.
---
Tues 13 Sep 05
Report by RW, pictures by Russell and John Funnell
A surprisingly flyable day at the Ringstead " Office ". It began with some thermic activity under a cloudy sky allowing 200'ATO but the cliffs did not look tempting as the sea was not displaying usual indicators.
After about an hour of thermic flying, Eric the "Cabbie" led the way to the cliffs. In hot pursuit, the usual suspects and some new faces. The sun was only visible for very short periods of time and cloud cover gradually increased as did the wind strength.
It remained flyable throughout the afternoon & Pilots were still launching when I left after 1700hrs. At one stage there were 12 wings in the air, I am now certain there are more retirees on the hill. Flyers:- Shippo, Nigel S, Derek S, Mike D,Phil V, Richard M, Eric "Cabbie", Steve P, Alan W, Keith "Red Ribbon" ( 1st Time to the Cliffs and yes, he does have CP+10), Rob P, John F, & l. Other flyers:- Simon ? Red Ribbon flying the T.O. Ridge only & enjoying some good Height for agood part of the afternoon.

---
Sun 11 Sep 05

Report by Alastair Florence
Oh dear back to winter type flying already, dull, damp, windy, and wet grass. I left home at 5.00 am to drop off one my daughters at university in NW10. The car was well loaded with student stuff but I found room for the glider just in case as you do, The daughter seemed a little miffed that her microwave wouldn't fit after that though, Still its good for these youngsters to learn to cook properly.
On the way back it was drizzling and looked windy although Westbury wendy sounded ok. I thought it was worth a quick look as the detour down the A303 isn't too bad. Cloud base was only a few hundred feet ato and it was windy and dull still. Ron S was sat at Monks and reckoned it was strong there. I waited suprised that no Avon pilots were lurking there yet (something to do with strong beer at the Mere bash last night I believe).
Eventually another pilot arrived and we walked over to the NNE t/o. Cloud base had lifted a bit and it wasn't to bad really. Mr Aspen launched first and looked comfortable so I soon followed. I had to speed bar off the ridge but once in the lift band it was fine. A few others were now arriving and the wind was settling down a bit. Some nice workable bits of lift were coming through and allowing you to fly out past the road beneath.
Apart from the odd drizzle shower which produced mass landings up to 20 pilots enjoyed a satisfying afternoon. Personally I logged up another 3hrs and 20 mins over about 6 or 7 flights (I dont often go there so may as well make it worth it when I do).
Does anyone else's wife and kids moan about damp gliders spread out to dry over the lounge floor and furniture??
---
Fri 9 Sep 05
Report by RW
Whitehorse:
Arrived with Gaz M to find thermic conditions & a tad of E. in the wind. Managed the occasional elevator to about 250' ATO with little else in the way of temptation. Joined by Nigel S from the Bowl & a South African Pilot called Brett.
Steve P called to say the Weymouth cliffs were working so oft we went! Others called to say Bournemouth was flyable for hours!
Report by Alastair Florence
Yes Dave, I quite agree having a site on your doorstep is nice. Its even nicer when you have a choice of sites on your doorstep. Got back from work in time for a fly tonight, Corfe church weather vane was giving due South so I chose knitson because its easier to get up if your short of time. got a decent bit of height to start with but with dying thermals and wind I was soon scratching. Had an hour of it anyway. A couple of wings over Ballard seemed to be doing OK.

Report by Dave Winn
Arrived at 3.20 to find little wind. After 10 mins the wind picked up and was smack on the hill so I launched and had the site to myself. Must admit I chickened out of crossing the gap at Boscombe thinking that 150ft wasn't enough height but was informed later that ' if you can see the flat roof your'e high enough'. Anyway the wind dropped, Steve A, Lawrence and finally Jim C turned up to scratch around for a while longer. Isn't it nice having a flying site on your doorstep;)
---
Thurs 8 Sept 2005
Report by Dave Winn
Just enough breeze to stay up for a while. Lawrence was about to fly when I arrived so a quick call to the council and we then took it in turns at scratching to about 50ft above the clifftop. Lawrence went off shopping and left the whole cliff to me until Richard W turned up. I tested his gradient aspen and found it quite a responsive wing. It would have been more responsive if my feet had reached the stirrup though! I left him scratching away into the sunset, bless him.
---
Tues 6 Sept 2005
Report by RW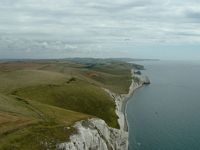 Patience paid off today. Arrived to find Ron S waiting for the predicted wind to come on to the hill. Nigel S was first to launch to play in the thermals in front of T.O. Others started to arrive Phil V, 2 visitors, Eric from Salisbury who dashed off to the Horse to gain some good height, we watched enviously & Marcus W rushed off to join him. The wind picked up ( sea breeze ) with a degree of S. I led the gaggle out to the cliffs & went round the corner on a test run! I came back to see Nigel S head off to Durdle Door & return with good height, I returned to T.O. for the necessaries & headed back with plenty of height to the cliffs to join the lone Peregrine. Still good lift so I went for the "Run" followed by Steve P, got to Lulworth & back with 400'ATO on occasion. At one point I counted 12 wings over the cliffs, has no-one got a job? Marcus W returned from the Horse & Gaz M came from home to join us. Derek S was trialling his Gradient instead of the Grid ( memory cells going Derek?) A good day with lots of Pilots enjoying height & time on the cliffs.
---
Monday 5 Sept 05
Report by Alastair Florence
About 18.30 hrs the skies of Ballard re-filled with PG's, well Mike D and myself on my new toy were present. Mike having fun on the lower cliff whilst I scratched relentlessly at the main cliff.
As Mike landed low cloud began forming which dramatically boosted the lift. I dropped onto the lower cliffs and had another 20 mins at 200ft + over sea level. Loads of lift well up the sea front way past Ocean Bay Cafe, quite unusual.Had to force hard to land in loads of lift soon after 19.30 hrs with a condensation covered wing.

Report by Sean Lovatt
Ballards Down – an empty sky – well exempt of PGs that is, birds everywhere. Perfect conditions, 2 hours soaring in the afternoon, easily managed to stay up even on my new little 20 m2 toy – nobody to tell me off for doing wagga at TO - it doesn't get much better than that!
Report by RW
Strangely lifty to begin with taking off from the Bowl & Nigel S going to the Horse. The wind moved round to the S.E. so we stayed in the Bowl. After gaining 200'ATO I did not manage to make the Horse. So Nigel suggested we go to the lower cliffs at Weymouth. After an hour of fun we could see Marcus W, Sean ?, & Gaz M flying the Horse. Typical, but the lower cliffs worked for the rest of the day.
---
Previous reports
If you find that some of the earlier pages don't have a navigation menu, just use your browser's Back button to return to this page once you have finished reading it.