Eye in the Sky Jan 2006
Your Flying News Notice Board. Send me your news and photos.

If you're wondering where your report is, hit the Refresh button on your browser to make sure you are not seeing a cached version. If it is still not there, it's probably because you fell foul of the Submission guidelines
---
Tue 31 Jan 2006
Report by Phil Venn
Jay and I arrived at Portland East at about 13:45 to find Steve P already in the air with a comfortable height and walked to take off in time to hold Russel W's wing up to make his take-off in the inevitable rotor a bit more manageable. I watched Russel for a while until he landed and took advantage of his site briefing. Meanwhile Gary M put in an appearance as a spectator and added his own wisdom and insight for the benefit of this nervous, low air-time, Portland first timer.
On my third attempt at inflation Russel called STOP and showed me the two foot tear that a piece of Portland stone had just inflicted on my canopy. Game over I thought. Russel (thank you) had other ideas though. A quick change of wing for the Nova Mamboo that Russel was demo'ing and after a successful if not elegant launch I was airborne. Ten minutes later I managed an untidy but painless landing. Thanks to Russel and Gary for their coaching and encouragement. (I wonder if Jay will let me upgrade my wing?)
---
Weds 25 Jan 06
Report by RW
MAIDEN CASTLE

This is hopefully not the last EITS for the Mystic Celtic Site.Registered at last.
I arrived & thought it a tad light at 1130hrs. I awaited the arrival of Mike D who had not flown for 2 months and Steve P who was fixing a leak at his neighbours ( I've heard excuses like that before.), he arrived without his wing, most unusual! After an hour of floating I heard a little rustle in the wing & looked up to see an uper "D" cascade line was broken. So I came in and landed & went home for a late lunch, leaving Mike D to enjoy the HIllfort on his own & for Steve P to return with his wing.
The Site Guide will be presented to Committee on 27th Jan for their approval.


---
Tue 24 Jan 2006
Report by RW
The wind was all over the place but optimism held us in the cold and clear sunshine.
Mike D beach launched for all of 10 secs and my attempt at a cliff launch went dismally wrong with a heap of bracken to remove from my lines. We remain undaunted. The photos by J.R. speak volumes.
---
Sun 22 Jan 2006
Report by RW
Portland East 22-01-06 A peachy, eminently flyable day at the "Rock". Cool cliff cruising for most of the day, it finally went S.E. at about 1620hrs. I took off at 1120hrs and stopped for a quick lunchtime sandwich. The Portland Posse' included Mike B. (first to arrive from Surrey), Steve P. , our illustrious Chairperson Stuart M and yours truly. It was, around lunchtime, approaching top end for this site but no problems as it was silky smooth with height gains of 500' A.T.O. Steve P put in some spiralettes and Mike B ventured out to the edge of the lift band over the pond. All in all a good day. Hope the Ballard Boys managed a flight.
---
Sat 21 Jan 2006
Photos by Alastair Florence
Report by Mike Bretherton
Not quite Xc weather but as good as it gets in January. Most of the usual suspects were there, fantastic smooth flying most of the day with some 2 m/s thermals to core up to 500 ft. The track at the top was a nightmare though, even for those with 4 wheel drive vehicles, I have learnt my lesson not to risk driving up again until it improves.
Report by RW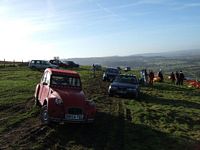 As reported by Mike A, a good days flying at our own Hill. I took on the role of Sites Officer so I must make comment: I can understand the frustration of waiting a month to fly, for others much longer. However, there is no excuse for being idle, too idle to walk up the track! The attached photo speaks volumes. There are vehicles that are manufactured to cope with such conditions, there are drivers that have the necessary skills to cope & then there are the "rest"! The vehicles parked on the roadway should have been statement enough " Not to drive up the track". Alas, individuals cut up the track, got stuck, had no idea & even caused damage to other vehicles. The message is " Get some common sense", take the time to walk up, its healthy & does you no harm.
Report by Mike Adkins
Brilliant Bell day. The world and his sixteen wives turned up and there were so many wings in the sky it was like confetti! We could easily have held a club meeting - everyone was there (bar the chairman, of course!) Conditions were light, with the breeze coming and going and tiny pops of lift, but everyone got to fly with some reasonable height gains - I got 250ft but many wings were higher than that. There was some interesting parking, too, with some vehicles proving more capable than others, but I'll say no more about that!
I just hope we get another such day soon.
---
Sat 14 Jan 2006
Report by Alastair. Florence
I was determined to prove the day flyable and also to get my first flight of 2006.
The weather got itself wrong again this morning by raining too long, so I went else where for the morning. After lunch St.A's seemed possible so off I went. Sean L had just arrived as well so we chatted for a while. This was all that could be done as the strongest gusts were just knocking 5mph and 3mph was more typical. The wind did pick up but went off to the south so we canned it. I came home via my old favourite Knitson just in case. A few crows were sort of soaring at hillcrest height so i thought it was maybe worth checking out. I walked to find the normal launch full of the dreaded mad cows so went into the Barrows field and took a wind check at 8-11mph, worth a go especially as my car was at the bottom anyway.
I launched just before 1600hrs and found the air was nice and smooth and just enough to stay up at T/O height or just below without having to scratch the ridge. after about 15mins of cruising I managed to peak out at 36ft ATO and maintained over t/o just, for the next 20mins. Soon after 1630hrs the wind began to ease off and it seemed sensible to land.
Beatiful sunset out in front over swyre Head.


Report by Steve Bamlett


Well the indication were that it was going to be flyable today either ringstead or white horse.

Arrived early to find fog and drizzle on the hill but hoped it would clear. As it did clear hopes were raised as a light SW/SSW wind started to roll up hill. However it was not going to be. The wind never picked up and all that was available was some ground handling and some short hops. Russell W, Stuart,Richard and some others turned up but to no avail. Richard and I tried to eak out some ridge lift but it was no good. The day ended with a beautiful sunset.


---
Sat 07 Jan 2006
Report by Alastair Florence
The forecast looked unlikely, so did the day, I took a drive out local but
couldn't find anywhere launchable. Roy M called about lunchtime to say portland
was strong and he was heading home via Swanage to see if the lower cliff
would work. A glance at my favourite neighbours weather vane showed NE so
it was pretty obvious this was a no chancer, but I met Roy there any way.
We decided it really was NE and wouldn't be flyable but Roy looked disapointed
so it seemed a shame to not at least try and launch him. Pushing him along
the beach we just couldn't get him to rise above 1 metre over T/O. Undaunted
Roy continued to put on an excellent display of Ground handling and did actually
become airborne for at least 10 seconds under his own steam. I had only just
emptied the sand out of my wing from the last beach flying session so thought
I would just watch and photograph.
---
Wed 04 Jan 2006
Report by Mike Bretherton
Just returned from Governador Valadares (Brazil) visiting my girlfriend again but I took my glider just in case it was flyable. It was flyable most days although I only got the chance to fly on one day. I went up the mountain in the new local club bus (Voo Livre means Free Flying), loads of glider space and comfortable seats which is a big improvement on the previous trucks. On take off a pilot was getting married, no joke, they really take their flying very serious here. It was an epic Xc day but I did not want the hassle of getting back so I just took the advantage of local thermalling for a couple of hours in nice smooth 2 €" 4 m/s climbs taking thermals triggering from the rivers edge. After landing, even Santa Claus gave a quick visit to the landing field.
---
Previous reports
If you find that some of the earlier pages don't have a navigation menu, just use your browser's Back button to return to this page once you have finished reading it.