Eye in the Sky Apr 2006
Your Flying News Notice Board. Send me your news and photos.

If you're wondering where your report is, hit CTRL-F5 whilst in your browser to make sure you are not seeing a cached version. If it is still not there, it's probably because you fell foul of the Submission guidelines

---
Sun 30 Apr 2006
Report by RW
RINGSTEAD After watching the students of Flight Culture T2B at Bell it was a relief to get a call from Gary P to say Ringers was flyable. A dash to the coast & several wings boating about on the ridge had me almost cursing " flyable my ***" Anyway, took off & headed straight for the cliffs to enjoy half an hour of smooth dynamic lift allowing 500'ATO. Stuart M & Sean L came out to join me with the rest of the posse' staying on the ridge. It did not last much longer with orographic coming in so it was off to the Spice Ship to enjoy a swift half.


Report by Mike Bretherton
A few pics from my recent trip to Governador Valadares in Brazil earlier this month. A few nice long Xc's, some good local soaring days and a dodgy moment almost landing in a power line where I had to stall the glider and PLF it in. I spent a few minutes in the white room in that big cumulus in one of the photos (the one above the mountain). I only saw how big it was after looking back at it, it seemed quite small and OK whilst I was under it.
---
Sat 29 Apr 2006
Report by Mike Bretherton
I probably should have gone to Monksdown as the wind was forecast to be lighter the further west you go but I decided to go to my nearest hill Combe. When I arrived at 11:30 it had earlier been quite flyable but it was now gusting 25mph+. Some comp wing pilots were flying throughout the day but the other 50 or so pilots mainly parawaited most of the afternoon. I thought it might drop about 3pm, so some of us visited a local watering hole to wait it out. We returned at 4pm when we saw a large gaggle flying but it was still gusting strong at times and some pilots were getting deflations. I decided to launch around 5pm, and soon witnessed a reserve deployment incident. The pilot was experiencing collapses about 400ft up, stalled, and then radically spun. I suspect adverse pilot input, especially as the wing started to recover as the reserve was thrown, i.e. the pilot had to take their hands off the controls to throw it. Luckily the pilot landed on the take off part of the hill and apparently was not injured.
Witnessing that shook me up a bit and I could not wait to either safely land or leave the hill. A couple of minutes later I found a weak thermal over the trees and I decided to take it over the back. It was a very slow climb but it took me away in some very smooth air. There was a weak cloud street which I followed and I eventually made it to base at around 4,500ft after 10Km of thermalling. My hands were freezing and I was glad when I started to descend into warmer air. I was startled by a microlight on a head on collision course with me, but luckily he saw me and flew a close circuit around me. I got to Andover but it was nearly 6pm and the thermals were finished. I glided to the A303 and landed by a service station at around 20Km. My friend was kind enough to pick me up on the way home.
Report by Martin Foley
giving Russell the boot at Monksdown today
Report by RW
Monksdown: Too many people to mention but several XCs including a short one to Blandford Camp by yours truly. Thanks to Pat ( photo above) the Security Chief for the lift back to Monks rewarded with a Tandem by Stuart M.
The XC Kings were out in force today, Peter R got to Wool, Martin F to West Stafford & Neil H to Weymouth.
---
Fri 28 Apr 2006

Report by Matthew Whicher

Monksdown N 15ish Arrived on site about 1ish to find only one other there (Keith ?) on a PG. It was perfect for HG, but a little overcast, so I rigged. Keith kindly wind-dummied for me but opted to bottom land as the wind picked up. The conditions were good with small thermals boosting the ridge lift. I guess the sight of me wandering about at 800' eventually got too much for Keith as he left after an hour or so. The lift was often €˜linear' and I was able to follow lines up wind as far as Berwick St John at only 500' ATO. Later the gloom lifted and the sunnier ground brought better height gains (1,600') and the thermals were more mellow. I was able to go west along the ridge as far as Zig-Zag hill, but I have to confess that getting back was a close thing. Lots of light aircraft activity from Compton Abbas but plenty of separation so no problems. As I derigged at the bottom another PG was flying but I had to dash so couldn't say
Report by Kaye Escott
Maiden Castle Scratchy then lifty & that was how it was for the whole day. Me & Hubby joined by Alan W, then RW & Mike D & later in the day Mark F, Gail & Patrick. Nice bimbling about.


Report by Alastair Florence
After 5 hrs airtime at Monks yesterday it almost came as a relief to find it bown out this morning. Alan w was there also so i'm not the only one with a rare day off.
I had a feeling backed up by the live wind maps that it may be calmer in land a bit. I have known several days when Monks has been howling but Westbury has worked well. Hence this is where I went, not to far to drive anyway.
On driving up toward the Horse I thought I saw a wing in the air, this turned out to be a power kite. I could see a wing flopping about on the Bratton Camp N-NNE launch so headed over. The wind was off to the East a fair bit and amazingly light. After a chat with those on the hill the wind picked up and we got some flying in. The sky had a habit of begining to look nice then overdeveloping then looking nice again, bit like yesterday. The plus was that there was plenty of lift in big blobs. It was easy to work the lift and I had several flights out the fringes of Bratton at around 8-900ft ato.
A fair turn out of Avon pilots as always very friendly.
My last flight put the icing on the cake as I launched with a plan to get around 300ft then leg it back to the car park. On the way up I was getting tailgated by some guy, I was begining to think he had got caught on my harness and was uncomfortable as had I had a colapse he would have found it difficult to avoid me. I managed to shake him off and in the process found a lovely long street of slow but steady lift. A mate of Rory L (Simon I think) was following somewhere beneath me although I didn't see him till we both turned back later. The lift went on and on. I flew over the cement works at 1100ft ato and bimbled around a bit before flying back to my car. With this wind direction it would not be too dificult to fly part cross wind toward Warminster and round the danger area then onward toward Wessex, one for the future.
If you havent been to Westbury before its well worth a visit and not to far to drive, can get busy but then so can anywhere.
---
Thu 27 Apr 2006
Report by Mike Bretherton
Several people had a very good time at Monksdown today, the wind was smack on north, perfect strength and not too strong. I had a couple of hours of pleasant soaring under a very overdeveloped sky, before going for the Xc. I caught a strong climb of 4m/s up to 1000ft, then drifted in a slow climb up to 1,500ft. Then I hopped from and to small patches of sunlight on the ground and managed to eek out the lift to Long Crichel, about 10.5Km.
My friend Simon Herbert landed a couple of Km short of me, which was a fine effort as it was his first flight since breaking his ankle last August. After I landed a farmer drove over to me, I was expecting the usual €œget off my land€ treatment but another tractor driver had called him to report that someone had come down on the farm and he was concerned that I might be injured. He gave me a lift back to the main road, where I met up with Simon. After wondering how to get back and looking at the bus timetable, one guy just stopped and gave us both a lift further up the road to a roundabout. Then almost the first next vehicle stopped and also gave us both a lift near Tollard Royal to where the top of the ridge runs back to Monksdown. We walked back the rest of the way and although it was now 5:30, there were still people flying.



Report by RW
Monksdown All day flying at our Northerly Site, Did you check the Site Phone? Many Happy Flyers today. With Jerry S,Mike B & Simon H,leaving the hill & going somewhere over the back? Rory & Mark at over 2000' in front of the hill.
Alas, Peter R & Martin F went to Codden & made 60K & 40K respectively. Looks much the same for Friday.
---
Sat 22 Apr 2006
Report by Jon Harvey
Arrived at W/B to find Chris Betty already up, and appeared very slow progress from Eype to W/B.

Checked launch,at W/B and saw Stephen Corben, and Tony Brooks making ready. Wind quite a way off to the east, so myself and Keith Boniface walked to Eype t/o, and launched. Low claggy conditions but enjoyable flying, and no problem making Thorncombe. Myself and Keith thought of visiting G Cap, and then it'd be one way to Charmouth, as it was highly unlikely we'd make it back across Seatown. Dave Tewson also made an appearance.

The wind seemed to have been picking up gradually, until the sun burnt through the clag, and then the wind died very quickly.

Pictures by Marcus Webster
Report by Alastair Florence
As usual when I wake up on a weekend the first thing I do is twitch the curtains and check out the neighbours weather station. The vane was pointing NE so didn't rush to get up. By 10 ish the direction was due East, then shortly after enough south of east to be worth a look on the lower cliff at Ballard.

Not enough wind on the beach to launch off the sand but I managed to get airborne from part way up the mud cliff without getting to dirty.

The day started with flying the hotels and lower cliff. Russell and Dave W soon appeared on the bench on the green but seemed reluctant to come any further until with the wind creeping more to the SE I crabbed up onto the main cliff and gained some reasonable height. After a bit conditions seemed to have consolidated as flyable so I landed to leave my 2nd sitephone message.

Russell and Dave now airborne and conditions generally got better and better.

Others to arrive where, Rob ? a Slovakian bloke who's name begins with D I think, Jeremy M, Marcus W, Shippo, Roy M, Adrian B and maybe someone else I forgot. The ridge began to work also as the wind went more South not fantastic but with plenty of broken thermals from the fields below providing some lively fun and mini climbs.

Late arrivals where, Richard M, Roger E and Alan W, Richard got a decent scratch for a bit, Alan got a nice ttb and roger got a scratch in the gorse followed by ttb. This was because the wind had now died off at about 1600hrs.

I took a posse to check out Knitson but to no avail as the wind was to far off East here, still it was a chance to brief a few people on the site.

All together a fairly peachy day really.
P.S.
Anyone on the hill who wondered why the Police and Coastguard kept driving by, nothing to do with us. Apparently some bloke walking was watching a woman walking ahead of him, she seemed to disapear and he called the emergency services in case she fell off the cliff. We didn't notice anyone in the sea or splatted on the rocks so maybe she just stopped for a wazz in the bushes or felt threatened by the bloke behind her and hid.
---
Fri 21 Apr 2006
Report by RW
Portland East: The flags were showing E so a quick visit to Steve P en route to say lets give it a "Go".

On arrival it felt top end, but launched at normal T.O. without too much fuss. Smooth flying for a good 30mins & on approach towards the N.E. face some turbulence that caused a little concern. I turned and noticed Steve P countering several collapses & pendulums. I decided to land at the N.E. end in case a telephone call was necessary. Steve had a long walk up but was O.K.

On reporting our departure to the YOI, our favourite prison Officer had put in a complaint to the police, to the effect we were overflying the YOI.

The usual diplomacy was used & the Police were told they were not required.I went to some length to try & resolve this perennial issue. It seems this guy just does not like to deal with the angst of prisoners watching us floating past the yard.

Hey Ho! I discussed with Steve this turbulence & decided the wind had actually changed direction whilst we were in the air, there were no signs on the water surface but with a call to UK Windmap it was apparent the wind direction was shown as all "over the place". Warning - do not get complacent.
---
Tue 18 Apr 2006
Report by Pete Chalmers
Decided the rarely flown site Whitesheet may be on in the westerly wind so set off with John B, half expecting it to be blown out. Arrived to find a 13-15mph wind on the hill with 6/8 cloud cover. A quick sitephone report (don't forget!) and into the air. Red ribbon Russell H-R joined in the fun, quite rough with some thermals but difficult to get much height. John and I did catch one to about 800' ato but we were not brave enough to go with it in the strong wind as the lift was not that great. Keith B drove over from Bell having had 20 mins on his own there after listening to the sitephone (it works). We saw a couple of wings at Winklebury so all the available sites were seeing some action.

Phil V arrived as the wind picked up with Keith demonstrating his backwards top landing, late after spending too much time on breakfast/walk/coffee. Packed up as spots of rain started at 1500. Do give Whitesheet a go in a true westerly. It is a nice site, thermic with x/c potential but don't forget to look at the airmap and ring the farmer before flying as per the site guide.



Report by Grant Oseland
Ringstead, Arrived on the hill at about 10:30 to find the car park empty of all cars and the wind off to the west a bit and very strong (well 12 - 19 mph) but the sun was shining so decided to give it a try, unpacked, went down the hill, laid out kit, clipped in, inflated canopy and took off like a rocket (kind of expected really) but had no difficulty in penetrating forward, easily went to 300 feet above take off floating about above the fields to the front.
The wind direction was nicely marked by a large ship anchored out at sea and kept changing direction from WSW to SW but this did not seem to have any effect on the hill as it stayed pretty much SW. Made it easily out to the cliffs for an hour or so of near gale hanging then came in for the unavoidably lunch break.
The usual suspects soon turned up on the hill to spoil things and brought the stronger wind with them, various flights were made again in the afternoon but most of them different approaches to flying backwards into the top landing field. Still, had a fun time though and flew for about 2.5 hours which was more than I expected before home and a cup of tea were calling.


---
Mon 17 Apr 2006
Report by Matthew Whicher
Bell Hill, strong and thermic At the eleventh hour we decided to try to hold the B-D Trophy Comp and by midday had a grand total of 6 HG pilots on the hill.
The sky looked good so, despite the close proximity of airspace in a WNW, Open Distance XC was the task. Not surprisingly, the air was rough at times with some mighty sink between the chaotic thermals. However, the whole area was working and the trick seemed to be to get a few hundred feet and then go exploring upwind where the thermals were not being churned up as they were on the ridge. This worked well for me as I roamed SW to the hillfort the other side of the masts and then picked up a good climb (a solid 7-8 up getting me to cloudbase in 4 minutes)
The drift would have taken me into Hurn airspace pretty quickly from here so I tried to work my way N. I got to Shillingstone before turning back, but the next climb out of the bowl took me back to base and then a curious thing happened. The sky looked better upwind than down so I pulled forward; and kept going up! My cloud had a domed base and the centre of it was 600' (4,300' QNE) higher than the edge I had first reached. It was a small street and allowed me to get to Sturminster Newton where I turned when over the bridge and headed downwind. At this point I had Open Distance in mind, but as I looked at the map and studied the sky, I realised I would still have to get further N to do a decent distance and the sky didn't look promising. I was approaching Hambledon Hill and managed to top up a few hundred feet in the only lift I'd found in 7km as I passed over the top. If this had developed I think I would have kept going, but as it didn't, I turned round and headed back towards Bell.
I could see that my flight would be a roughly equal-sided triangle and the attraction of landing back at the car won the day. The return journey was easy, despite being mostly upwind, as there were many patches of lift, although there was nothing worth turning in. Distance: 17.5km x 2.5 = 43.75km.
Tim King had got away for the Sky Surfers and rang in from Kinston Lacy House (20km) after having to burn 1,500' to avoid airspace. Nobody else went over the back, but a special mention for James Roy who tamed the gusty conditions on his Target on his first visit to Bell, and sat above ZZ for much of the time!

Report by James Roy
Bell Hill, Monday 18th WNW, 15 - 20 mph+ Woke up thinking the day wasn't going to do much so decided to nip up to B&Q to get some bank holiday supplies. The glider was still on the roof of the car from Sundays failed attempts at trying to find somewhere flyable. On the way checked the site phone and was surprised to hear that it was blowing a ba&*%rd at Bell (15 mph - presume the message was left by a paraglider!); handbrake turn and I legged it to Bell to find four other hangies on the hill. Rigged as quick as I could and was up for an hour and a half - quite lumpy at times but some decent climbs and got to 1500ft ATO.

All in all a grand day out - better than B&Q anyway!
Report by Steve Bamlett
| | | |
| --- | --- | --- |
| | | |
Arrived at Bell early in the hope to at last achieve a good fly. However the wind god was not giving up and made sure that all who read the weather report would arrive to find it lied.

As car after car arrived on the hill it was all I could do but to take a picture and then leave for the pub. Russell, Sean,Dave, Jackie, and others joined up and down the pub for lunch we went.

The buzz started that Ringstead would be flyable so not wanting to be out done, off we went to find a wing in the air.( Gale hanging) That was it, out gear and in the air we went. Russell W made it to the cliffs ( Just) and great fun was had by all watching him trying to get back. To his credit he made it with about 10 feet to spare. BZ Russell.

Ringstead never switched on so after much waiting I left for home.

Whilst sat in the Bank holiday traffic thought i might try Buster Hill when I get back.

Arrived to find 12mph Westerly and a beautiful sunset. Lunched at 1915 to enjoy 45min of floaty flying after 200 miles round trip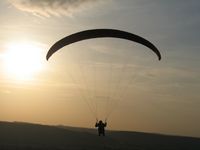 Never mind it was good to see all the gang and hope you all had a good Easter.


Report by Alastair Florence
| | | |
| --- | --- | --- |
| | | |
Alastair, remind yourself again why we don't fly St. Aldhelms when the cow weather vane on the barn is North of West... cos its pants air... ok but as I drove by the cow a gust must have blown it slightly South, maybe I went by too quick then.

About 1900hrs ish it looked to be calming down faintly and it looked like there would be a nice sunset so I headed for St.A's for a walk or a fly depending on conditions. It was still pretty strong and felt due West on the ground but not that bad. I launched about 1940 and had about 20 mins, a bit calmer than Sunday morning as I only got 300ft and the gale hang point was about 200 metres back from the shore line so it must have been less strong. There was a bit of North in the wind which is always uncomfortable here. Beautifull sunset, with the site deserted apart from gulls and the odd Peregrine, real moving stuff. I got another kicking crossing the fields on the way back to the car park loosing about 250ft on the way. With 50ft left for a final aproach I hit sink and ended up sliding in arse first at about 20mph using heels for brakes, at least the damp grass was nice and slippery. A magic way to end the Bank Holiday. The cow was showing WNW as I left.
---
Mon 17 Apr 2006
Report by Keith Burridge
Arrived at Bell 8.00am on a drab Easter Sunday morning hoping to catch the wind on the hill before the forecast to go off to the west or worse transpired. The wind was 8-10 mph max on the hill but not looking promising. Conditions improved by 9.00 am and the site became flyable. Harry D arrived, called €œyoung€ Derek and the three of us enjoyed some early (surprisingly) good flying. As the morning progressed more and more pilots arrived and by midday twenty plus vehicles were counted on the hill. Russell & Stuart took some tandem flights and the skies were unconjested due to everybody looking for and finding lift in different areas. Conditions weren't great but also weren't dismissable. All had reasonable to good hill soaring on what can only be called a non promising day in variable conditions with the wind off to the west. Thx to Neil H for supplying & test flying my new wing. Half a doz enjoyed a pint or two after at the Fox.
---
Sun 16 Apr 2006
Report by Alastair Florence
I received an unusually early call from Russell to ask if Ithought St.A's might work, I reckoned it should so met Russell there shortly after 0830 hrs. I seemed quite strong but direction was good. On launch I was only getting 16mph on the wind meter so decided it should be fine.

On launching I was suprised how strong it was, you couldn't move forward without speed bar and we were kind of pinned really. Plenty of smooth lift though peaking out at just over 500ft near the shoreline (i didn't fancy getting to far back in case of a blow back). After about 15 mins Emmetts Hill disapeared under orographic cloud which began to spread quickly across the escape route to the car park. This seemed like a good time to bail out whilst we could still see something to aim at. We both got a right kicking off the air flying back to the car park, i've never known it quite so bad with the wing going all over the place. Still apart from these problems it was nice.

Alan W joined us as we landed, word up Bell was flyable so onward and upward.

Bell Arrived to find a couple of wings flying a bit half-heartedly, as the day progressed more and more pilots arrived as conditions improved, Mike D's friend Kate had her first tandem with Stuart M, nothing wrong with the flight but I'm not sure how much she enjoyed it!. then Mike had a tandem with Stuart and thoroughly enjoyed it.

The wind was off to the west most of the day but it was still mostly flyable.

Many many others on the hill no XC get aways (not whilst I was there anyway) numbers thinned as drizzle set in but it did look as though a nice evening was on the cards for anyone who stayed.
Report by Craig Byrne
Rhosili (SE Wales)
---
Fri 14 Apr 2006
Report by Mark Tattersall
Flew Ringstead on 14th April. A bit windy, gusty and grey in the morning, but the cloud lifted by mid day, and I took off, initially to soar the ridge, but then when Russell arrived and flew to the cliffs I followed him (having not flown here before, thanks RusselL for showing me the way, and the various other tips) - lovely views, the sun came out, turning the sea carribean blues and greens. Flew to White Nothe, but a bit westerly, so only made it back to land at the bottom of the ridge on the way back. From the 3 pilots at noon the numbers swelled after lunch to 20 or so, but the wind gradually went more west, and the sky greyer. Flew again to the cliffs (with Russell and another) at about 2.00, but even harder to get back that time. Packed up as it started to drizzle.


---
Sat 15 Apr 2006
Report by Roy Menage
I rang around to see if there was any flying likely since nobody had yet left any message on the site-phone. A resounding "it's too windy" came back. Then I checked the sitephone again to hear that Brian Metcalf had reported Barton flyable. Not having been there before, I wandered over there and found Brian reading on a park bench. He gave me a very good briefing and I then proceeded to fly. That lasted about 5 minutes before the lift died and I ended up on the beach. Not daunted, I tried again and managed a successful flight and top landing. The gust fronts were coming through making it unflyable at times and it was only possible to go up wind on full bar but then it turned really nice about 3:00 and we all had some excellent air time - at one stage, I made it all the way to the aeromodellers takeoff although the lift died on my second attempt to get there resulting in a bottom landing. At least the air was silky-smooth. Gary Puhl and Mike Bennett were also in attendance. Thanks to Gary and Brian for their help.


---
Fri 14 Apr 2006
Report by Mark Fisher
Russell has orderd me to send in a report, he also said i had to say there were hundreds of pilots flying. Three pilots made the cliffs today, Russell W. Mark ? (southern club) & Stuart M. Many others having fun around take off. Sean L. Mike D. Marcus W. Derek S. Roger E. Jon W. Paul E. James T. Steve P. Patrick W. Gary P. and Gail, sorry if i missed anyone.
---
Monday 10th April.
Report by Mike Adkins
Got a call from Derek S about 1400 to say Monksdown was flyable. Arrived there about 1430 to find several pilots sitting on the grass including Derek who was a bit shaken after having suffered a "massive" collapse above the western bowl. Conditions were cyclic both in terms of wind direction and strength, going from NE to NW and calm to about 14 mph, but there was some good flying to be had. Derek flew again, and also in the air were David F, Mark R (recently a proud father - congratulations!), Marcus W, and two or three others whose names, regretably, I cannot recall.

Report by RW
10-4-06 Tandeming At Bell Again Later start today with the wind between NNW + N Bell worked for some. Sean L putting me through my final tasks, hard work but lifty at times. Cheers Sean, such patience.
Nicci M got away to Halfway Inn, betwixt Wareham & Corfe, good result.
several others turned up for a fly. Keith B, Harry D, John W, Steve P, Jerry S, someone on a Gin Zulu?Phil V et al.
Report by Mark Tattersal


Howling a gale at Portland in the morning where I am staying this week, but tried Maiden Castle at around 12.30, and found it flyable if a bit gusty. After an hour the wind died down, but the sky was looking fantastic, so took the advise of another pilot who had turned up to head off to Bell. Arrived at Bell at about 3.45, two wings in the air, took off at 4.00. Flew again to the Nth end of the ridge and again found a rather ragged but reliable thermal coming off the spur there, and worked it to about 3,000ft. I was unable to go XC due to family commitments (shame, as it looked classic, with nice cloud streets), so worked upwind in the cloud streets to CG at 5,700ft (b. cold again), until time to go home and had to core sink to get down at 5.00pm.


---
Report by Mark Tattersal
Sunday 9th April.

Got to Bell hill at about 11. The third time I've flown there. Did a bit of ridge soaring, landed to deal with a domestic crisis phone call. Took again about 12.00. Hooked a ragged thermal at the Nth end of the ridge, and committed at about 500ft ATO as it felt like a now or never moment. Rode it to CB at 4,000ft (b. cold). Cloud drift rather slow, and after 1/2 hr staying at CB under a mass of grey clouds, some raining (but was able to fly around those bits) tried to jump to a promising cloud over Wareham, which a sailplane was thermaling under. Didn't make the transition and landed at a camp site just NW of Wareham for 20K, where several small children were suitably amazed. They asked me how I'd get back, so I said I would hitch a lift. At that point, as if by magic a visiting paraglider pilot who was camping there walked up, offered me a lift back to Bell, and loaded me up as soon as I'd packed up (much thanks Neil!). Back at the hill it was raining and wintery, so called it a day.
Sun 09 Apr 2006


Report by Alastair Florence
I arrived at Bell soon after 0830 along with Derek S, don't know why I was quite that early but it was flyable anyway so no problem.

The day ended up pretty reasonable by recent standards with I imagine the majority of pilots in attendance having a good day. Some Xc's were committed, my first at 0930 which peaked out at 800ft and ended after 1km, oh well at least I tried.

The rest of the day was a mix of moderate to strong conditions with a final blow out as the hail and rain showers developed.

Myself and Pete C thermalled out with Pete R soon after lunch. The cloud we chose did not seem to want hangers on as it first drizzled on us and then hailed heavily as we thermalled away, this was quite painfull on the face at times and had I been on my own i'd have bottled out. Pete R seemed comfy so we just followed. At around 2800ft ato the lift began to get scraggy and we all split up, Pete R switched on the auto pilot and set off to Durlston again whilst Pete C and me bombed out just short of a league entry distance.

Frustratingly 9.8km for me even after a ploughmans part downwind landing to try and scrape that extra 0.2km.

Report by RW
0900hrs call from Sean L to say lets go Tandeming at Bell, 2 wings are in the air! Hooray! Weather forecasts were not that impressive but en route I noticed flags were pretty stiff. Sean was reassuring and onwards we went.

1030hrs 6 wings in the air & a gaggle were thinking about going XC so I called Peter R to let him know it was "on".

Sean put me through some thorough input on Tandem flights & all the comprehensive parts of requirements & then it was in the air ( after some dodgy groundhandling ) for a most enjoyable several flights. Thanks to John W for his assistance & constructive feedback. My focus was on tandeming but there was much flying to be had & Peter R made it to Durlston Head ( as usual ) without a loss of wing.

Too many others to mention but I am certain there will be several reports.

Thanks to Sean L for his professionalism.

---
Sun 09 Apr 2006
Report by Paul & Kaye Escott
As you may or may not know, we have snuck off to Perpignan, because we didn't want any pressure of anyone saying "are you going to fly" .
We have some friends in Perpignan who this year have started running a fly guide operation. They are good friends who we trust implicitly not to put us in dodgy situations and right at this moment that's what we want. Yesterday we flew out to Girona from Bournemouth and Udo and Jenny met us at the airport and whisked us to a seafood salad and lots of beer at their gaffe. This morning the weather was sunny but a tad breezy. Udo took us to see a site Ceret, which is a two thousand feet top to bottom.
When we arrived the eagles were being buffeted about and we thought that was probably a bit rough. Locally there is a version of Wendy Windblows that comes regularly over the radio and they were giving medium to strong southerly, so Udo told us we need to move to Peyrepertuse. When we arrived it was still quite strong and the local accro pilots were barrelling out into very strong lift which they then converted to sats, spirals and stalls: great to watch but we didn't try it! By mid afternoon the wind had stabilised as predicted by the govn'r. Jenny and Paul took to the air followed very shortly by Kaye ... Hurrah! As you can see by the photos we had a whale of a time and were bombing about for ages. We are now sitting in a state of intoxication following a gorgeous dinner at El Tumiam. More to follow...
---
Thu 06 Apr 2006
Report by Gary Pocock
| | | |
| --- | --- | --- |
| | | |
Phoned RW about 10am. He thought Portland W would be our best bet. On arrival I was a bit cautious as it was difficult to tell prevailing wind direction. T/O is a spur and I think this was affecting the usual grass test as it was telling me the wind was almost SW. I knew it wasn't bang on so walked along the cliff a bit away from the spur, this made my mind up that it was ok to fly. With RW in the air promptly I unpacked my wing and did the usual DI. Had one half hearted attempt at an inflation which was never going to work (it's surprising how just 5 weeks on the ground can affect you). RW landed and helped straighten my wing and with the next inflation I was away with no problems. I had a nice hour boating around in quite smooth conditions and was joined by Steve P about half way in who was practising some wing overs. I was always watching the sea and wind direction while the coastguard heli was practising manoeuvres out in front (some distance away). My decision to land was timely as the wind was moving round more and strengthening. A beach landing was opted for as I could not gain enough height for a top landing, Steve P soon followed. RW who didn't get airborne again as he was otherwise engaged with onlookers very kindly gave Steve and I a lift back to the top.
---
Previous reports
If you find that some of the earlier pages don't have a navigation menu, just use your browser's Back button to return to this page once you have finished reading it.