Eye in the Sky - May 2013
Your Flying News Notice Board. Send me your news and photos.
Please submit photos as file ATTACHMENTS, please don't embed images.
If you're wondering where your report is, hit CTRL-F5 whilst in your browser to make sure you are not seeing a cached version. If it is still not there, it's probably because you fell foul of the Submission guidelines

By submitting your EITS report you grant the Wessex HGPG Club a non-exclusive, transferable, sub-licensable, royalty-free, worldwide license to use the content of your report including any attached photographs.
---
Sun 26 May 2013



Report by Sean Staines

Like many others I'd gone to Bell hill hoping for great things. I Like light and thermic conditions, but try as I might I could not connect with anything and by 2 o'clock I finally threw in the towel. I had an evening planned in Bentley near Farnham and figured Whitesheet might be worth a look on the way there. As we approached we could see two wings soaring and one of them actually above the hill so it looked good. When I got to take off I met up with Marcus and Roy. Marcus was depressed about missing the thermal of the day which had hoovered Gary, Chris and Ian away about an hour earlier. I assured him we must be due for another thermal in that case and we all persevered.

Marcus did connect with something and climbed out. I missed it and was cursing Whitesheet as a horrible nasty turbulent site where nothing good ever happened for me. On the verge of packing away I watched Roy launch and start to climb out. With little hope I launched and also found myself getting some height. Roy stuck with it for a while before pushing forwards back to the hill.

Half an hour after starting the climb I was still 360ing clockwise and approaching cloud base at 4800ft, having only drifted 3km from take-off. It was delightful to find some cold air and made the winter mountaineering gauntlets and quilted flying suit worth wearing, despite being a boil-in-the-bag Sean at Bell hill earlier.

I set off on a glide towards Broad Chalk sticking to the high ground on the right-hand side of the valley. Sure enough, I connected with another climb. Doing some anti-clockwise 360ing felt weird, like being unwound after the wind up on the climb out. I could see an event happening below, looked like a car hill climb race event;  and a motocross meeting farther away in the distance.

Taking stock of my options I could see a faint line of cumulus, very small and flattened stretching away towards Alderbury. They reminded me of the string of Calves cowpats I'd been avoiding on Bell earlier. Thinking they might mark a line of lift I set off on a straight line glide, flying into and out of lift but covering ground until I approached the Avon river valley. Longford Castle looked spectacular from the air.

Unsurprisingly there was no lift on the river valley crossing but a little lift at Alderbury gave me a chance to look around and assess my options. I spotted a light coloured wing climbing near cloud base over some woodland ahead of me, so headed out to try and meet the lift. Surely it wasn't Marcus? He'd left the hill 25 minutes before me! I found a really nice climb that took me back up to about 4500ft. With this height I set off for Broughton on a glide, before connecting with another climb whose drift took me towards Stockbridge.

As I climbed I spotted another wing over the Test valley. A black and yellow Gradient I think, which turned out to be Martin Foley en route from Batcombe to Liss for a 125k flight. Awesome. I saw Marcus coming in from behind me. I had indeed caught and overtaken him. For a moment all three of us were flying at about the same height in different cores, spread out over a few km.

I took the climb to 4000ft before setting off for the high ground on the far side of Stockbridge, thinking it would be a good trigger, and leading on to the Roman road heading to Sutton Scotney, Marcus' declared goal. I found no lift and continued on my glide down the Roman road thinking I would probably land alongside it. I could see the radio Telescope at Chilbolton. Andover was off to the North. Basingstoke way ahead in the distance. Winchester and Southampton water off to the south.

There was a lone Cumulus alongside the Roman road near the Moody's Down rifle range which was my best hope for a climb. Sure enough I connected with a nice gentle core and gained about 1300ft from it before losing it through lack of concentration, faffing with my instruments. This left me low down, about 2100ft, but with enough height to clear Sutton Scotney.  I knew I had rounded the top end of Southampton airspace and turned for Micheldever down the river valley past Wonston. I found no more lift and landed at Stoke Charity for a 57km straight line new personal best.

As I started to pack away, Marcus flew above me and called for a chat before turning back to his declared goal.

I found I had landed in a field whose only exit was through a gate into someone's back garden. Rather than sneaking out like a thief, I went and apologised for landing in their field and got chatting. One of the visitors to the house used to fly hang gliders back in the 80s and had a few XC's of his own. Small world!      

Report by Marcus Webster

 
We've all experienced the highs and lows of paragliding, I was experiencing a low as I staggered up the side of Whitesheet having mistimed a take off and landed two thirds of the way down the hill. As I drew level with Chris Sparham who was kiting his wing up the hill, a strong thermal cycle came through plucking a surprised Chris off the ground, at the same time all the others who were further up or at the top of the hill took off, they included Gary Puhl, Ian Hobbis, Colin Davies and Roy Menage.

I frantically tried to shake out what I had thought was a neatly mushroomed wing, only to discover it was cravated in the middle and defied all my attempts to make sense of which lines went where? Frustrated and hot I watched all of them climb out and become small dots on the horizon. Eventually I sorted out the tangled mess, laid out my wing at the top of the hill and stood there, the minutes slipped by, not a breadth of wind and the sky turning blue, I felt very lonely.

I started to reflect how frustrating paragliding can be and thought perhaps I should call it quits and go home.

Yesterday (Saturday 25th May) had not been much better, I had started at Monk's Down, seen a gaggle go over the back (I later heard they all made the coast) eventually got away myself on a weak thermal and went over the back, only to end up on the ground near Farnham after a twenty five minute struggle and while on a long walk out listened to Pete Chalmers cheerfully updating me over the radio how he was passing Blandford at 3,500ft, good idea these radios Pete! On arrival back at Monk's the wind appeared to have more West in it so I headed across to Bell Hill, declared Swanage (it was nearly 4.30pm!) Went over the back on a weak thermal and yes you've guessed it, twenty minutes later I was packing on Winterborne Stickland football pitch.

I walked the entire way back to Bell, despite holding up my Paraglider Pilot sign and thumb out for every passing car. I was almost at the gate when Dave, one of the model flyers and a mate of Will Palmer offered me a lift up to my car; needless to say I went straight home.

Anyway, back to to-day, as I watched the dots on the horizon one of them appeared to be getting bigger, Roy Manage was heading back to the hill. He floated over head, played out in front just to taunt me, and then top landed next to me, still no thermal cycles. We were then joined by Sean Staines hot from Bell Hill where it has gone too Westerly.

Still frustrated but feeling less lonely now I watched as the wind slowly backed around to the WSW, not ideal for Whitesheet. It was now nearly 2.30pm.

Then a puff of wind! Sean takes off and appears to be going up, I launch and connect (thanks Sean) and hanging on for grim death start to climb out making very slow progress over the ground, climbing to just over 4,000ft before things start to fizzle out.

I struggle in ones and zeros for the next 50 minutes, passing Coombe Bissett at 3,500ft before heading off to the next likely looking thermal source, which was Salisbury Hospital, arriving overhead at 1,400ft asl.

The large area of darks roofs and car park were giving off broken lift so I bumped around watching the wind sock next to the heli pad hoping it would give me some clues, after what seemed like ages the wind sock suddenly went horizontal and pointed into the West and things started to work.

This thermal gave me a slow but steady climb over Alderbury and all the way up to just over 5,000ft, and then things just started to get easy.

I was beginning to relax and enjoy myself; I had declared a tongue in cheek goal of Sutton Scotney earlier in the day but now started to dare that it might be possible.

I could now fly the clouds rather than the ground sources and started to make progress, something caught my eye, it was Sean well below but passing me at a pace and he appeared to be climbing without turning (I later heard he got away 25 minutes after me).

The highest point of the flight was cloud base South of Stockbridge at just over 6,000ft, where I had a chat on the radio with Ian Hobbis who was sat outside a pub in King's Somborne.

It was at this point that another wing came into view which I did not recognize and assumed it must have come from Rybury or somewhere similar. I later found out it was Martin Foley on his epic flight from Batcombe to Liss for a record 125.6km.

By now I was South of Chilbolton at 5,000ft with my goal in site so went on a glide, flying straight through lift without topping up and arriving overhead at 2,800ft.

I could see Sean just east of Sutton Scotney village setting up to land so flew over head and asked him via my mobile how he was getting home? Andrea was on-route but they would not be heading back to Whitesheet, so I turned back and landed as near to the A34 as I could get.

In hindsight I should have carried on but for some reason felt the flight was over having made goal, it was only 5.20pm! Martin continued on for another hour, had I known it was another Wessex member perhaps I would have given chase? Big thanks to my Daughter Alice for a speedy retrieve.

Report by Everard Cunion


As you can see from the wind lines on the sea, it was well off to the west. The wind was also fairly strong and increasing, so everybody landed shortly after these photos were taken.

There were no other hang gliders there, at least up until mid-afternoon, when I went home.

Report by Alastair Florence

I missed out on yesterdays action so was hoping for a decent day off Bell today. Things were not great there with very little wind and seeming well off West.

I lost patience and headed for St.Aldhelms followed by the lesser spotted out these days Neil Hutch.

Quentin was in the air on arrival, I think he may have flown over from Kimmeridge. We both launched into a fairly strong and fairly westerly wind.

Loads of height and lovely clear air. The transition to Houns Tout was one of the easiest I have ever had so did it a couple of times. I tried to push on toward Kimmeridge but there was just too much West in it.

After a couple of hours I had kind of had enough so thought I would wind up a bit of height (900ft ato) and fly back to the Square n Compass for a beer. In the event I overshot and landed at Acton.

Not quite what I had wanted out the day but a bit of fun anyways.

Delta 2 behaved impecably and felt real nice in the smooth air.
---
Sat 25 May 2013



Report by Grant Oseland


It was forecast to be an epic day today with the RASP giving 5 stars for the entire of the UK and a warning to look out for sheep being sucked into clouds. As it turned out it was not quite that good.

I arrived at Monks to a stiff North breeze but people flying and a great looking sky, My plan was to have a boat around until 12:00 then land for lunch then go XC. Lots of people were flying around in nice lifty air with a few tempted to disappear over the back. I decided to land and throw a sandwich down my neck then clip back in, one problem, no wind, bugger. What followed was the predictable 15-20 pilots on the hill all waiting for a thermal to come through, then when one came, the first pilot hit the thermal and started to turn only to be greeted with 7-8 wings all flying straight at him! Eventually I spotted the grass twirling around in the bottom fields hinting of a sneaky thermal coming along. Sure enough I launched straight into a good climb that eventually led to cloud base with a hand full of other gliders. After big ear'ing out of cloud I went on a glide down wind and was greeted with no lift all the way down to the A354 at Tarrant Hinton followed by much cursing and swearing and lining up to land at about 150-200ft above the field, then came the magic, an incredible low save that took me all the way back up to base in one thermal! After this the sky went BOOM! and the going was easy with strong climbs all over marked by big clouds. Over Bovington / Winfrith there were two sail planes marking lift under a cloud so off I headed to be greeted with a monster of a climb that ripped me back to base at 8.5m/s! thats 1670 feet per minute in old money out climbing both plains.

As I got closer to the coast I had delusions of grandeur that I might be able to surf the sea breeze west towards Weymouth and beyond, unfortunately surfing the sea breeze is a myth in the UK if you ask me as it never works and you just lose height in bumpy air. Eventually landing at Osmington campsite with extremely cold fingers as I was wearing summer gloves, my finger tips are still tingling now on Sunday night.

Report by Shamus Pitts


Not the epic day I was hoping for at Westbury today.  Despite a nice looking sky the lift was a little reluctant to come through.  A few people managed to get high and disappear but when the lift did come through it didn't last long everyone was soon on the ground.

After a trip to the bottom landing field and a long walk back up for Martin B and I, conditions seemed to improve a little and I took off and hooked in to a thermal.  I took it to about 1300' ATO before deciding I was getting a bit close to the danger area and pushed along the ridge and out over Westbury, finding some weak lift over the cricket pitch.  I scratched about but lost it and went on a glide, hoping to pick something up on the way.  I was looking at landing fields when I hit one of the snottiest rough thermals I've ever been in!  I was pretty low and the thermal was pretty narrow, punching my wing with uppercuts of lift every half turn.  One wing tip kept tugging on the brake line while the other one felt pretty slack, I thought my wing was going to twist in half at times but I stuck with it and climbed to about 3000' ATO before losing it again.  I headed along the edge of the danger area, finding more lift near centre parcs but losing it again.... I don't know what was wrong, I couldn't get "in the zone".  There were nice looking clouds everywhere and I couldn't decide which one to head for.  In the end I went on a glide, hitting heavy sink on the way.  "This can mean only one thing" thought I, "a thermal ahead"!  It turned out it could actually mean two things, either there's a thermal ahead... or there isn't!  There wasn't, and I landed near West Knoyle for 19.4km.  Thanks Martin for the retrieve.
---
Wed 22 May 2013



Report by Paul Maidment


Wednesday, early start for me, (bloody builders next door and i work nights) sleep is not going to happen, so off to Bell and give my new wing a try (in not so busy conditions i.e. Sat) before wind gets too strong as forecast. Arrived at Bell about 11.30 ish, wind pretty strong and only one other paraglider on the hill. After watching him do a reverse launch, maybe a bit of ground handling, so after talking to Sean for a bit (he was setting up his hang glider), I make my way to the bottom of the hill. After taking an age to sort lines and double and triple check everything, I pull the wing up… spin..  dab of brake.. whoops I'm airborne.. OK, no problem, I will bottom land. Next thing I'm level with the top of Bell after pushing out and I've lost count of how many 's' turns I put in! I make it to the bottom field, "wow this thing just wants to fly" was my thought, so I make my way back to the top. By this time conditions had eased and there was another wing in the air having a good time. I did a bit more of a controlled launch this time into very buoyant lift and spent the next hour getting used to the feel of my wing in very nice but a bit overcast conditions. As the weather cleared the wind also increased so I along with the other paragliders landed, it was a good call as the wind increased very strong and very fast and we left the sky to the hang gliders.

Report by Grant Oseland


Two sites in one day today, Marleycombe and Swallowcliffe. We started at Marleycombe and the sky was very grey and overcast small thermals were pushing through which enabled us to stay in the air. We were tempted over to Swallowcliffe by a loan paraglider that was higher than us. When there the air was smooth for a bit then gradually became harder to read and a bit ruff at times then died off, then went west, then went north the went very rough, eventually at one point I hit and absolute rocket of a thermal that threw me right back then dropped like a stone, this continued for a bit until I realised that I was swearing out load at the thermals coming through and both Nigel and I top landed and packed up after a good days flying.
---
Sun 19 May 2013



Report by Gary Pocock


Portland West - 7.30pm I looked out and the sky was clearing, it had been raining in Weymouth most of the day. Quick check on Portland wind data. Text to RW to see if he facied a pint at the Cove pub. We parked a car at the bottom and launched at 8.00, we had 1/2 hour or so in a lightish NW. Quick pint and chat with the locals while the sun went down and home by 9.15. 
---
Sat 18 May 2013



Report by Paul Maidment


Bell hill after about an hour of ridge soaring and watching one after another pararaglider disappear over the back i managed to fall into a  thermal, and about 1200ft ato, I thought right this is it im going, so I spiralled up as i've watched so many do  that morning, I was getting about 1m to 2m a  second climb... this is easy I thought at 1600ft and about a mile back, sink and lots of it then I noticed to my right a little way off, two hangliders climbing, so tried to make it to them but I was losing height fast so turned back to bell, landing about three fields back. Ah well I tried. After walking back to the hill I spent another hour or so boating about maxing 200 or 300ft  then noticed a hanglider in the back field with people running towards it so I landed and learned that he had crashed and may have a broken arm (hope he is ok), after about an hour waiting for the air ambulance to come and go I thought one more fly.  I was in the air about 10 minutes and about 200ft when, wallop up I go vario screaming like i've never heard before 1000.. 1500.. 2000ft of over the back again I go, 2500.. then 3000ft  it was then that I noticed how big and dark the cloud was that I was getting pulled into, I saw another paraglider downwind of me but a bit lower so I thought he looks like he knows what he was doing (and I was getting a bit concerned - never been this high) so I headed for him. As I left the thermal it felt like I was  dropping like a stone –5m on my vario and very rough, managed to make it to the other glider and we spent the next 20min looking for lift but nothing.  At about 600ft I saw a busy road and some nice looking fields (and a pub.. Milton Arms) made a perfect final approach and landed in knee deep grass. OK, where the hell am I? so packed my gear and made my way out. As I climbed the gate I saw a father and son working on their car.. excuse me where am I? A very confused looking man said Winterbourne Whitechurch.. thanks! and off I trotted. Got to the main road and phoned her indoors who thought I was joking when I told her where I was (this will cost me in brownie points). As I was sat there waiting for my rescue I kept hearing this whistling.. then saw the paraglider pilot (who I now know was Chris) who I had been following, coming down the road, he had only made it a little further, my first XC! - What a rush, may there be many more, brownie points withstanding.  

Report by Alastair Florence


I am not totally convinced about these new fangled ribs in wings.

Although todays forecast hadn't looked exceptional I thought an early start should produce a bit of fly time. I have a Delta 2 I wanted to try out.

Bell was nice on arrival and I soon got in the air having a cruise about on the D2, trying big ears I noted that they dont really come out without a fair bit of brake pumping.

Soon after got a weak bimbly, bitty climb so headed onward and upward.

After a bit I had enough height to glide West to a cloud street that ran to Swanage.

The D2 although maybe more twitchy than my Mantra gives a feel of security so I was maybe relaxing a bit to much or just getting to adventurous.

Over Wareham Forset Using 1/3rd bar I was boating along at 4000ft odd under the cloud street when I got whacked by a fairly aggresive assymetric that felt like it took out about 40% of the wing. I didn't bother to look up as on my Mantra a quick pump on the brake would sort this. Things felt wrong so I looked up and to my dismay about 30% of the wing was tangled in amongst the lines (Cravat).

My first thought was sh1t this has never happened before what now. Then the wing dived and tried to spiral. A bit of weight shift and outer brake kept this in check and next move was to tug on the stabillo line hand over hand litterally whilst trying to stop the wing spiralling, that inflated a cell or two then a few brake pumps and back on the stabillo. This went on for what felt like ages and was probably 1 - 2 mins I lost about 700ft before normal flight was resumed.

Moral of the story is, be sure you can find your stabillo line especially if you have a wing with rib inserts that want to get caught up in lines.

Anyway the rest of the flight went well and after flying over my house landed at Herston soon to be joined by Marcus.

Got a lift back to Bell with one of my daughters and launched again landing in the middle of Wareham Forest this time.

A cracker of a day Peachometer 8, Terrormeter 6 for a short while.

Report by Shamus Pitts

Wow, what a day!  I thought I was getting to the hill quite early but there was already a wing heading over the back when I arrived about 10:30!
Over Bell the sky was blue with quite wide cumulus coming through but there was a milky haze creeping in from the east so I wasn't sure whether Bell or Telegraph was going to be the best site... the forecast NNW direction made me choose Bell and I'm glad I did!  The air was pretty thermic and a little rough at times but not too bad.  I took a climb over the back but lost it and pushed back to the hill, landing a couple of fields back.  The next decent climb took me over the back with Alan W and Craig B with tandem passenger and I thought it was going to take me to base.  Unfortunately we all seemed to lose it so we spread out and searched for something else.  By now most of the ground was in shadow but there was a big grey cloud nearby which I thought I'd been thermalling towards so I headed for that.... it didn't work so I changed direction and headed back to the few sunny fields near Winterborne Stickland.  I found bits and pieces but nothing much.  Alan was now downwind of me, higher, and starting to circle so I headed towards him to try and join his thermal.  I was quite a lot lower when I got there and couldn't find enough lift to keep me going but I saw what looked like a comp wing downwind and lower than me but circling as well so I thought I was saved!   I headed over to it to find it was Neil McC in very weak lift.... we scratched about for what seemed like ages, getting closer and closer to the edge of Wareham forest but too low to get over it.  I saw Martin B packing up just the other side of a section of forest so decided to try and glide over to him.  As I started to cross the trees I started to sink and didn't think I'd make it so turned back to land at Bloxworth for 17.5km.  Neil landed a few fields across from me so we met up and walked to the A31 where Martin joined us half an hour later.  Alan, meanwhile, had made his first visit to Swanage!  Thanks to him and his wife for picking me up and taking me back to the hill, and Thanks to Roger for getting Neil and Martin.

When I got back the sky looked better than before and people where still getting high so I thought it was worth another go, despite not taking off until about 4pm.  There seemed to be plenty of lift about and I pushed almost 1km out in front of the hill before finding a climb on my way back.  I could see someone pretty high and downwind of me (Neil W?) so I stuck with it and took it over the back.  There was someone else lower than me downwind but I soon lost sight of both of them, not sure what happened to them....

I lost the climb around Turnworth so went on a crosswind glide SW to a likely looking cloud.  I think I lost over 1000' getting there (it wasn't even very far, just sinky) and I was starting to think my flight was about to end but eventually I connected with some rough lift and clawed some height back.

I then went on a long glide and again thought my flight was over but picked up a thermal at Winterborne Kingston and refuelled another 1500' I think....  I was right over Bloxworth with a lot of cloud upwind but more blue patches downwind.  The air felt a bit strange - I climbed a little if I went east but if I circled I sank most of the time.  I wondered if I'd got to the sea-breeze convergence, it seemed possible but not knowing much about that sort of thing I just thought "Hmmm...."  "I wonder what will happen if I carry on towards Swanage"....  I was slowly getting higher but it was very slow and starting to get tiring.  I decided to get to 3000' ATO then  head south, in to the great unknown!  Eventually I got the height so turned downwind, braced myself, waited......

... nothing happened!  I soon started climbing slowly again, what an anticlimax! (phew!)  I kept nibbling away at the lift until I eventually got near cloudbase as I approached the edge of Poole harbour.  About 4100' ATO but still only very weak climbs, but I felt ready to head for Wareham.

Another weak climb on the edge of Wareham topped me back up to about 3500' ato  but I couldn't work out why I couldn't find a decent climb..  Another weak climb over Stoborough gave me the height I thought I'd need to get to Swanage, with a few turns at Corfe Castle to help me on my way.

I was still a couple of thousand feet up when I got to Swanage so headed towards Durlston Head which seemed very small from the air.  Having had a close call with the sea a few years ago at Swanage I decided to play safe and head for the allotments instead.  I got there with over 800' to spare so just wafted about until I landed.  As I was phoning around for a lift a herd of cows ambled over and I couldn't get rid of them! I was trying to talk on the phone and chase them off at the same time but every time I turned my back they ran up to me!  In the end I bunched my stuff up and headed for the edge of the field.  I kept dropping things though and every time I stopped to pick them up the cows were there, in my face!  It was like "Grandmothers footsteps"!   I stopped for a swift half and met up with Colin D who I saw land at Durlston head before Ian H kindly picked us up and took us back to Bell - thanks Ian!   A great day - as well as Alan's first Swanage visit, Paul M had his maiden voyage over the back too!

Report by Grant Oseland

Some where different today, Westbury. I arrived at about 10:30 with two wings in the air, and it remained very flyable all day until I left at about 17;30 with about 15 wings in still in the air. Many pilots there all seemed to be having a good time. I also had a go on the Advance Pi with Easiness harness, combined they weigh 3.14 Kg!  

Report by Marcus Webster

Photos from Bell Hill.

Report by A Webb
| | | |
| --- | --- | --- |
| | | |
The day looked promising and the many XC hounds were on the hill. A goal was always to fly to Swanage and leaving the hill with Shamus, Craig and Neil seemed good company to follow. Sticking with Shamus worked until he moved away and I was still in lift, so stuck with it. Couldn't quite reach cloudbase so it was time to glide. Shamus was below and we tracked for what seemed ages. Then another lift came and grabbed I it, Shamus by now was low and could see my climb but it was too late. The climb took me to the edge of Wareham forest again just below cloudbase. Clearing The forest and with Wareham in sight, another lift came along and this time up into the white room 4,500ft, by now I cannot believe my luck. Pushing on glide I dropped from the cloud to see Wareham behind me and Corfe Castle in sight. At Corfe Castle another lift came along, patchy and not as organised as the previous ones, Enough to climb over the Purbecks and head for Swanage, the air became rougher with sea breeze convergence, which made for an interesting descent. Landed behind Putlake Farm for a distance best of 37k, and PB UK height of 4524 feet. What a grand day out!
---
Thu 16 May 2013



Report by Shamus Pitts


I never intended to go flying today, I've taken a couple of days off work to get rid of my Man-Flu but thought that some fresh air might do me good.... so I went to the White Horse.  I wasn't going to go XC though, just have a waft around then go home.

The wind was pretty much on the hill, maybe with a bit of west in it to start with but thermals were coming through regularly and mixing it all up.  The air was buoyant, more up than down, but the wind began to gust quite strongly making it a bit bumpy at times.  After a couple of flights someone had gone over the back and Adrian C had almost gone, so when I hooked in to a thermal out near Sutton Poyntz and saw Adrian disappearing over the back I decided to take a couple of extra turns and see what happened.  My climb was good and I could see Adrian a little downwind and lower than me so I stuck with it.  I lost it about 2500' ATO but Adrian found a climb near the quarry at Crossways so I joined him in it and we topped up our height.  I went on a glide to the A35 and found bits and pieces but nothing very solid.  Adrian seemed to have disappeared for a while so I scrabbled about on my own before he miraculously reappeared and we worked together to find a better climb.  There seemed to be lots of patches of lift but not so many clear cores.  Having said that I found a strong climb near Milton Abbas but ditched it just before cloudbase because it was heading for the biggest cloud in the sky!  I headed for the calmer blue sky over Bulbarrow and found more bits of broken lift, enough to give me a couple of hundred feet every now and again but not what the sky was promising!  Adrian had appeared again further down the ridge towards Bell and he was now higher than me so I headed over to find the same patches of broken lift that I was in before!  I persevered while Adrian disappeared again, gaining a few hundred feet here and there.  I spotted Adrian downwind now and a few hundred feet below me, it turned out his hands were cold and he was going down to land.  I went on a glide towards a field with a tractor in it near Sturminster Newton - I was pretty low when I got there but found bits and pieces to prolong my flight.  I let the wind draw me towards Sturminster Newton where I hoped for warm air.  There was lift about but it only seemed to work if I flew straight, when I turned I lost it.  I kept working away and built up a few hundred feet but couldn't work out where the thermal was so went on a glide towards some smoke instead.  I found a climb at Marnhull and it seemed a bit more solid, but looking downwind it seemed like every cloud was raining, the one I was thermalling towards being the biggest with more towering grey clouds all around...  I decided to leave the climb and head northwest to where the sky seemed a little less active.  The glide took me over the London to Exeter railway line but despite some strong upward tugs every now and again I was too low to connect with anything and landed at Quarr, a tiny hamlet north west of Gillingham for an open distance of 43km.  I walked the 3.5 miles to Gillingham station and got the train to Yeovil where Marcus kindly met me and took me back to my car - thanks Marcus... and thanks Neil - I'll be reclaiming my White Horse record that you stole from me a couple of years ago!

Report by Andy Ward

Arriving at White Horse this morning and seeing the sky filled with monster cumulus this morning I did not think today was the day for my first attempt at going XC.

When the sea breeze front pushed through it took the monster cumulus in-land with it, along with most of the lift. I settled down for a day of ridge soaring and thermalling practice.

Early afternoon I found a nice smooth thermal that just kept going nicely upwards, and I stuck with it. I had a brief moment of hesitation when I remembered my glider bag, GPS, and my fleece were still at takeoff but decided to press on, after all I had Bip Bip audio only vario and a mobile phone, i'd studied the chart, i'd read the NOTAMS...

If I didn't go for it today then I never would.

I stuck with the thermal as long as I could and then simply turned straight downwind and went on glide. There were a few sniffs of lift around but nothing sufficient to get me over Thorncombe Woods safely so I found a nice green field next to a road and landed early. I didn't think a tree landing mid forest would have been the best start to my XC career.

Thanks to everyone in the club who have encouraged and guided me on the way to a pretty special day today.
---
Thu 09 May 2013



Report by Gary Puhl

When I compiled the XC Files for the next edition of the mag, my aim was to include as many of the flights right up to the time of going to press. Normally this would have been the end of April.

However, the beginning of May produced some good distances and Roger kept the door open for me to include them. Thinking that would be the end of our run for a week or so. There was plenty more to come.

I have had one of the best weeks of flying in the last 2-3 years. Personal bests from Wessex sites, met people I have not seen in years, been retrieved and retrieved others, train rides, taxis (and a bit of walking) after flying over terrific scenery.

Its been a great adventure and I'm glad its raining because I need a rest.

Here is a brief personal diary and a few photos.

May 1   Monks to Weymouth. Thought it was all over at Dorchester but a low save gave plenty of height to glide into Weymouth. Would have gone for Portland if the wind was not so strong. Landed on the beach next to the clock tower and had a discussion on airlaw with the community police. Once they realised I had no motor it was a friendly chat. Thanks to Chris S for retrieving and arranging bail (just joking).
| | | |
| --- | --- | --- |
| | | |
| Weymouth and Portland  | | Ringstead and Durdle in the distance |
May 2   Monks to Winterborne Whitechurch. Terrific climb (all on my lonesome), which allowed me to cross over Compton Abbas.

From there on it deteriorated and after scrabbling around in very weak lift, loosing more than I could gain, turned towards the Milton Arms for comfort and refreshments. Closed. Thanks again to Chris S for coming to get me.

Discovered later that Marcus flew way past me and so did Dave Franklin.

May 3   Telegraph to Milton Abbas. Met Martin F and Adrian C and we struggled to get away. Martin F led the way. Launched, hit a thermal and was gone. I followed a few minutes later. I should mention that I thought my eyes were deceiving me before take off, when a distant figure drew closer. It was Peter R who had hung up his old flying suit to enter the world of gliders. He watched us launch and as I started my climb away from the hill, he drove off. The flight was difficult. Trying to find a decent core was not easy but eventually I found myself under the best cloud in the sky for miles.

It was keen to embrace me. Pushed out of the side still climbing and could just see the ground below. Back in the blue I could see Bell with no signs of any activity. Back to searching for anything to stay up. All over in a few minutes but the phone rang as I landed. Martin F was packing in the next field and had called Peter R for a lift. I packed and walked the 100yds to the road as Pete drove to meet me with Martin.

May 4 & 5  Fortunately not flyable as Man Flu kept me busy with the Kleenex, Lemsip and Whisky.

May 6   Arrived at Golden Ball to see 60 pilots competing in the North South Cup.  Ian H and I waited until the majority had departed in 3 gaggles then off we went. Working together thermal hunting up to Abingdon made it easier but then so did the Hawk and several gliders.

Almost went down between Oxford and Didcot, but climbed out over the Mini assembly plant at Cowley heading to Bicester. Could not find anything to keep me up so went for max glide instead of burning off the height and landing at the M40 services. Took an hour to walk there.

Met Ian H and a competitor in the NS Cup at Oxford railway station for the journey to Swindon then back to the hill by taxi. A quick beer at the Barge Inn then home to plan the next day.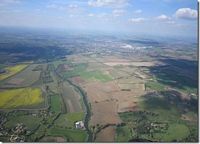 Looking west to Oxford
May 7   Back at Golden Ball. Some of the competitors had not gone home. They were busy preparing their plan – Defined goal – Welshpool. They offered to give us their coordinates and include us in the declaration. This had to be a good day. We declined and set a less ambitious target.

Leaving the hill was a struggle but it calmed with altitude and patience was the key. No clouds to guide you to the next thermal, so it was hunt the ground sources. Passing Avebury searching for lift without much success, I espied a tractor just completing the ploughing of a large field.

Worth a shot. Found broken bumpy bits but it was going up. Eventually it turned into the best climb so far and as I established myself in the core, 3 sailplanes homed in on me and joined below. I hung in as far as it would take me. Drifting towards Lyneham, out came the camera for a birds eye view of the runways and Royal Wootton Bassett. One sailplane sped off just north of Lyneham, banked hard and climbing so I went for it. Still higher than the sailplane by 500ft, found the core and climbed.

The glider flew beneath me, waggled his wings and waved as he dissappeared back south.

On my own again. Searching for lift is trustrating and there comes a point you have to assess the landing options. 700ft and sinking. Gliding to my intended landing near Malmesbury, there is a blip on the vario. After what seams like an eternity it formed into a reasonable thermal, taking me from about 300ft AGL to over 4000ft. From here it was easier until Gloucester got in the way.

Skirting round the east side to avoid the town worked, but I now had to avoid Staverton Airport.

Found a good climb but right on the boundary of the airport. Should have kept going but the fear of infringing took over and I turned away and landed. Great flight and only half mile to the pub.

Within an hour of landing Ian H arrived to retrieve. Thank you, thank you, and thank you again Ian. It must be my turn next time.
| | | |
| --- | --- | --- |
| | | |
| RWB Lyneham with sailplane climbing below  | |   Royal WB and Swindon in the distance |
---
Tue 07 May 2013



Report by Ruth Kelly


Mere Rifle Range - Having flown at Ringstead on Sunday, and White Horse on Monday, we somehow managed to call it right for the third day on the trot and went to Mere. The wind was forecast ESE veering SE, a little light, perhaps, but building with an approaching occluded front, and with good thermal activity predicted on RASP.

We arrived around midday to find a PG school group playing with mini-wings (ground handling practice, I presume) and about half a dozen pilots lurking on the grass, on the western spur. The first person to venture into the air went to the bottom, but gradually the wind strength built up, and one by one we ventured into the air. The thermal gusts on take-off were quite strong, with wind going from 7-17mph. You had to time your inflation right, or risk being yanked off your feet and/or dragged. There were a few minor accidents with wings on the barbed wire fence, and one unlucky pilot landed and got pulled over a fence before he had his wing under control. Some damage to kit; no injury, thank goodness.

After two quite intensive days I found I was rather tired, and didn't feel entirely happy in the air, so I only completed two short flights. Both were quite exciting, finding strong but slightly ragged thermals which would rapidly hoist me to 3-400 feet ATO, with many a rustling wing tip. William was feeling much more spry (and excited by his new Anakis II) and took many more opportunities to take off, notching up a good hour and a half compared to my 20 minutes. But it was fun sitting in the sun, and snapping a few passing wings, which included Marcus Webster, fresh from his 99km XC the previous day. I'm pretty sure I spotted Grant in the air just as we were leaving, too.

So: a good day, if slightly frustrating for me. But I'm all in one piece!
---
Mon 06 May 2013



Report by Marcus Webster

It's quarter to seven in the evening and I'm standing in a field somewhere north of Cheltenham looking down at my GPS feeling strangely cheated, the straight line distance back to my takeoff point at Mere is 99.1km !
I know it will be over the magic 100km with turn points (103.6km) but how after 4hrs 50mins in the air how had I not managed to eek it out for another 900 meters ? Maybe a couple of bad decisions at the end, maybe my brain was tired after all the airspace dodging and trying to read an upside down chart for the last hour (I hadn't planned for a flight onto the underside of my badly packed chart) or perhaps it was my desperation for a pee that had caused a small corner of my brain to to stop fighting to stay in the air, I'll never know.....?
---
Sun 05 May 2013



Report by Sean Staines

I'd had a pleasant hour and a half flying the PG at Ringstead but was keen to try the coastal run from the Hive to Charmouth again on the HG, so packed up and went to the Hive. Richard Mosely joined me and we both rigged as soon as we arrived. The wind was little off to the west and the transition to the cliffs was unpleasant, with rotor from the trees the whole way. Progress towards West Bay was slow and methodical, maximising my height before each transition. Richard caught me up on Thorncombe beacon but didn't hang around long before going on to Golden cap. I followed and made the transition quite easily. Once there I climbed to 900ft ATO on the Charmouth side and all was looking good for the run to Charmouth. I saw Richard head for Charmouth and come back again low. This was the clue that I had but ignored.

The start of my flight to Charmouth went well, flying at min sink with a sink rate on the vario of only 0.1m/s. Halfway across the transition the sink rate increased, I pulled on some speed and it increased more. I had arrived at a point along the cliff where I expected to find lift but there was only more sink and some turbulence. This wasn't looking good, so I turned back for Golden cap but arrived low and found nothing. I'd run out of options and lined up for a beach landing which went well, but left me on the shingle beach about 3km from recovery at Charmouth.

I started a relay up the beach carrying the harness 100m and then going back for the hang glider. I'd left it rigged as it supports some of its own weight that way. 500m and 25 minutes later I heard a noise behind me as was met by a rib and 4 customs officers of the UK Border Agency. They'd seen me land and struggle along the beach and had come over to see if I needed assistance. I was very grateful of their offer of a lift and quickly packed all the kit away. We waded out into the surf to load the hang glide on the boat, followed by me and the harness.

They didn't like the look of unloading me on the crowded shingle beach at Charmouth and carried on the Lyme Regis to unload me in the harbour. I cannot praise them highly enough. They were very friendly and helpful, saying it made a pleasant change from stopping fishing boats.

This definitely rates most highly for me as retrieves go.

Report by Neil Harris


Photos from Ringstead. The guy in the trees was apparently ok..

Report by Everard Cunion

Everard at Ringstead.

Report by Grant Oseland


Every Man and his dog went to Ringstead.

Report by Shamus Pitts

Having left Kimmeridge we arrived at Ringstead to find it pretty busy, pretty breezy and lots of people out on the cliffs.  Once Paul and Alex were airborne I took off too and found the transition to the cliffs to be a doddle and arrived with plenty of height.  The air was so smooth that I was able to reattach my stirrup which had come undone when I took off!  After an hour of turning left, turning right and taking photos I landed for a drink then had another shorter flight before landing again, packing up and going home.

Report by Shamus Pitts

I arrived at a fairly windy Kimmeridge at midday to find the wind a bit off to the west but half a dozen wings in the air so it looked good!  I helped Paul H and Alex take off on Paul's tandem then took to the sky myself... I hadn't been to Kimmeridge for a while but it was every bit as "up-and-down" as I remember it!  There were narrow gusty thermals coming through fairly regularly so it was possible to be 200' ATO one minute then 20' ATO the next!  After an hour, and having explored the ridge from the road all the way to the south eastern end, I landed, had some lunch and decided to head for Ringstead with Paul and Alex, where conditions would be more tandem-friendly!
---
Thu 02 May 2013



Report by David Franklin


Monksdown - After a bit of waiting and chatting the conditions finally seemed to be settling down a tad which lead to lot of pilots giving it a go. I took off at 2.30 and by 2.31 was climbing out with Marcus without having done a single beat on the hill. By the the time we were approaching cloud base I was deeply regretting wearing only summer gloves. My aim for the day was to see if I could stay north enough to fly home and possibly take some aerial pictures for the seed company that uses the land around where I live. I did manage this but the visibility wasn't great . With plenty of height it seemed a shame to land at home so I carried on to have a look at Deadmoor Common from above, a very different sight to the one we have when normally we are wading through it. The goal I then came up with was to see if I could find the estate where my son works, get some pictures and a lift home with him after work. Although the Ryewater estate is very distinctive from the air I still had to locate it with the gps. I arrived fairly low so quickly clicked off a few snaps and started looking for a suitable field to land in when I started to feel the makings of a thermal which eventually took me and two buzzards back up to decent height. The decision making after this was a bit problematic, good clouds over Yeovil or a massive decaying mess ahead so I squeezed around the mess and found nothing but blue beyond it. I decided not to push my luck and fly without much height over Melbury Sampford which didn't look very landing friendly and instead selected a nice field in Melbury Osmund. An interseting 43k flight but not what I would call a relaxing or comfortable journey, at times very bumpy and painfully cold.



Report by Neil Weymouth

Flew Okeford Hill at lunchtime today, a little used site but can work well. After 10mins soaring the trees I caught a thermal to cloudbase from above the left spur. An hour of boating about in surprisingly gentle 3ups followed, I then had to find some sink in order to get back to work.
---
Wed 01 May 2013



Report by Andy Ward


I had a few jobs to do at home today, but luckily managed a couple of early flights whilst Suzie walked the dog. Probably would have had to stop anyway as it was getting far too windy to fly by mid-morning. I was planning to go to Monks Down later in the day but the traffic was awful so I ended up back at Maiden Castle where things had calmed down. I watched a wing circling it's way south of Dorchester, and then went for a windy but enjoyable evening flight. A massive thermal somewhere behind me at the end of the flight made it rather hard to push forward so the last flight of the day ended with a side landing between the ramparts.

---
Previous reports
If you find that some of the earlier pages don't have a navigation menu, just use your browser's Back button to return to this page once you have finished reading it.

2013

May

Jun

Jul
Aug

Sep

Oct

Nov

Dec

2012

Jul
Aug

2011

2010

2009

2008

2007

2006

2005

2004

2003

2002

Jan

Feb